Editor's Note: Bill developed this easy, quick-start approach for his paid-up Private Briefing subscribers, and we think our Members will benefit (greatly) from it, too, so we're sharing it with everyone today. Here's Bill…
Here's a story I think you'll like…
Because the weather is just warming up here in the East, and we're barely three weeks into the 2016 season… it's about baseball.
There's an investor – we'll call him "Phil" – who knows he needs to start putting money away, but he just can't bring himself to start. Phil knows that each year he allows to pass will make it tougher to save for retirement. He knows he's got two young kids who will likely be college-bound in a decade or so. He knows he's got aging parents who will need help. And he knows he's got a "balloon payment" on his house and property.
But Phil just can't shake the specter of the Great Recession – and all the risk it entails. He's afraid of making the wrong decision – of losing money…
…so he just does nothing.
And that really is the wrong decision. But don't worry – Phil's about to see the light…
Phil Got Off the Bench… and So Can You
Time passes, and Phil inherently knows that his "frozen in the headlights" approach to saving for retirement will ultimately be financially fatal. But even with that realization, he can't bring himself to start. He's just too worried about being wrong.
So he decides to hire a financial advisor to help "set him straight."
Fortunately, the advisor Phil seeks out is a reputable guy. More than that, he's a sage, in fact, whom some folks regard as kind of the Obi-Wan Kenobi of investing to achieve "life goals."
So Phil goes to see this gent… and completely unburdens himself. He's completely candid about his fears, his worries about being "wrong," and about his inability to get started.
The "Obi-Wan of Investing" listens, nodding a lot, but saying nothing.
Finally, Phil finishes his narrative.
And Obi-Wan speaks his first words since Phil entered his office.
"Ty Cobb… lifetime batting average .367," Obi-Wan says. "I'll see you same time next week – that is all."
With that, the Sphinx-like legendary financial advisor turns his attention back to the papers on his desk and refuses to even acknowledge the presence of his client.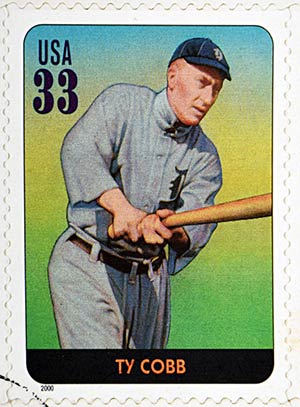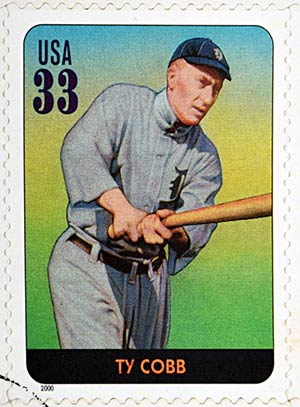 Phil, stunned into silence, finally realizes he's been dismissed. He slowly rises and stumbles from the advisor's office. In a daze, Phil walks back to his car, fumbles with his keys, and finally drives away.
He just can't stop thinking about Obi-Wan's words.
All week, in fact, Phil thinks of nothing else…
"Ty Cobb – .367… Ty Cobb – .367… Ty Cobb – .367… Ty Cobb – .367… Ty Cobb – .367…"
It just made no sense. None at all.
In fact, it was maddening…
"Ty Cobb – .367… Ty Cobb – .367… Ty Cobb – .367… Ty Cobb – .367… Ty Cobb – .367…"
In the shower… eating breakfast… driving to work… in between meetings… tuning out the news… it was always the same…
"Ty Cobb – .367… Ty Cobb – .367… Ty Cobb – .367… Ty Cobb – .367… Ty Cobb – .367…"
The next meeting with Obi-Wan was quickly approaching. And still Phil had no idea what the Great Man was driving at.
Like a mantra, those same words just kept running through his brain…
"Ty Cobb – .367… Ty Cobb – .367… Ty Cobb – .367… Ty Cobb – .367… Ty Cobb – .367…"
The epiphany came suddenly – as epiphanies do.
Almost a week had gone by. Phil was driving through the Kittatinny Mountain Tunnel on the Pennsylvania Turnpike when he understood – finally, fully, and completely – the point that Obi-Wan was trying to make.
Suddenly, Phil couldn't wait for the meeting.
That morning, for the first time in a week, he smiled as he showered and dressed – a white shirt, a sport coat, and brand-new tie – and he kept smiling all the way into downtown Pittsburgh for his meeting.
At the appointed hour, Phil walked into the advisor's office, sat down and – without waiting to be prompted – blurted out the answer to Obi-Wan's riddle.
"Ty Cobb… had a lifetime batting average of .367," Phil said. "That meant he
failed
two out of every three times he batted. But succeeding only one time out of every three was good enough to get him elected to the Baseball Hall of Fame in Cooperstown. In fact, it was good enough to make him the best hitter in the history of baseball."
Obi-Wan smiled… smiled broadly, in fact.
"You now have wisdom, my son, and have banished your fears," the Great Man said. "You are ready to start investing – successfully."
The fact is, with this kind of investing – where the focus is on accumulating assets and the time horizon is long term – your success rate will be much, much higher than Ty Cobb's .367.
In fact, studies have shown that investors who craft a plan – and follow that plan – can reap hundreds of thousands or even millions of dollars more over their lifespan than investors who don't have a plan.
And you'll definitely earn more than investors who never even get started.
Those are definitely Hall of Fame results.
In our story, Phil achieved an "enlightened state" and was ready to move forward with his investments, and with his life.
Now it's your turn…
There's Much Smoother Sailing Ahead
A lot of you out there – especially those of you who are new to Money Morning – have experienced a tough ride over the past decade. Or you know someone who has.
Or perhaps you've enjoyed real success, but you're feeling nervous about a bull market rally that's gone on for so long.​
Others reading this may be first-time investors, who have watched their resolve to start saving get eroded by many of the things we've been discussing.
The fact is that the Great Recession, and all the scandals and revelations that followed, have shaken confidence in "the System" – the rules and practices that are supposed to make the financial markets an equal-opportunity moneymaker for everyone.
I understand why: After all, you can't help but believe that Wall Street's mavens are hoping to benefit at your expense – and by making you ever more dependent on their "advice," knowing, of course, that they'll be hitting you up for all sorts of ever-increasing fees.
Today – and forever – I want to help you change that.
What we've done here is to create a research report designed to help you "jump-start" your savings… to get you started investing.
And we're doing it simply. This strategy works if you have but $1,000 to invest.
Like I said at the outset of our trip today, it's a broker's worst nightmare, because it shows you how to take your money out of the greedy hands of Wall Street – while at the same time regaining confidence in your own abilities.
Wall Street may be chagrined. But you'll be proud.
So will our Obi-Wan.
So let's get started…
Give Yourself a "Grand" Beginning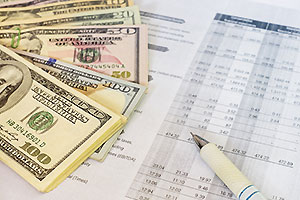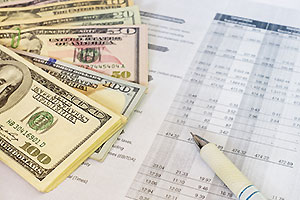 So you've managed to set aside $1,000, and you're ready to enter (or re-enter) the world of investing.
One grand…
But before you jump headfirst into the world of stocks and bonds, there are a few things to consider.
One of the biggest considerations for investors with a minimal amount of funds is not only what to invest in, but also how to go about investing.
Investing may seem simple enough – all you need to do is go to a brokerage firm and open up an account, right?
That may be true in a sense, but almost immediately, you will find yourself confronted by minimum deposit requirements, brokerage commissions, and the need to "diversify," among other considerations.
What you may not know is that all financial institutions have minimum deposit requirements. In other words, they won't accept your account application unless you ante up a certain chunk of cash.
Some firms won't even allow you to open an account with a sum as small as $1,000. So first, you need to find one that will accept your money.
In general, there are two types of stockbrokers: full service and discount. A full-service broker provides lots of services, none of which you will need.
Besides, most will want minimum account sizes of $50,000 and up.
Some discount brokers have investment minimums of more than $1,000. But even the discount brokers that will accept your money will charge commissions of $8, $10 and more for every trade you make.
That means purchasing a small portfolio of stocks – say, 10 or so – could cost you as much as $100. In that case, you're in a 10% "hole"… before you've even made your first investment.
Later, if you decide to sell, you'll incur the "back end" cost of a round trip through the markets – perhaps another $100. So the round trip for those 10 stocks would cost you $200, fully 20% of your initial $1,000.
You can get around all this with a really simple investment: the exchange-traded fund (ETF).
ETFs have taken over much of the role that conventional mutual funds once monopolized. ETFs provide diversification and ease of management at remarkably low cost.
Here's what you need to know…
ETFs work just like stocks. They trade like a common stock on a stock exchange.
The prices on ETFs change throughout the day as they are bought and sold.
ETFs typically have higher liquidity and lower fees and investment minimums than mutual funds, making them an attractive alternative for us as individual investors.
Even better, unlike mutual funds, ETFs don't make year-end capital gains distributions that saddle you with extra taxes even if they lose money.
Best of all: You can find an ETF to cover pretty much any kind of investment you want to make – I'm talking stock indices, industrial sectors, income investments, geographic markets, or even commodities.
There are ETFs that offer baskets of oil-drilling companies, mining companies, financial institutions, or computer software firms. Others track the price of gold and silver or other commodities like coal or even alternative energy.
In fact, if you can think of a public company on the market today, there is probably an ETF out there that allows you to own its shares – for what amounts to a fraction of the cost of buying them outright.
There are also ETFs that own baskets of stocks that represent entire stock markets, like Japan's or Argentina's for instance. And with only $1,000 to invest, these ETFs can provide you with the broad diversity you are looking for.
Now you should know: It's still not a free ride.
In fact, all ETFs also incur trading expenses when they buy large blocks of stocks. This is expressed as an expense ratio. So you want to look for an ETF with low expense ratios – preferably less than 1%.
Even then, very few ETFs can be bought without incurring commissions.
So we've narrowed our search down. We want to invest in a broadly diversified index ETF with a low expense ratio that can be bought without commissions.
Fortunately for us, there is just such an ETF available on the market today.
And it's managed by a company known for its fair treatment of investors because it keeps trading costs low and expense ratios to a minimum.
The Vanguard Total Stock Market ETF (NYSE Arca: VTI) covers the entire U.S. stock market for a razor-thin 0.05% expense ratio. That's 95% lower than the average expense ratio of funds with similar holdings.
This market cap-weighted fund is the quintessential core stock holding, providing us excellent exposure to U.S. stocks with a super-low expense ratio.
This fund has a market cap of $390 billion, giving you lots of liquidity (making it easy for you to buy and sell shares) with exposure to large-, mid- and small-cap stocks – across both growth and value styles.
Plus, simply by opening a brokerage account for $1,000 with the Vanguard Group, you can purchase VTI with no commissions and no minimum purchase.
You also will incur no commissions if you decide to sell and can eliminate the usual $20 annual service fee by signing up for e-delivery of all documents (so make sure you do that).
You can also compound your returns by instructing Vanguard to reinvest all your dividends.
Dividend reinvestment can be one of the smartest investing moves you could make, but it's a story for a different day.
Here's the Bottom Line
You get to own an index of the entire U.S. stock market for as little as $5 a year. That's the best deal you're going to find anywhere for investing $1,000.
I'm betting that even Ty Cobb (who was an avid investor himself) would approve.
Once you've started, you can keep saving, keep adding to your holdings, and build a foundation that you can later add individual stocks to.
You have the potential to accomplish a great deal of investing success with a long-term outlook and just $1,000, so in my next Private Briefing, I'm going to show my readers how they could do even more if they have $5,000 to invest. Click here to learn more about subscribing…
Follow Bill on Facebook and Twitter.
Join the conversation. Click here to jump to comments…
About the Author
Before he moved into the investment-research business in 2005, William (Bill) Patalon III spent 22 years as an award-winning financial reporter, columnist, and editor. Today he is the Executive Editor and Senior Research Analyst for Money Morning at Money Map Press. With his latest project, Private Briefing, Bill takes you "behind the scenes" of his established investment news website for a closer look at the action. Members get all the expert analysis and exclusive scoops he can't publish... and some of the most valuable picks that turn up in Bill's closed-door sessions with editors and experts.