Before the inevitable Uber IPO date, the transportation disruptor is willing to pay up to $100 million to keep its business model intact.
You see, drivers joined together to form a class-action lawsuit against Uber. And in order to keep drivers as independent contractors, Uber gave in to a list of demands in a settlement today.
Because of this huge settlement, some investors are scared of what this means for the Uber stock price when it comes to market.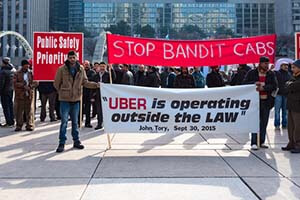 But before we get to that, and another huge potential red flag for investors before the Uber IPO date, Money Morning wanted to make sure our readers knew all the details of this $100 million Uber settlement.
Uber is facing two class-action lawsuits in California and Massachusetts covering 385,000 drivers, according to The Wall Street Journal. While Uber also has lawsuits pending in Arizona, Florida, and Pennsylvania, the cases in California and Massachusetts involve the largest amount of drivers.
As part of the settlement, Uber has agreed to make some concessions to the drivers in order to keep them classified as independent contractors.
First, the company will revise its practice of deactivating drivers without adequate warning. Uber will have to explain its decisions when it terminates drivers, and it will also have to give warnings before deciding to completely remove drivers from its app.
The Uber drivers in those states also won't be removed from the service for declining rides. But they still could be banned for declining a ride based on the sexual orientation or race of a passenger, according to Engadget.
Uber will pay out $84 million now to the plaintiffs and $16 million when it goes public.
The $100 million may seem hefty for a startup, but it will actually save Uber money in the long term. You see, Uber's profitability relies on its drivers acting as independent contractors. Uber saves money by not paying Social Security tax, health insurance, and Medicare tax.
It's going to be cheaper to pay $100 million in the settlement now than to classify the drivers as employees.
So while the news may seem bad this morning, this is actually a win for Uber. But that doesn't mean the company doesn't have other red flags.
When the Uber IPO date is set, Uber stock will still be a highly speculative investment because of this one giant flaw...
The Single Biggest Red Flag Ahead of the Uber IPO Date
There's no arguing that Uber is a rock star in the startup world.
It will be one of the most anticipated IPOs ever. Reuters already projects global bookings for Uber will reach $26.12 billion this year.
But as highlighted by these lawsuits, Uber's best asset is also its greatest liability: the drivers.
Uber doesn't have the overhead of traditional transportation services because it doesn't own the vehicles. The problem for Uber, though, is that it has to solely rely on its drivers to bring in revenue.
And Uber is having a tough time keeping its drivers around...
According to a study conducted by Princeton Professor Alan Krueger and Uber Head of Policy Research Jonathan Hall, 62% of drivers have a full-time job or part-time job outside of Uber. That suggests most Uber drivers can't make a living driving for the company.
In fact, the study also revealed that only slightly half of the people who drive for Uber are working for the company a year later.
Uber can only increase profitability if it hires more drivers, and that is going to be a challenge moving forward. States like California will increase the minimum wage to $15 over the next six years, which makes Uber a much less attractive option as a second source of income.
Some drivers can make up to $30.35 per hour, but that doesn't include the cost of vehicle maintenance, tolls, and car insurance.
Uber also faces stiff competition from rival services like Lyft and China's Didi Kuaidi. If these companies need to attract more drivers, they will have to pay higher commissions. Since Uber's business model is entirely dependent on commissions, it could start losing money if it needs to increase its payout percentage to attract more drivers.
So while the Uber IPO date is inevitable, its risks increase the longer it waits to offer Uber stock to the public.
The Bottom Line: The Uber IPO will be one of the most discussed IPOs on Wall Street, but that doesn't mean Uber stock is worth investing in. The company has a lot of hurdles to clear before it deserves to be in your portfolio. We will keep covering Uber before its IPO to make sure our readers are always up to date on the latest Uber news.
Jack Delaney is an associate editor for Money Morning. You can follow him on Twitter and follow Money Morning on Facebook. 
The Best Stocks to Buy Now for April 2016: These four stock picks have great long-term growth potential. They're also able to handle a market that's been driven by the Fed for the past decade...