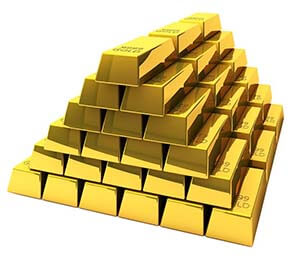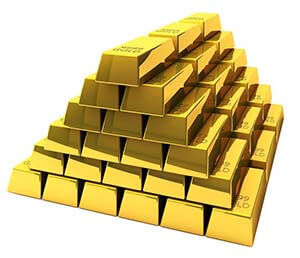 From gold coins to other gold investment options, gold turned in its best performance in 30 years for the first quarter of 2016, rising more than 16%. That performance significantly outpaced the broader markets for stocks, bonds, and other commodities.
Even with the gold price higher now, it's still a good time to add physical gold to your portfolio. Before you do, check out our gold investing guide. And brush up on a few facts about gold – outlined here.
What to Know Before Buying Gold Coins
The first thing to know is that gold prices will continue to climb.
What's driving the rise in gold? Money Morning Resource Investing Specialist Peter Krauth notes that the recent signaling by the U.S. Federal Reserve that it won't be raising interest rates soon — and will hike them very gradually when it does — is part of what's pushing gold prices higher. The Fed believes that U.S. economic growth is weakening. These Fed moves can be bullish for gold.
A number of countries worldwide have negative nominal interest rates and slowing economics. When interest rates are low, gold is often a good investment.
In addition, there is huge overseas gold demand, particularly from both China and Japan. The World Gold Council (WGC), for example, pegged Japanese consumer demand at almost double year over year to nearly 33 metric tons in 2015 from just under 18 metric tons in 2014.
In fact, Krauth pinpoints a comment from the WGC that summarizes what investors should expect regarding interest rates: "History shows that, in periods of low rates, gold returns are typically more than double their long-term average. Over the long run, negative-interest-rate policies may result in structurally higher demand for gold from central banks and investors alike."
Gold is also often used as a safe-haven investment against market and political uncertainty. It's legal tender, unlike other stocks or bonds.
Finally, gold is at its lowest supply since 2009, after a drop of 4% last year to 4,258 tons.
Krauth believes that gold is poised to head up again, and that any weakness going forward should be seen as a buying opportunity.
Next, it's important to understand how to invest in gold.
There are three ways that investors can buy gold. The first is exchange-traded funds (ETFs). The second is by investing in gold stocks. The third is to buy the actual metal itself, in bullion or gold coins.
Physical gold is the best protection for your money – although it can come with extra fees.
That's why it's important to know about the benefits of buying gold coins, to decide if that's the right gold investment for you.
Why to Buy Gold Coins
Of the ways to purchase the actual metal and hold it, gold coins are one of the simplest. Money Morning Global Credit Strategist Michael Lewitt observes that "buying gold coins is as easy as buying a book on Amazon.com."
There are several different kinds of gold coins: the American Eagles, Canadian Maple Leafs, and South African Kruggerands. Investors can pick several different weights, from 1 ounce down to 1/10th ounce.
Investors should note that having gold coins — or any other form of gold — around the house can be a security concern, and should make plans to hold them securely in a safe or other secure place.
Money Morning Chief Investment Strategist Keith Fitz-Gerald notes that dollar-cost averaging – buying gold in the same amount over a steady period of time – protects investors from the risks of market volatility by reducing the likelihood that an investor will buy at either the high or the low.
Fitz-Gerald suggests rebalancing the mix of all investments annually so that metals remain at 5% to 10% of your portfolio.
To know more about buying gold coins, download our report: The Essential Guide to Buying Gold & Silver.
Follow Money Morning on Facebook and Twitter.