Oil prices climbed to $44 a barrel last Thursday - a price not seen since last November. That big jump from Wednesday's settle of $42.63 came as the market was on the cusp of another change in oil futures contracts.
You see, Friday marked the end of May contracts as the "near-month" barometer, with the switch to June contracts for WTI (West Texas Intermediate; the NYMEX benchmark) happening Thursday.
Oil prices will now consolidate, although they are already within the $42 to $45 a barrel WTI range I predicted for mid-June... and we are still only in April.
But now, for the first time in months, geopolitics is once again setting the energy agenda.
Five crises are emerging, and they will have an inordinate impact on energy prices going forward.
This first one, for example, could give crude an immediate jolt...
Oil Prices Now Have a Floor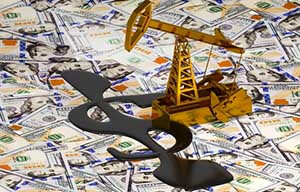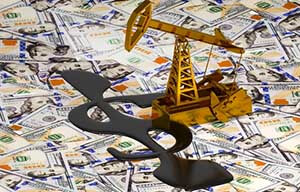 Now, oil's price ceiling is less important than its price floor. This is all about the psychological underpinnings for trading the commodity, especially after the fallout from the abortive Doha meeting.
Remember, trading oil is largely dictated by expectations, not real-time snap shots. Until recently, given the precipitous slide in oil, traders would peg the price of oil to the expected cost of the least expensive next available barrel.
That moved market prices below the actual value of the underlying shipments of oil.
Of course, this is exactly the opposite of the approach we saw when crude was above $100 in mid-2014. Then, prices were artificially increased by traders pushing contract prices up.
The key here remains a pricing floor.
And that appears to have been set over the past several trading sessions. Volatility will continue, but the trading band will narrow. That's all we need to benefit from the oil sector's solidifying share prices.
However, the energy sector is once again under pressure from geopolitical concerns that change everything...
The International Energy Agency (IEA) released a report yesterday in which it expects a decline in non-OPEC oil production. With supply on the way down, flashpoints around the world have now reentered center stage in the minds of oil traders.
There are now five geopolitical factors in play that are likely to reinforce global oil prices. Now, as I've been saying for months, there won't be a spike to $70 or $80 a barrel in the near to middle term.
But these five factors will support oil's new price floor. And that's all we need - stability in pricing is preferable to an overheated oil market.
Geopolitical Focal Point No. 1 - Saudi Arabia
First, there is Saudi Arabia's last-minute decision to scuttle the Doha oil summit by requiring that Iran also agree to any production freeze. The decision was less about oil and more about the once again increasing acrimony between the two countries on issues like the wars in Syria and Yemen, as well as the smoldering situation in Bahrain.
This late and sudden move by Saudi Arabia was orchestrated by Saudi Deputy Crown Prince Mohammad bin Salman Al-Saud.
My sources now indicate that Prince Mohammad (the rising power behind his father's throne) is actually in favor of an oil production freeze for domestic economic reasons. But the deteriorating security situation vis-à-vis Iran is dictating policy.
At 30, Mohammad is the youngest defense minister in the world and the architect of the Saudi post-oil economy. The late and sudden move at Doha, which killed the deal, was an attempt to put pressure on elements in Iran's internal power struggles.
Geopolitical Focal Point No. 2 - Russia
Second, following the Doha "failure," Russia threatened to increase oil production beyond current levels.
This is nothing but bluster.
Their production of 10.9 million barrels a day recorded in January (the levels to be used for the freeze in Doha) were a post-Soviet record and cannot be maintained. Moscow is looking at a contraction of production from its main, old, western Siberian basins and a major budget crisis as a result.
To have any chance of maintaining such extraordinarily high extraction levels, Russia would need to move the bulk of forward production north of the Arctic Circle, out onto the continental shelf, into undeveloped Eastern Siberia, and deeper below existing basins to develop heavy oil. All these steps are exceptionally expensive and would require technology that Russia simply does not possess.
A considerable influx of outside investment and expertise would be needed. But with the ruble exchange rate depressed double what it was a year ago, more foreign investment would itself do additional damage to the domestic currency exchange rate.
The Russian population, already suffering from rising prices in essential imports and major market dislocations, would suffer even more.
Geopolitical Focal Point No. 3 - Iran
Third - and this will come as little surprise to regular readers (given my frequent mention of it) - the Iranian increase in oil production and exports will level off. Major field and infrastructure problems, combined with a lack of essential capital investment and technical expertise, will provide the restraints.
The official line coming from Iranian Oil Minister Bijan Namdar Zangeneh is that Iran will not entertain a cap on production until it reaches pre-sanction levels of about 4.2 billion barrels a day. Iran is likely to reach that before the next producer meeting scheduled for Moscow in June.
Now, as mentioned before, Iran won't be able to sustain those levels. And even if they did, the country would benefit only if it managed to take market share away from other producers. That would only be possible if Iran offered significant discounts - defeating the point of increasing exports in the first place.
All of this is largely academic if Tehran cannot attract immediate influxes of outside capital and technology (mirroring the problems faced by Russia). Yet Iran has cancelled three separate meetings with foreign financial sources in London because there is no consensus at home. That domestic political dispute has been ongoing for years.
Geopolitical Focal Point No. 4 - The Asian Oil Battleground
Fourth, the primary market battle between Saudi Arabia, Russia, and Iran is now shifting to Asia. This will also require significant pricing discounts and focus on the "Asian premium" (the amount Asian importers pay above their counterparts in Europe or the U.S. Gulf Coast).
A discount in this premium will benefit end users and change export distributions among primary oil sources, but it won't adversely impact the global oil price as such.
Geopolitical Focal Point No. 5 - The U.S. Energy Debt Crisis
Finally, huge amounts of money from Asia are about to move in to the U.S. market, to cherry-pick oil assets as the American energy debt situation worsens. This may be the biggest game changer over the next two quarters and will provide us with a range of profitable plays.
Each of these five factors testifies to the interdependence of oil prices and global events. These developments are no longer outliers. They are endemic to the process. Investors can no longer regard them as one-offs and should consider each one before investing any money.
Follow Money Morning on Facebook and Twitter.
Why Crude Hasn't Crashed Despite Saudi Arabia's Efforts: If ever there was a "non-event," the supposed "fallout" from the Doha meeting certainly appears to be one of them. Even so, some are now saying that Saudi Arabia and others will now increase oil production. They won't. Here's why...
Join the conversation. Click here to jump to comments…
About the Author
Dr. Kent Moors is an internationally recognized expert in oil and natural gas policy, risk assessment, and emerging market economic development. He serves as an advisor to many U.S. governors and foreign governments. Kent details his latest global travels in his free Oil & Energy Investor e-letter. He makes specific investment recommendations in his newsletter, the Energy Advantage. For more active investors, he issues shorter-term trades in his Energy Inner Circle.