Last week, I recommended picking up shares of Northrop Grumman Corp. (NYSE: NOC) on the dual trend of increasing global tensions and defense budgets.
Those shares have already run up 22% in the past 12 months. That would be an impressive feat for a small cap, but we're talking about one of the five biggest defense and aerospace firms on the planet.
These kinds of gains really prove our thesis about investing to capitalize on truly powerful trends.
Here's the thing - Grumman has good company on its ride into the stratosphere. And there is so much money pouring into the defense sector right now - more than $1.75 trillion by 2020 - that it makes sound investment sense to open up our exposure a bit and capture even more of the gains this growth sector is offering.
So today, I want to introduce you to Grumman's big brother...
The Perfect Addition to Our Defense "Double Play"
Lockheed Martin Corp. (NYSE: LMT) is set to be one of the best defense plays of the decade.
Before Northrop Grumman's record-breaking deal for the USAF's new B-21 Long Range Strike Bomber, Lockheed held the biggest aircraft award when it landed the F-35 "Lightning II" Joint Strike Fighter.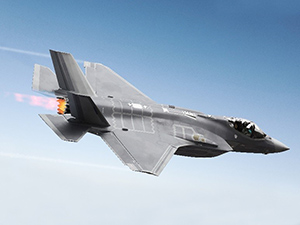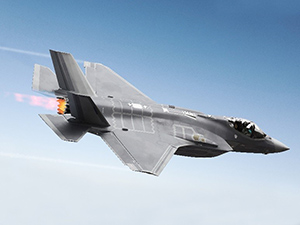 The plane has a few detractors, but the experts who matter, which is to say the elite flyers sitting at the controls, are giving the machine rave reviews.
The Lightning II will be a boost to shareholders for years to come. It's set to be the U.S. Air Force's fifth-generation fighter of choice, and the Navy and Marine Corps will use it, too, but plenty of allied countries are either set to fly it or are testing it now, including:
The United Kingdom's Royal Air Force and Royal Navy, plus the Commonwealth's Royal Canadian and Royal Australian Air Forces... the Israel Air Force... the Republic of Korea Air Force... the Italian Air Force... the Turkish Air Force... the Japan Air Self-Defense Force, along with the air forces of the Kingdoms of Denmark, Norway, and the Netherlands.
So it truly is a joint strike fighter with a robust client list. And those clients will be buying replacement parts and airframes for the foreseeable future.
The company is typically the first stop when buyers from the Pentagon, Whitehall, and defense establishments the world over want to "kick the tires" on major new projects on land, sea, and/or air.
Its market cap more than $68 billion - nearly twice that of Northrop Grumman. In fact, the only player in the sector that is bigger is Boeing Co. (NYSE: BA), but much of Boeing's value comes from its commercial aircraft division.
In other words, for a pure defense play, Lockheed is the bluest of the blue chips.
This sector doesn't go anywhere unless Lockheed is involved. That means it's an industry bellwether... And that bell is ringing now.
Even during the past few years - hard years for the defense sector - Lockheed posted expanding profit margins (7.8% for FY2015) and a stunning 110% return on equity for FY2015. Growth is in the air. The stock is up 6% in the past three months and pays you a welcome 2.9% a dividend to hold it.
Wall Street estimates tend to reflect the consensus that there really are big days ahead for this defense giant, too. Earnings could come close to $14 a share by the end of 2017, right around the same time revenue is expected to top $50 billion.
But I think those numbers could be even bigger - for good reasons...
A Look at Lockheed's Bright Future
After all, it has a profit pipeline for years to come. For instance, the United States Navy recently announced that it's going buy $81 billion worth of ships and submarines in the next five years. Lockheed will be one of the biggest winners of this spend.
What's more, it also has two high-profile projects on both ends of the speed spectrum. Recently, CEO Marillyn A. Hewson announced that Lockheed has turned a corner in its hypersonic weapons technology.
She said, "We are now producing a controllable, low-drag, aerodynamic configuration capable of stable operations from takeoff to subsonic, transonic, supersonic and hypersonic, to Mach 6."
To put that into perspective, if you were on a plane traveling Mach 6, you could go from New York to Los Angeles in about 30 minutes. Delivering weapons at this speed changes everything about military engagement. It will also have major implications for aerospace and commercial air travel as well.
On the "slow" side, Lockheed just announced a $480 million deal for 12 of its new hybrid airships. These are the new generation of lighter than air vehicles, or blimps.
These old vehicles turned new again are in growing demand since they can carry big payloads (20 metric tons) of troops or equipment along with 19 crew and get them to remote areas that are inaccessible by conventional modes of transport.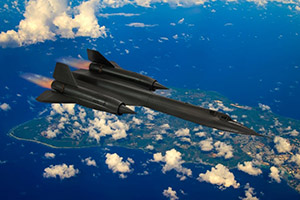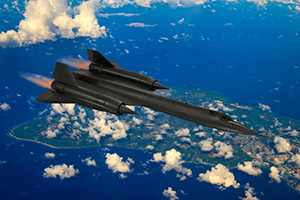 This new vehicle, named LMH-1, is the first project by Lockheed's legendary (and notoriously secretive) Skunkworks to be sold commercially. In the past, this crack team of engineers gave our military the U-2 "Dragon Lady" and SR-71 "Blackbird" spy planes. The Blackbird was in service for decades, and the Dragon Lady is still in service today with several operators, including the U.S. Air Force; it's long since proven its effectiveness.
The LMH-1 won't fly as fast or as high as these battlebirds, but it should be even more useful to a wider array of consumers. In fact, the first prospective buyers are energy companies that are looking to get equipment and personnel into and out of remote locations without having to build roads or make heavy use of low-capacity helicopters to do the job.
Other private sector players are going to play a role in Lockheed's future growth, but it's steadily expanding defense budgets that will make the biggest impact this year.
So I recommend grabbing Lockheed shares before this spending really starts to surge in the next few years, and for the biggest, best profits this sector has to offer, pick up Northrop Grumman, too.
Follow Michael on Facebook and Twitter.
New technology could create $2.86 trillion in wealth... The revenue growth is shocking. Last year, with a very limited release, it generated $70 million in revenue. This year, it's on track for $684 million. But over the next three years, the core technology could create $2.86 trillion in new American wealth. And this isn't just for the billionaires of the world. Many everyday Americans could become millionaires as well. Click here to see how you could be one of them.
Join the conversation. Click here to jump to comments…
About the Author
Michael A. Robinson is a 36-year Silicon Valley veteran and one of the top tech and biotech financial analysts working today. That's because, as a consultant, senior adviser, and board member for Silicon Valley venture capital firms, Michael enjoys privileged access to pioneering CEOs, scientists, and high-profile players. And he brings this entire world of Silicon Valley "insiders" right to you...
He was one of five people involved in early meetings for the $160 billion "cloud" computing phenomenon.
He was there as Lee Iacocca and Roger Smith, the CEOs of Chrysler and GM, led the robotics revolution that saved the U.S. automotive industry.
As cyber-security was becoming a focus of national security, Michael was with Dave DeWalt, the CEO of McAfee, right before Intel acquired his company for $7.8 billion.
This all means the entire world is constantly seeking Michael's insight.
In addition to being a regular guest and panelist on CNBC and Fox Business, he is also a Pulitzer Prize-nominated writer and reporter. His first book Overdrawn: The Bailout of American Savings warned people about the coming financial collapse - years before the word "bailout" became a household word.
Silicon Valley defense publications vie for his analysis. He's worked for Defense Media Network and Signal Magazine, as well as The New York Times, American Enterprise, and The Wall Street Journal.
And even with decades of experience, Michael believes there has never been a moment in time quite like this.
Right now, medical breakthroughs that once took years to develop are moving at a record speed. And that means we are going to see highly lucrative biotech investment opportunities come in fast and furious.
To help you navigate the historic opportunity in biotech, Michael launched the Bio-Tech Profit Alliance.
His other publications include: Strategic Tech Investor, The Nova-X Report, Bio-Technology Profit Alliance and Nexus-9 Network.