It seems like people are working harder and harder for their money these days but are making less and less.
On average, we're working longer and longer hours, paying more for living expenses, and retiring much later. And many people exert all of their physical and mental energy at their jobs before having to work a second – or even third – job. And they still aren't making what they should be making.
But you don't have to get stuck in this trap…
I've got the easiest way for you to double your money in as little as 10 days… And it doesn't involve working harder or even buying stock.
Now you may be thinking that this is impossible to do… or that there's some catch…
But I'm here to tell you that you can – and without any catch at all.
Let me show you exactly how…
How to Double Your Money Fast: Trade Options That Require Small Stock Moves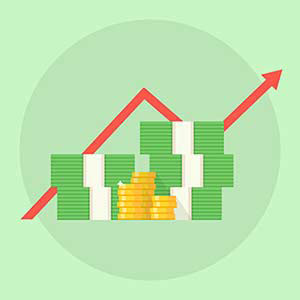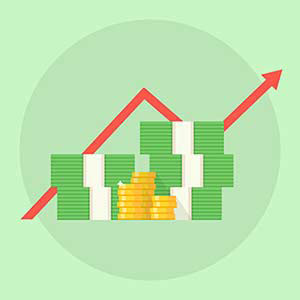 In addition to Power Profit Trades, I'm also the editor of Money Calendar Alert – you might already be familiar with my publication.
Every week, I send out the best options trade opportunities that I've pinpointed using my proprietary tool, Money Calendar. This tool analyzes 10 years' worth of historical data based on the price movements of the most popular stocks on Earth and spots low-risk, high-return trades based on a simple, back-tested pattern.
What I look for in particular for my readers are the trading strategies and opportunities with a 90% probability (or greater) of doubling in value within 30 days or less. And the way I do things, my readers never risk more than $500 to participate when learning how to double your money.
I identify options trades that require the smallest movement in the stock to deliver triple-digit gains. And not only is this strategy easy, it's been working since I first launched this service just under a year ago.
But instead of simply telling you that this method can earn you these types of profits and show you how to double your money, I'm going to share two case studies in which Money Calendar readers had the opportunity lock in gains of 100% or more.
Let's get started…
Money Calendar Trade No. 1: GameStop
Last month, Money Calendar readers had the chance to enter an options trade on GameStop Corp. (NYSE: GME). The stock was on the Money Calendar list as making an upward price move of $3.70 between Feb. 22 and April 1 in nine of the last 10 years, making it a perfect bullish candidate.
On Feb. 22, readers had the opportunity to buy-to-open GME April 15, 2016, $27 calls for a total cost of $275 ($2.75 entry price x one contract of 100 shares = $275).
Our plan was to exit the trade for a 100% profit or better when the trade reached our exit price of $5.50… or by our exit date of April 1.
Now we only needed GME to move about five price points up (or a 17.5% move on the stock) in order for our trade to double in value.
Here's what happened…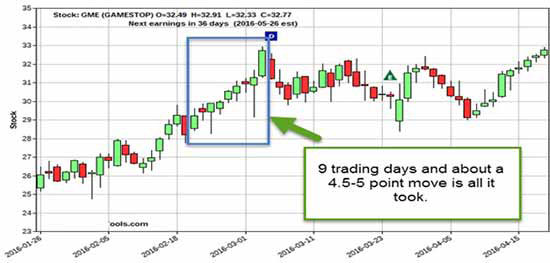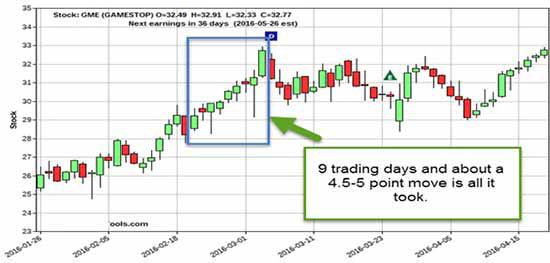 As you can see above, GME moved exactly as Money Calendar predicted… and it moved fast.
And just nine trading days later, on March 3, the stock moved upward by about four-and-a-half to five price points to our target of $5.50… handing us our double.
For only $275, readers had the opportunity to learn how to double their money on 100 shares of GME without ever owning the stock… and all because of less than a five-point upward move in the stock.
Here's another example…
Money Calendar Trade No. 2: Intuitive Surgical
Intuitive Surgical Inc. (Nasdaq: ISRG) stock is currently trading at over $600. If you want to buy this stock, you won't be able to spend any less than $600 for a single share. Forget about buying 100 shares of the stock unless you're willing to risk $60,000. And you better hope that the stock gets up to $1,200 so that you can double your money…
But that's not how we do things at Money Calendar…
Instead of buying the stock, Money Calendar found an options trade for readers with the potential to show them how to double their money off of a very small move in the stock.
And on Feb. 29, readers had the opportunity to buy-to-open the ISRG April 08, 2016, $570 calls and sell-to-open the ISRG April 08, 2016, $575 calls, creating a debit call spread.
Our total cost for the spread was just $290 – and that's to control 100 shares of stock.
Our exit strategy was to close our call spread for 150% gains by April 8. And we only needed this stock to move 40 points. Now, a 40-point move would generally be a pretty healthy one… but not on a $562 per share stock. That 40-point move is really just 7% – which is all we needed to get our double.
But it didn't take ISRG until April 8 to reach our target price. Take a look…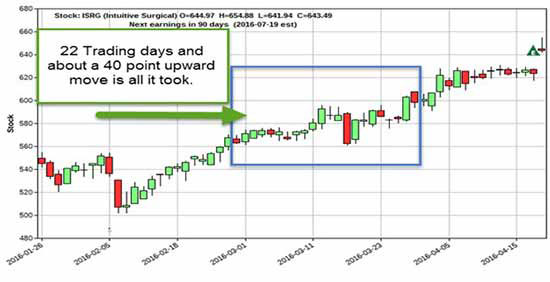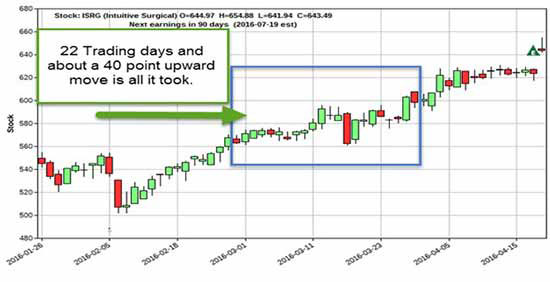 On March 29 – nine trading days before our exit date – we reached our target of $5.80 and got our double.
We've talked about debit call spreads and how they're a great way to lower your total cost and risk on an in-the-money call. I do want to mention that, typically, creating a spread is a more conservative play than buying – or going long – a call, which means there's less risk and less reward.
But banking 100% profits based on a 7% move is a pretty satisfying result – especially on an expensive stock like ISRG.
The bottom line is, you can capture triple-digit gains by simply trading options on stocks that only need small moves.
Here is a look at how to double your money with other Money Calendar trades we closed out in March (and one in April). As you can see, six of the nine trades were winners, which is a nearly 70% success rate: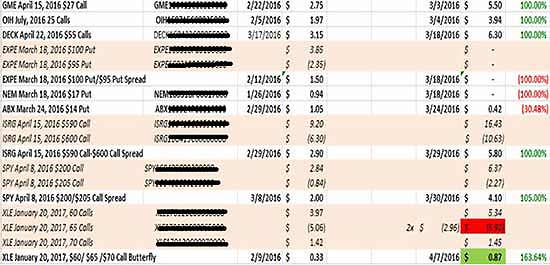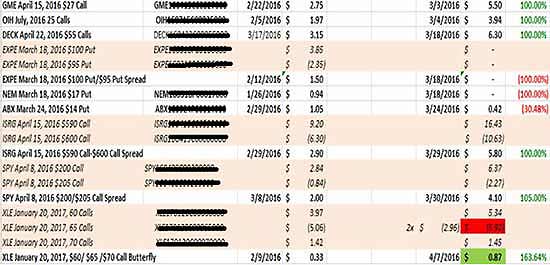 Follow Money Morning on Facebook and Twitter.
How to Make Money Every Single Day This May: We're about to enter one of the weakest traditional market seasons, hence the old investors' adage, "sell in May… and go away." But with this strategy, you can hang tough in May – and walk away with all the profits about to be left on the table…
Join the conversation. Click here to jump to comments…
About the Author
Tom Gentile, options trading specialist for Money Map Press, is widely known as America's No. 1 Pattern Trader thanks to his nearly 30 years of experience spotting lucrative patterns in options trading. Tom has taught over 300,000 traders his option trading secrets in a variety of settings, including seminars and workshops. He's also a bestselling author of eight books and training courses.