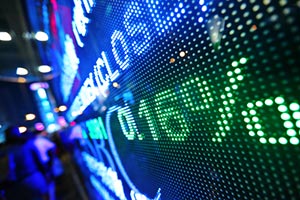 Our latest list of the best stocks to buy now comes during the Dow Jones Industrial Average's remarkable, quadruple-digit rally.
The Dow has climbed more than 1,110 from 16,860 on March 1 to close past 18,000 on April 18 - a 6.7% gain. That was the first time the Dow closed above 18,000 since July 2015.
Don't be fooled, though. This is a classic bear market rally. And it's not going to last much longer...
That's why our best stocks to buy now list focuses on long-term gains. These stocks will perform well for years, even if the stock market enters a free fall again like it did between January and mid-February when the Dow dropped 10%.
But before we get to our stocks to buy now, let's look at why this bear market rally is ending soon.
You see, the Federal Reserve has been artificially inflating the stock market.
"Every time 'Mother Janet' promises to go slow, stocks move higher," Money Morning Global Credit Strategist Michael E. Lewitt said, referring to the Fed's dovish tone.
Sign up for SMS so you never miss special events, exclusive offers, and weekly bonus trades.
But the Fed will raise rates again soon - probably in June. When that happens, stocks will correct like they did earlier this year. That correction was shortly after the Fed's small, 0.25% rate hike last December.
Investors that play a long-term game in this scenario will fare best. By focusing on stocks that rise steadily over time, they avoid speculative stocks, which can get pummeled by knee-jerk market reactions to the Fed's policies. And our gurus have four new stock recommendations to help with this strategy.
Money Morning Resource Investing Specialist Peter Krauth knows one of the best investments to own before U.S. inflation goes into overdrive...
Director of Technology & Venture Capital Michael Robinson has two defense stocks to buy that take advantage of U.S. military spending...
Robinson also identified a cutting-edge tech stock that's at the forefront of a burgeoning, $1 trillion technology sector...
And Chief Investment Strategist Keith Fitz-Gerald has several stocks to buy that will help investors through another recession...
Get all of these stocks picks here in our latest list of the best stocks to buy now...
Money Morning's Best Stocks to Buy Now
Follow Money Morning on Facebook and Twitter.
How to Make a (Stress-Free) Killing with Options: In this volatile market, investors need every moneymaking method available to them. Options, in particular, are important for income and huge gains. And with this quick-start guide, you could be trading them today...