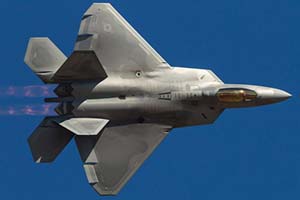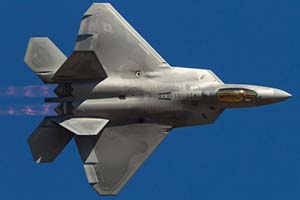 Lockheed Martin Corp. (NYSE: LMT) reported solid first-quarter earnings this morning (Tuesday), and the LMT stock price is up about 1% in intraday trading.
Investors that own shares of LMT stock typically hold them for the long term. So the small jump in the LMT stock price following earnings suggests investors are confident about Lockheed's outlook.
Before we talk about Lockheed's outlook for 2016, let's break down the Q1 earnings results.
Lockheed posted earnings per share (EPS) of $2.58, which missed consensus estimates by just a penny. Lockheed also reported $11.7 billion in revenue, which handily beat consensus estimates by $36 million.
Lockheed's increase in revenue was from its aeronautics and mission systems and training divisions. Its aeronautics sales increased from $3.1 billion in Q1 2015 to $3.8 billion this year. Its mission systems and training revenue doubled from $1.2 billion to $3 billion in the same time period.
Lockheed's F-35 fighter jets deliveries made up the bulk of its aeronautics sales. The company is building more than 2,400 F-35s for the U.S. Air Force, which will go toward supporting U.S. troops in the Middle East.
The defense giant also hiked its sales outlook for the year to a range between $49.6 billion and $51.1 billion. This was a small increase from its previous projection between $49.5 billion and $51 billion.
Lockheed's Q1 earnings weren't exceptional, but they were solid. And there are many other reasons to be bullish on the LMT stock price in 2016.
In fact, Money Morning Director of Technology & Venture Capital Michael A. Robinson says that Lockheed is "one of the best defense plays of the decade."
Here's why…
Why the LMT Stock Price Will Rise in 2016
With a market cap of $69 billion, Lockheed Martin is the second-biggest stock in the defense sector, behind Boeing Co. (NYSE: BA). And there are perks that come with being a big, blue-chip player.
"The sector doesn't go anywhere unless Lockheed is involved," said Robinson. "That means it's an industry bellwether… and that bell is ringing now."
As defense spending ramps up, Lockheed stands to profit the most. It's already expanded profit margins 7.8% in fiscal 2015. And there's one reason for that…
Lockheed's profit pipeline.
Lockheed's profit pipeline has been strong for years and will remain strong in the long term. That makes LMT stock the perfect investment to weather a potential recession or even a stock market crash.
The U.S. government is constantly spending on defense and issuing new military contracts. For example, the U.S. Navy just announced it's going to purchase $81 billion worth of vessels over the next five years. You can be sure that Lockheed will be awarded most of those contacts.
And more recently, Lockheed just scored a $480 million deal on March 30 for its helium-filled airships, called the LMH-1. The blimp-like airships can carry 20 tons of cargo to remote locations.
Defense sector spending will grow to more than $1.75 trillion by 2020, according to Robinson. And Lockheed's F-35 combat jet, experimental LMH-1 hybrid aircraft, and other exciting products will be in high demand.
"I recommend grabbing Lockheed shares before this spending really starts to surge in the next few years," said Robinson.
Based on the average estimates of 21 analysts, LMT stock has an annual EPS estimate of $13.69 by December 2017. Using its current P/E ratio of 19.75, LMT stock has a price target of $270 by December of next year, up around 17% from its current price.
Follow Money Morning on Facebook and Twitter.
How to Make a (Stress-Free) Killing with Options: In this volatile market, investors need every moneymaking method available to them. Options, in particular, are important for income and huge gains. And with this quick-start guide, you could be trading them today…