Deutsche Bank AG (NYSE: DB) just can't seem to get out of its own way.
Having been in trouble with the New York Fed for years for a series of serious regulatory problems, the European giant just admitted that it engaged in a conspiracy to rig gold and silver prices with HSBC and ScotiaBank. Silver and gold futures traders sued them alleging that the three banks, which dominate the silver market, used their power to rig prices in the precious metals and their derivatives. Silver traders sued DB, HSBC, Bank of Nova Scotia, and UBS, while gold traders added Barclays and Societe Generale.
I'm shocked, simply shocked to learn that people were gambling at Rick's Café.
DB is the only bank that has settled these claims so far. But it didn't just admit it broke the law. Proving the adage that there is no honor among thieves, DB also offered to turn over evidence on its co-conspirators who have not settled the case.
If you can't trust your fellow thieves, there's no justice in the world.
And for investors, of course, it's become increasingly clear that you can't trust the markets.
Incompetent Bureaucrats Are Destroying the Markets for the Average Investor
This settlement is a major black eye for regulators. In September 2013, the CFTC closed a five-year investigation into allegations that Big Banks were manipulating gold and silver prices and said it found no evidence to support the claims. And people wonder how Madoff got away with his Ponzi scheme for so long?
The reason so much fraud goes unpunished is because regulators are unqualified to understand the markets that they are regulating. In the case of Deutsche Bank, which as I've repeatedly warned holds enough derivatives on its books to blow up the world, regulators repeatedly flagged problems but failed to either require them to be fixed or to rein in the bank's operations in order to protect investors and the system. This is simply inexcusable.
But the real story is that our government lacks the wherewithal to enforce its own laws. The highly concentrated nature of risk in the financial system is heightened by the inability of regulators to rein in institutions' bad behavior. Some of the world's largest banks engaged in serial violations of the law and paid large fines while receiving multiple waivers protecting their banking licenses while virtually none of the corporate executives who committed the deeds in question were punished criminally. Deutsche Bank's ability to keep regulators at bay is just one example of the corruption of markets.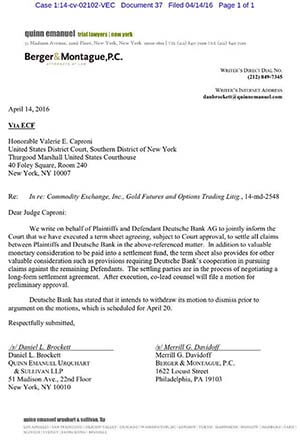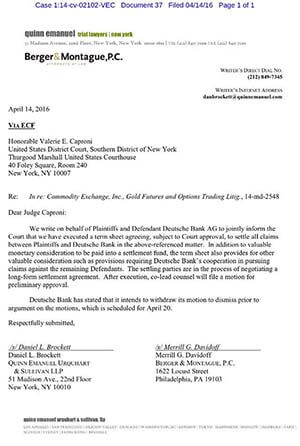 Click to Enlarge
But more important for investors is what effect this will have on the gold and silver markets.
Obviously the Big Banks are aware their every move is being watched and are trying to clean up their acts. But one of the problems with financial institutions is that compliance departments, like regulators, are peopled not by the best and the brightest, but by the dumb and dumbest among us. Compliance officers tend to focus on trivia while allowing big problems to fester right below their noses.
If DB really has the goods on its co-conspirators and shares them with plaintiffs' lawyers and regulators, maybe things will get cleaned up. But along with that will likely come lower market liquidity, which contributes to price opacity rather than transparency.
It is difficult for investors to protect themselves in a rigged market.
The best thing you can do when buying gold and silver is check multiple price sources to ensure you are receiving the best available price. The sad fact is that all markets are rigged to some extent, but checking prices to keep dealers honest is the first step to making sure that you will not be another victim of corrupt banks and their incompetent regulators.
Follow Money Morning on Facebook and Twitter.
Editor's Note: As you navigate 2016's volatile market situation, your most valuable asset may be Michael Lewitt's free Sure Money service. In Sure Money, Michael helps you see what's going up, what's going down, and how to profit. Sign up now by clicking here, and you'll get instant access to all of Michael's investing tips, recommendations, and specific instructions, including his exclusive "Super Crash Report."
Join the conversation. Click here to jump to comments…
About the Author
Prominent money manager. Has built  top-ranked credit and hedge funds, managed billions for institutional and high-net-worth clients. 29-year career.