The Chipotle stock price today (Wednesday) is tanking after the company released another dismal earnings report.
The earnings report has serious ramifications for Chipotle stock in 2016, and we'll get to our recommendation for Chipotle in a bit. But first, here's everything investors need to know about the earnings report and why the CMG stock price is dropping today.
Shares of Chipotle Mexican Grill Inc. (NYSE: CMG) sank more than 7% to $419.83 in early trading Wednesday after Q1 2016 results disappointed. The Chipotle stock price is now down more than 21% in the last eight weeks.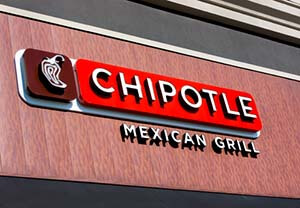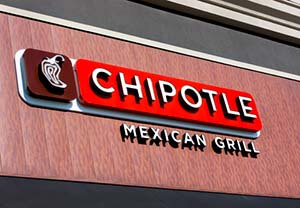 After Tuesday's close, Chipotle reported its first-ever quarterly loss.
Chipotle posted a net loss of $26.4 million, or $0.88 per share. Soft sales, food giveaways, safety testing, and waste all cut into results. Still, that was better than the $0.95 per share loss analysts were looking for.
Revenue plunged 23% to $834.5 million. That was short of the $863.3 million projected.
Sales at established Chipotle restaurants tumbled 29.7% in Q1, as the company handed out more than 6 million free burritos and more than 1 million free orders of chips and salsa or guacamole. The promotion came with a price tag in excess of $62 million. Analysts were expecting a 28.4% decrease in sales.
The company said it is not prepared to provide Q2 earnings per share (EPS) guidance, saying the figure is dependent on sales. Should same-store sales comps remain at current levels, delivering healthier EPS will be challenging. Chipotle said if comps stay at present levels, restaurant-level margin should modestly improve to low double digits.
As the company struggles to get customers into its stores and keep them coming back, the company will shift from freebies to buy-one-get-one free offers, officials said.
Scores of loyal customers have avoided Chipotle after a recent food safety crisis. Outbreaks of E. coli, salmonella, and norovirus have sickened hundreds.
Sales at established restaurants are down 26% this month. At the height of the food safety disaster in January, same-store sales plunged 36%.
Chipotle executives have acknowledged the company may never fully recover. On March 16, founder and co-Chief Executive Officer Steve Ells estimated that 5% to 7% of infrequent customers may never return.
The Chipotle stock price has lost about one-third of its value since the safety woes surfaced last year, and shares likely have further to fall…
How to Play the Falling Chipotle Stock Price Now
A number of analysts slashed their Chipotle stock price target and rating following the lackluster Q1 results.
Wedbush believes Chipotle's current valuation reflects an overly optimistic outlook regarding the company's path to recover. The firm lowered its 2016 EPS estimate to $3.83 from $4.12.
BTIG Research lowered its rating on Chipotle to "Neutral" from "Buy."
Maxim Group lowered its Chipotle stock price target to $300 from $350.
Goldman Sachs trimmed its Chipotle stock price target to $166 from $185.
Telsey Advisory Group cut its Chipotle stock price to $160 from $175.
At a recent $425.40, the Chipotle stock price is down 11.86% year to date and 34.34% over the last year.
We've been bearish on Chipotle for months, and Q1 results have done nothing to change our stance. The Chipotle stock price will continue to fall as long as those same-store sales underwhelm.
We recommend avoiding the falling Chipotle stock price in 2016, even if it appears to be trading at a discount.
Stay informed on what's going on in the markets by following us on Twitter @moneymorning or liking us on Facebook.
The One Must-Have Investment of the Century: There's no argument, water is the single most important investment of all time. And it's likely to provide huge returns to investors making the right moves, like the ones in this report. Read More…
Related Articles: