This morning (Wednesday), West Texas Intermediate (WTI) crude oil prices reached a 2016 high.
And Money Morning Global Energy Strategist Dr. Kent Moors – who has advised Russian, U.S., and Iraqi energy agencies – says crude oil prices will stabilize at current levels. In fact, this new stability will come from five emerging crises from five different regions that all intersect in the global oil market.
"There won't be a spike to $70 or $80 a barrel in the near or middle term, but these five geopolitical factors will support oil's new price floor," Moors said on April 25. "And that's all we need – stability in pricing is preferable to an overheated oil market."
But before we discuss these five big events, here's why oil prices have rallied this month…
Why WTI Crude Oil Prices Hit a Five-Month High Today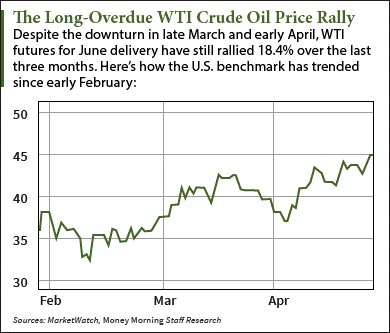 At 9:20 a.m. today (Wednesday, April 27), WTI crude oil prices were up 2.2% and trading at $45 a barrel. That's the highest level for the most active futures contract since Dec. 3. Futures for June delivery have now gained 13.2% so far this month.
Brent crude oil prices also pushed higher this morning. The global benchmark jumped 2.2% to $46.60 a barrel. It's now up 14.3% in April.
And today's gains are mostly thanks to rising demand in the world's second-largest economy…
Last month, China's crude oil imports hit 32.6 million metric tons (roughly 7.7 million barrels) a day. That marks a 22% increase from 26.7 million barrels a day in March 2015. The big boost came from the Chinese government's increased granting of import licenses to local refiners known as "teapots."
These independent refiners will lift Chinese demand as the government gives out more and more licenses.
In fact, rising Chinese demand – and the global fight to meet it – is one of the five geopolitical factors that will stabilize WTI crude oil prices in 2016. Here are all five factors…
These Five Geopolitical Factors Will Keep WTI Crude Oil Prices Stable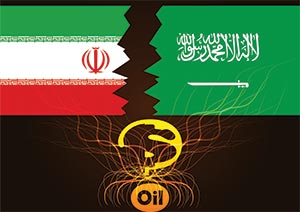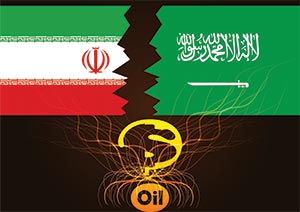 Geopolitical Factor No. 1, Saudi Arabia: The OPEC leader has been criticized recently for flaking on the output freeze deal in Doha, Qatar, on April 17. The Saudis said they wouldn't participate in the deal unless their sworn enemy Iran joined as well. When Iran elected not to join, Saudi Arabia followed suit.
But Moors says Prince Mohammad – the eldest son of King Salman responsible for bringing Saudi Arabia into a post-oil world – is open to the output freeze.
"My sources now indicate that Prince Mohammad is actually in favor of an oil production freeze for domestic economic reasons," Moors said. "But the deteriorating security situation vis-à-vis Iran is dictating policy."
In other words, an output freeze could still happen once the Kingdom warms up to the idea. That will contribute to the stabilization of both Brent and WTI crude oil prices down the road.
Geopolitical Factor No. 2, Iran: This "black sheep" oil country was the primary wrench in the output freeze plans. Iran was the first country to decline a production cap and says it refuses to do so until it reaches an output goal of 4.2 million barrels per day.
However, the country won't be able to maintain that output level. That's because its pipeline infrastructure is in terrible condition and the country lacks the millions of dollars' worth of investments to repair it.
Even if Iran could pump 4.2 million barrels a day, the country would only benefit by taking away market share from other larger producers. That would only happen if the country slashed its oil prices, which defeats the purpose of pumping more oil in the first place.
Iran's problems ensure its output will remain low for the foreseeable future. That means it will have a negligible effect on WTI crude oil prices.
Geopolitical Factor No. 3, Russia: After the failed Doha summit, Russia made threats to boost output beyond its current record-high levels. In fact, its production of 10.9 million barrels a day in January was the highest in post-Soviet Union history.
But there's no logical way for Russia to increase – or even maintain – its current output levels. It would have to drill into undeveloped oil basins in Eastern Siberia. That would be way too difficult and expensive for the country to do on its own.
Russia would need outside money and technology to drill in such an untapped area. But no other countries will risk investing money there due to the weak ruble exchange rate.
All of this means the country won't be able to boost output anytime soon. It will have no other choice but to maintain current production levels, which will keep prices steady over the long term.
Geopolitical Factor No. 4, The Fight for Asian Demand: As we saw with China's huge rise in imports last month, overall Asian demand continues to grow. According to Asian banking service Standard Chartered, Chinese demand alone is expected to grow 4% to 10.74 million barrels a day this year.
Asia's growing thirst for crude oil will start a market battle among Saudi Arabia, Iran, and Russia. This will lead to competitive pricing among the three nations as each tries to win the favor of local refineries and importers.
Although these competitive price cuts will lower regional spot prices, they won't negatively affect global or WTI crude oil prices.
Geopolitical Factor No. 5, U.S. Energy Debt: The American energy sector is dealing with one of the worst debt crises in history. According to Bloomberg, the U.S. energy industry owes a whopping $123 billion in outstanding loans as of Feb. 23.
According to Moors, Asian investors will start to take advantage of the suffering among domestic oil and gas firms.
"Huge amounts of money from Asia are about to move in to the U.S. market, to cherry-pick oil assets as the American energy debt situation worsens," Moors explained. "This may be the biggest game changer over the next two quarters and will provide us with a range of profitable plays."
Stay tuned to Money Morning for Dr. Kent Moors' premier oil market analysis and energy profit opportunities. Follow us on Twitter and like us on Facebook.
Why Oil Prices Haven't Crashed Despite the Kingdom's Efforts: The "fallout" from the output freeze meeting had a mostly negligible effect on crude oil prices. But some experts now say the Saudis will increase oil output. Here's why they won't…