Panic set into the markets this morning (Thursday) when the Bank of Japan (BOJ) maintained its negative interest rates and officials said they haven't ruled out further economic easing.
The Bank of Japan kept interest rates at -0.1% on a portion of the cash banks store at the central bank. Japanese policymakers also left the 80 trillion yen ($732 billion) base money target unchanged. After making that announcement, the BOJ said more easing measures could be coming.
The news sent global stocks much lower in morning trading. Meanwhile, the yen surged.
The yen rose nearly 2% against the dollar, with $1 worth 109.33 yen. A higher yen will have an adverse effect on Japan's crucial import sector. The Nikkei 225 finished down 3.6% at 16,666.05 today.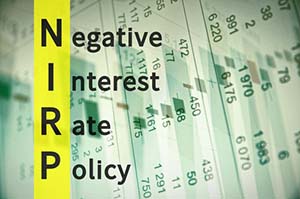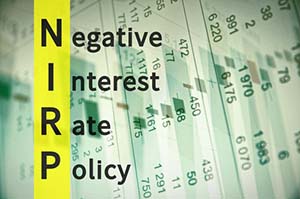 Global markets outside of Asia also reacted negatively to the negative-interest-rate policy (NIRP) announcement...
The Stoxx Europe 600 was lower by 1.1% halfway through the session. U.S. markets all opened in the red, with the Dow down by more than 100 points in early trading.
For years, Japan has been trying to boost its economy and end a period of prolonged deflation.
Japan introduced negative rates on Jan. 29, cutting its benchmark interest rate below zero to -0.1%. The aim was to offset the effects of plunging oil prices and the slowdown in nearby China.
Through negative interest rates, commercial banks are charged if they deposit money with the central bank. But this policy has not had the effect the BOJ has hoped for. Banks are not lending more, companies are not spending more, and people are not investing or spending more. Inflation remains far from the BOJ's 2% target.
The BOJ followed other central banks who have resorted to negative interest rates in attempts to bolster their economies.
So far, the results are mixed.
The European Central Bank implemented negative interest rates in 2014. Sweden, Switzerland, and Denmark all are toying with negative interest rates in 2016, too.
Denmark turned to negative interest rates in 2012. The country went below zero in 2015 to -0.75%. The Nordic nation's goal is protecting its currency's peg to the euro.
Switzerland cut rates below zero in 2014 amid lackluster economic growth and low inflation that has beset the Alpine country since the 2008 financial crisis.
On Feb. 11, Sweden's central bank lowered its key interest rate further below zero to revive inflation and keep its currency from appreciating. The repo rate was trimmed to -0.50% from -0.35%.
The U.S. Federal Reserve spooked markets earlier this year when it said it has discussed a fed fund rate below zero.
The escalating use of negative interest rates suggests central banks are running out of tools to stimulate their economies. And this central bank ineffectiveness has caused investors to lose faith in policymakers and currencies.
And while central banks may think they're saving their economies, make no mistake, negative interest rates are incredibly dangerous. In fact, they have the capability of destroying global markets...
Negative Interest Rates Could Wreak Havoc on Markets
Negative-interest-rate policy is not simply a technical monetary policy tool.
"It is a tactic with profound political and moral consequences that must be exposed as a betrayal of the social compact between governments and citizens," said Money Morning Global Credit Strategist Michael E. Lewitt.
"Make no mistake, NIRP is a desperate, last-ditch measure, and it couldn't come at a worse time," he continued.
Seven years of zero interest rates have already harshly punished savers. Lewitt says negative rates will "finish the job by confiscating their capital for the mere privilege of depositing it in a federally licensed banking institution."
And despite the goal of spurring growth, negative rates do the opposite. Individuals in countries with negative interest rates are hoarding cash, stashing it where they have safe and easy access to it. Large denominated notes, which are easier to store, are in hot demand overseas.
Negative interest rates destroy growth because they destroy capital, Lewitt explained.
Investors can protect themselves from negative interest rates with precious metals. Gold and silver are coveted stores of value when stock markets slip and currencies are debased. Gold is up 18% year to date, and silver is up 23%.
Money Morning Resource Investing Strategist Peter Krauth shares the best gold and precious metal stocks to buy here.
Follow us on Twitter @moneymorning and like us on Facebook.
Related Articles: