Silver prices today (Thursday, April 28) are trading at their highest level since May 18, 2015, near $17.60 per ounce.
And Money Morning Resource Investing Specialist Peter Krauth sees silver prices gaining more momentum in 2016. In fact, he sees the price of silver posting double-digit gains by the end of the year.
But before we get to our 2016 silver price target, here's why the metal is up 3.5% this week…
Three Reasons Why Silver Prices Have Rallied Recently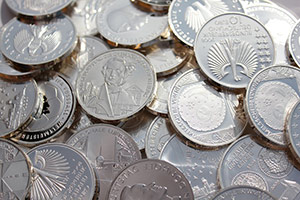 The first reason for this week's silver price rally is the FOMC meeting yesterday (Wednesday).
As widely expected, the U.S. Federal Reserve left interest rates unchanged at its April meeting. The central bank cited slowing economic growth as the reason for keeping rates low.
After this week's decision, investors are confident the Fed will keep rates low for longer. Federal fund futures – which gauge investor confidence in an upcoming rate hike – indicate a 15% chance of a rate hike in June. And according to CME Group, traders now expect only one rate hike in 2016.
The second reason for the boost in silver prices is today's first gross domestic product (GDP) reading.
The U.S. economy sputtered in the first three months of 2016 as consumers and businesses reigned in spending. According to the U.S. Commerce Department, GDP grew at just 0.5% during the first quarter. That was below the 0.7% projection and marked the worst performance in two years. The economy grew 2% and 1.4% in Q3 and Q4 of 2015, respectively.
The GDP highlights America's inconsistent growth since the depths of the financial crisis.
And the third bullish factor behind the price of silver is the Bank of Japan's decision today to maintain negative interest rates. The central bank of the world's third-largest economy also signaled that further easing is not out of the question.
The Dow Jones Industrial Average is down 1.2% today in response to the BOJ's inaction. Meanwhile, gold and silver prices are up 1.5% and 1.7%, respectively.
All of these three factors are extremely bullish for silver prices in 2016. And they're part of the reason silver demand is soaring, too…
According to the U.S. Mint, there were 4.11 million one-ounce American Silver Eagle coins sold last month. That was a near 17% increase from March 2015. It was also the second highest-selling March since the coins were first minted in 1986.
But the silver price gains don't stop here. With the Fed's dovish interest rate stance and the growing use of negative interest rates, Krauth sees huge upside potential for silver prices in 2016…
Here's Our Specific Target for Silver Prices in 2016
Krauth sees silver prices soaring 25% to the $22 mark in 2016. And that's likely a conservative scenario.
The main reason why the price of silver will run higher is the "unnaturally, incredibly cheap" relationship between silver and gold.
You see, the silver-to-gold ratio – which is the amount of silver required to purchase one ounce of gold – is at a record high right now.
The ratio – calculated by dividing the gold price by the silver price – sits at 72. Since record keeping began in 1687, the silver-to-gold ratio has ranged between 14 and 100. Throughout the last century, the average range of the ratio has been 47 to 50.
When the ratio is as high as it is now, it means silver prices are trading at a discount compared to gold.
This huge spread has traders viewing silver as a discount investment.
Some traders are swapping their gold bets for silver, expecting the ratio to move back to the recent 47 to 55 range. These bets will inevitably send silver prices higher.
If you want to profit from silver's rally without storing physical silver, Krauth recommends buying into the Sprott Physical Silver Trust ETV (NYSE Arca: PSLV)
PSLV holds its silver bars and coins at a secure third-party location in Canada. Its market cap is currently $924 million and is well on its way to crossing the $1 billion mark.
The trust's holdings are also documented thanks to regular audits and inspections. PSLV's best perk for U.S. investors is that holding the trust for at least 12 months allows you to benefit from a 15% capital gains tax. That's much better than the 28% rate associated with most silver and gold exchange-traded funds.
PSLV is up 27.7% in 2016. That far outpaces the Dow Jones and S&P 500's gains of 2.7% and 2%, respectively.
Stay informed on what's going on in the markets by following us on Twitter @moneymorning or liking us on Facebook.
How to Make Money from Silver's 2016 Rally: Buying silver is one of the best "insurance policies" for your portfolio. That's why we've created this helpful guide for profiting from any move in silver prices. Here's what you need to know about investing in silver in 2016…
Related Articles: