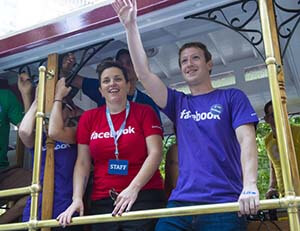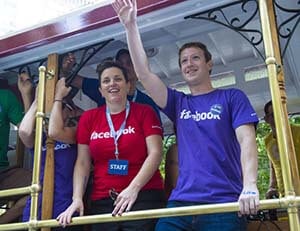 Facebook Inc. (Nasdaq: FB) CEO Mark Zuckerberg announced increases in monthly active users and ad revenue for Q1 2016, but one statement he made is flying under the radar...
Zuckerberg also announced a potential Facebook stock split during the earnings call, and this topic isn't receiving the attention it deserves.
Instead, Wall Street is focusing on the fact that the Facebook stock price hit an all-time high yesterday (Thursday) at $120.79 per share.
That's why we're digging deeper into the FB stock split and discussing exactly what the split means for FB stock. We have the answer. Here's everything we know about the FB stock split in 2016...
What Is a Facebook Stock Split?
Currently, Facebook offers two types of shares: Class A shares and Class B shares.
Current retail investors have Facebook Class A shares, which entitles them to one vote per share. There were over 2 billion Class A shares as of March 31. Facebook Class B shares entitle an investor to 10 votes per share. There were only 548 million Class B shares as of March 31.
Zuckerberg owns 4 million Class A shares and 468 million Class B shares, according to the Los Angeles Times. That gives him 60% of the voting power.
Under the stock split, two shares of Class C stock will be provided for every one Class A and Class B share investors have.
But Class C shares don't carry any voting power...
Why Does Mark Zuckerberg Want a Facebook Stock Split?
In December 2015, Zuckerberg and his wife announced they would give 99% of their shares to their limited liability corporation, the Chan Zuckerberg Initiative.
The initiative can support philanthropy efforts, spend money on lobbying, and provide political donations. But if Zuckerberg gave away most of his shares, he would lose voting power in his company.
Since Class C shares don't hold voting power, Zuckerberg will retain control of his company.
If Facebook was poorly managed, it would be a cause of concern to let Zuckerberg maintain control of the social media giant. But Zuckerberg has proven himself as a visionary, rewarding investors with gains of 207% since the Facebook IPO.
Although it's inevitable, there isn't an official Facebook stock split date. So is Facebook stock a buy right now? Here's what you need to know before adding FB shares to your portfolio...
Should I Buy FB Before the Facebook Stock Split?
[mmpazkzone name="in-story" network="9794" site="307044" id="137008" type="4"]The Facebook stock price is trading at all-time highs after the company crushed expectations in its Q1 2016 earnings report.
But even though it seems like you're buying in at a high price, we expect even more gains for long-term investors...
Over the past year, Money Morning has highlighted several reasons why Facebook is just getting started in terms of generating revenue: Oculus Rift, WhatsApp, Messenger, Facebook at Work, and Facebook's flagship site.
Facebook's most underrated revenue source, though, is Instagram.
In Facebook's Q4 2015 earnings call, this was the breakdown of mentions of different services by company officials and shareholders asking questions:
Messenger mentions: 17
WhatsApp mentions: 14
Oculus mentions: 12
All of these platforms will drive revenue, but Instagram will be the biggest driver. And it was mentioned 31 times.
Instagram only had 30 million users when Zuckerberg purchased it in 2012, but he's grown the audience to over 400 million monthly active users (MAUs). Rival Twitter Inc. (NYSE: TWTR) only has 310 million MAUs.
While Zuckerberg doesn't specifically break down how much revenue Instagram generates, analysts believe the picture app brought in between $650 million to $750 million in revenue in 2015.
COO Sheryl Sandberg stated in Facebook's Q1 earnings report that Instagram has more than 200,000 businesses advertising on it. That number will continue to grow as companies try to reach more millennials and teens.
Research provider eMarketer projects that Instagram will account for as much as 10% of the global ad revenue for Facebook by 2017.
In terms of a one-year price target, analysts at Thomson First Call believe the Facebook stock price will trade for $135.19 per share. From today's opening price of $116.77, that could be a potential gain of 15.77%.
But Money Morning Director of Technology & Venture Capital Michael A. Robinson believes the long-term value of the Facebook stock price is worth even more than that. Robinson projects that by 2020, Facebook stock will trade for $250 per share. That's a potential gain of 114%.
The Bottom Line: The Facebook stock split won't affect the value of FB stock. CEO Mark Zuckerberg has proven himself as a visionary leader, and keeping control of the company means investors will continue to be rewarded. FB stock is up 45% in the last 12 months, and we expect even more gains over the next several years.
Jack Delaney is an associate editor for Money Morning. You can follow him on Twitter and follow Money Morning on Facebook.
Are You Ready for the Snapchat IPO? The Snapchat IPO is may be down the road, but investors are starting to get the IPO fever. When it does happen, the Snapchat IPO will be the only thing Wall Street talks about. Ahead of buying Snapchat stock, make sure you read our special report on how this popular app actually makes money...