Although prices are up 75.6% from their 13-year low of $26.21 in February, oil price predictions on Wall Street are still bearish.
In fact, one investment bank sees crude oil prices tumbling below the $30 mark by the fourth quarter. That's a more than 35% drop from yesterday's close of $46.03.
This chart shows where four of the largest banks on Wall Street see West Texas Intermediate (WTI) crude oil prices headed over the next few quarters...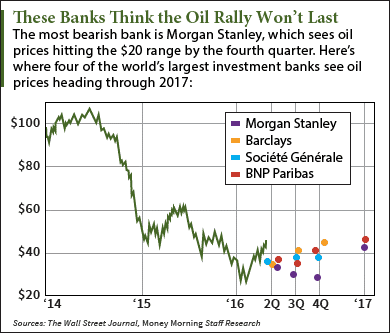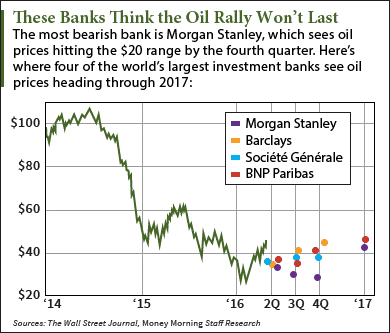 According to a Wall Street Journal survey of 13 investment banks, the average Brent crude oil price prediction is $41 a barrel by the end of 2016. The average prediction for WTI is even lower at $39 a barrel.
The biggest reason for the bearish oil price predictions is the global supply glut. Citigroup Inc. (NYSE: C) reported global oil supply has increased by a record 370 million barrels since January 2014.
"The market will balance eventually, probably at the turn of the year," BNP Paribas commodity analyst Gareth Lewis-Davies told The Wall Street Journal. "But until then, we still have a big oversupply to worry about."
Most analysts worry about OPEC's output, which hit 32.64 million barrels a day this month. That's just short of its January level of 32.65 million a day - the highest in 19 years.
And Iran is playing a big role in the cartel's record production. Since its economic sanctions were lifted in January, Iran has been pumping oil at a record pace. The country's output reached 3.4 million barrels a day this month. That's close to its pre-sanctions level of 3.5 million.
Investors and analysts are concerned about Iran's soaring output. The country - which sits on more than 157 billion barrels of oil reserves - plans to ramp up output until it hits its target of 4.2 million barrels a day. This steadily increasing supply is what's causing the bearish oil price predictions, which could scare investors into an oil price sell-off.
But Money Morning Global Energy Strategist Dr. Kent Moors - an oil market veteran who advised U.S. energy agencies for more than four decades - says there's one reason why Iran won't reach its target anytime soon...
These Oil Price Predictions Don't Take into Account Iran's One Problem
[mmpazkzone name="in-story" network="9794" site="307044" id="137008" type="4"]
If Iran reaches its output goal of 4.2 million barrels a day, it won't be able to maintain it.
You see, Iran's oil equipment and infrastructure is in terrible condition. Its drilling technology is more than 40 years old, the pipelines burst on a daily basis, and the nation's petrochemicals are simply exploding.
"In short, Iran needs access to outside help fast," Moors told Money Morning readers in March. "For all the talk of the country increasing its exports, that rate will take time to reach and is not sustainable given the current state of affairs."
And after bailing on the Doha meeting earlier this month, Iran has further isolated itself from its oil-producing neighbors. With oil exports accounting for 65% of the nation's GDP, Iraq pushed for an output freeze at the meeting to help its struggling economy. And Saudi Arabia - the world's largest oil producer - is already Iran's foremost geopolitical rival.
All of this means Iran will have a tough time reaching 4.2 million barrels a day. Even if the country does get there, it will only benefit by stealing market share from neighboring producers. That will only occur if Iran cuts its crude oil prices, which defeats the purpose of increasing output in the first place.
Iran's infrastructure problems and lack of allies ensure its output will stagnate this year. That means it won't have a negative effect on crude oil prices.
Alex McGuire is an associate editor for Money Morning who writes about energy. Follow him on Twitter for more updates on oil price predictions.
Like us on Facebook: Money Morning
Our Shocking Oil Price Prediction for 2016: The WTI crude oil price cratered last year, but our new forecast shows a big turnaround in 2016 that will send oil prices higher. Here's our full-year price target - and the key developments affecting the oil market this year...