Tesla stock has soared 56% since mid-February. That's more than five times the gains of the Dow Jones in the same time.
Now investors are wondering if the Tesla stock price will continue soaring following the Q1 earnings report on Wednesday, May 4.
But before we get to our long-term outlook for Tesla Motors Inc. (Nasdaq: TSLA), we wanted to make sure you know what to expect from the earnings report.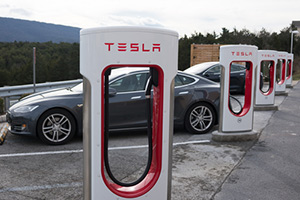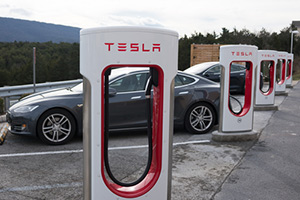 Analysts expect an earnings per share (EPS) loss of $0.56 on $1.6 billion in revenue. In Q1 2015, Tesla reported a loss of $0.36 on $1.1 billion in revenue. If Tesla hits these projections, CEO Elon Musk will have increased revenue by 45% from the same time last year.
For Q1, Wall Street wants to hear that Tesla is still on track to deliver between 80,000 to 90,000 vehicles in 2016.
Musk believed his company would ship 16,000 cars for Q1, but Tesla announced on April 4 that it delivered 14,820 vehicles, falling short by 1,180 vehicles. Tesla said supplier shortages caused a decrease in production for this quarter.
Although the deliveries in Q1 were up nearly 50% last year, the company is still only on pace to deliver 59,280 vehicles for 2016.
The missed delivery news sent the Tesla stock price down 3.4% the next morning on April 5. That highlights just how much emphasis Wall Street places on Tesla's ability to deliver its vehicles in a timely manner.
Even a small hint of negative news can push Tesla stock much lower in just a single day. That's why some investors are having a difficult time deciding if this is a good time to buy Tesla stock. Here's what you need to know about purchasing TSLA shares…
How to Play Tesla Stock After Q1 2016 Earnings
The Tesla stock price is extremely volatile, and it's not a good investment for the short term. On Feb. 1, TSLA traded for $188.76 per share. On Feb. 9, TSLA traded at $142.32. That's a 24% drop in a little over a week. And those types of wild swings are common.
But holding TSLA stock for the long term will reward patient investors…
You see, electric vehicles are more than just a trend. According to InsideEVs, there were only 116,099 electric vehicles (EVs) sold in the United States in 2015. But by 2020, Pike Research projects there will be 3.8 million worldwide electric vehicles sales. That's a 3,173% increase in just five years.
And Tesla is currently establishing its foothold as the leader in the EV market…
You see, the new Tesla Model X will have a base MSRP of $80,000. That's simply too expensive for the average consumer. But Tesla's Model 3 is much more attractive with a sticker price of $35,000. Musk believes that the customers will pay for extra features, which will bring the average Model 3 price up to $42,000.
In just 72 hours, the Model 3 had 276,000 pre-orders. That means the initial orders for the Model 3 were worth $11.6 billion. On April 21, Musk stated the Model 3 had received almost 400,000 pre-orders. That would make pre-orders as of April 21 worth $16.8 billion.
And this is just a very small look at the future profits for Tesla…
By 2030, analysts expect the electric vehicle industry will be worth $488 billion. Musk's ability to identify future profitability is one of the reasons Money Morning Chief Investment Strategist Keith Fitz-Gerald called Musk the most innovative CEO on the planet.
For investors looking to a hold a company for five to 10 years, TSLA stock is a solid investment.
Analysts at Thomson First Call have a one-year price target of $253.47 for TSLA stock. From today's opening price of $241.50, that's a potential profit of 4.95%. But we think the stock could climb much higher in the long term…
The Bottom Line: The Tesla stock price is subject to volatile swings on good and bad news alike. But patient investors will be rewarded by CEO Elon Musk leading his company to long-term profits in the electric vehicle market. Pre-orders for the Model 3 could be worth over $16 billion right now.
Jack Delaney is an associate editor for Money Morning. You can follow him on Twitter and follow Money Morning on Facebook.
Facebook Stock Split Alert: Facebook crushed expectations in its last earnings report, but CEO Mark Zuckerberg made an announcement that mostly went unnoticed. He wants to create a stock split, which is very popular among tech companies. But if you own FB shares, what does this mean for you investment? Here's what we know about the Facebook stock split…