As of Monday's close, the AAPL stock price had fallen eight straight sessions - something it hadn't done in nearly 18 years.
The prolonged losing streak - the worst consecutive-day skid for Apple Inc. (Nasdaq: AAPL) stock since July of 1998 - erased 11% from the Apple stock price.
The Apple stock price today was higher (Tuesday), but struggled to squeeze past a gain of 1%, trading at about $95.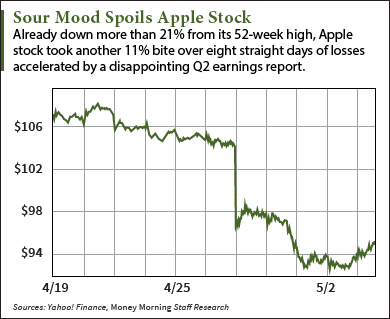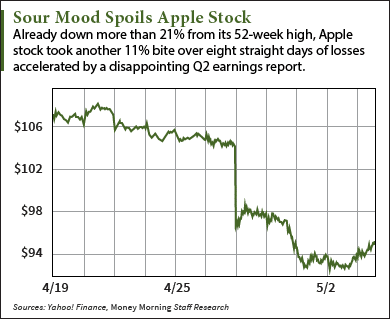 The sentiment on AAPL stock now is profoundly negative. It's been building since last fall, when concerns about slowing iPhone sales first surfaced.
The Q1 Apple earnings, although a record for revenue and profit, represented tiny year-over-year gains (earnings up 1.9%, revenue up 1.7%). That did little to alleviate concerns about slowing growth.
So when Apple delivered a true clunker of an earnings report last Tuesday, the bears were ready to pounce. Revenue fell year over year for the first time in 13 years. Profits fell 22.8%.
Adding insult to injury, notorious activist investor Carl Icahn announced Thursday he had dumped all his remaining AAPL stock.
The months of bad news have taken a toll; the Apple stock price is down 29% since hitting a 52-week high of $132.97 last July.
Could the "Experts" Be Wrong About AAPL Stock?
The majority of pundits hold out little hope Apple will reverse its tailspin, typically noting that Steve Jobs is still dead and the company hasn't had a new blockbuster product since the iPad in 2010.
Check out this glum assessment from The Guardian: "The story of Apple Incorporated is far from over. It is the most valuable company in the world, by a large margin. Apple produces a range of exceptional and much loved products. It employs many of the most talented designers and engineers on the planet. But I think Apple has peaked and the story of the next few years will be one of a slow but real decline."
Oh wait. I'm sorry. That article wasn't written about Apple's current predicament. It was published on Nov. 7, 2012, during a previous wave of "Apple has peaked" stories.
That day the Apple stock price closed at $79.71 (split adjusted). Investors who bailed then would have missed out on the subsequent 66% gain in AAPL stock.
Investors today need to keep that in mind as one "expert" after another declares an end to Apple's glory years.
They've been wrong before. And here's why they're wrong this time, too...
Why the Apple Stock Price Still Has Plenty of Upside
Let's get a few things straight.
Apple stock may be beaten down, but the company is still raking in more money than any other company on earth. And despite what the pundits are saying, there is still growth in Apple's future.
"I can't think of a worse mistake than bailing out on AAPL stock now," said Money Morning Chief Investment Strategist Keith Fitz-Gerald. "This company has a major role to play in new growth areas of tech like artificial intelligence, user systems, and big data."
Fitz-Gerald believes that Apple stock can maintain its current valuations simply by buying back shares and maintaining current profit margins. So any kind of growth will necessarily push the AAPL stock price higher.
Fitz-Gerald pointed to Apple's unusually low price/earnings ratio of about 10.4. The forward earnings is now just 9.7.
"Apple's being priced like it's never going to grow again," he said. "And you know that won't happen."
Already there are supply-chain reports that Apple is bumping up production of the low-cost iPhone 5SE to meet high demand. Fresh iPhone models in September will create more demand.
And the slump in China's iPhone sales we're seeing now is likely to be short-lived, as the Chinese middle class is expected to more than quadruple by 2020.
Then you have to take into account India, where Apple has just started to make inroads. And Apple will continue to see more success monetizing its user base with services like Apple Music. As disappointing as the Apple Q2 earnings were, the services segment grew 30%.
Granted, the next two quarters will be challenging but given these catalysts, Apple's earnings will bounce back in 2017. Better news on the earnings front next year will reverse the negative sentiment and pull up the P/E as well.
The momentum shift will put the Apple stock price back on a path to revisit its previous highs in the $130 to $135 range this time next year.
"Apple's a bargain in the mid-$90s for any investor with the right perspective," Fitz-Gerald said. "I still think AAPL stock will make it to $200 a share."
Follow me on Twitter @DavidGZeiler or like Money Morning on Facebook.
Why the Icahn Sale of AAPL Doesn't Matter: When Carl Icahn said he had sold all of his stake in Apple, Wall Street followed suit and knocked 2.5% off the Apple stock price. Meanwhile, Icahn made a $2 billion profit. But the episode illustrates the dangers activist investors like Icahn can create for the rest of us. Just look at what Icahn did to maximize his return from his Apple investment...