Q1 2016 earnings season was difficult for a number of tech companies, and the Nasdaq has dropped nearly 3% in the last month.
Still, we've found one of the best stocks to buy now in an emerging $115 billion tech market. And it's not a traditional tech company like most investors expect…
Before we get into one of the best stocks to buy, here are some details on this burgeoning industry and why it is such a huge profit opportunity.
Software-as-a-Service (SaaS) is a software licensing and delivery model in which software is licensed on a subscription basis and is centrally hosted. It's often referred to as "on-demand software."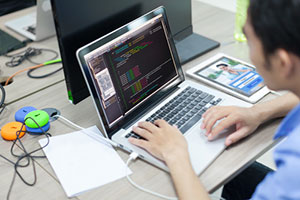 The SaaS delivery method allows data to be accessed from any device with an Internet connection and web browser. Here, software vendors host and maintain the servers.
And there are huge benefits to SaaS versus on premise software delivery. Companies don't have to invest in extensive and expensive hardware to host the software. That allows them to outsource most of their IT responsibilities to their SaaS vendor.
By 2018, 27.8% of the worldwide enterprise applications market will be SaaS-based, generating $50.8 billion in revenue. That's a 125% increase from the $22.6 billion the space earned in 2013, according to IDC.
According to IDC, SaaS delivery will become much more popular than traditional software delivery. They expect it to grow five times faster than the traditional software market. It will become a significant growth driver to all functional software markets. Furthermore, the cloud software model will account for $1 out of every $4.59 spent on software by 2019.
Money Morning Director of Technology & Venture Capital Michael A. Robinson says the advent of SaaS was "a true inflection point of the ongoing Internet Revolution."
Robinson says don't worry if you missed the emergence of SaaS. You see, we're at another inflection point that will propel entire sectors even higher. And it's providing us with one of the best stocks to buy today…
It's called Energy-as-a-Service (EaaS), and Lawrence Berkeley National Lab says there could be between $70 billion and $115 billion in potential business opportunities in the field…
"Software-as-a-Service was a rainmaker for companies and their shareholders, but energy as a service has the potential to completely change the staid energy industry," Robinson said.
And it's starting with the explosive Internet of Things (IoT) space.
"Smart devices – toasters, thermostats, lights, refrigerators – are also now becoming commonplace," Robinson explains. "If utilities could just talk to them, or at least listen to them, they could use that information to manage power supply better. And the corollary is also true; if people could see how they use electricity, they could also better manage their consumption."
That's the essence of EaaS.
Consumers tracking their energy use is a powerful idea for customers and is unquestionably groundbreaking for the bottom lines of corporations and industrials.
"All of that 'saved' power can be reallocated to other users without having to build new power plants for billions of dollars each," Robinson adds.
But the real winner in the evolving EaaS space isn't a utility company. Here is one of Robinson's favorite stocks to buy now for 2016…
Why This Pick Is One of the Best Stocks to Buy Now
It's
Verizon Communications Inc. 
(NYSE:
VZ
), one of the largest telecoms and the largest wireless carrier in the United States. Verizon is already connected to tens of millions of homes thanks to its high-speed fiber optic FiOS service.
Verizon is also going after the commercial sector, using its scale and scope to adapt FiOS to EaaS and work with smart homes and offices to help utilities and customers to manage power usage in real time.
That's key.
Verizon's new EaaS division, dubbed Grid Wide Utility Solutions, is a game changer for the telecom giant.
"Grid Wide allows electric utility companies to not only read smart meters remotely via Verizon's wireless network, but also to turn meters into 'power-quality sensors' that will help utilities better understand the quality of electricity they're delivering, which can ultimately translate into better service for end users," Verizon explained in a recent statement.
"Verizon can offer its EaaS and the utilities don't even have to swap out their meters," Robinson continued. "It will overlay on existing equipment. The notoriously cheap utilities will love that."
Verizon recently reported impressive earnings showing growth across all segments. Shares are up 9.33% so far this year, handily better than the overall market's 0.76% gain. And VZ sports an attractive 4.48% dividend yield. The company has also boosted its dividend for nine consecutive years.
"These are great reasons to buy, but perhaps the most compelling reason of all is the deafening silence on Wall Street," Robinson said. "No one is even talking about Verizon's move into EaaS, which of course means none of this growth potential is even priced in the stock at this point."
Robinson recommends buying VZ shares now and holding them long term.
Follow us on Twitter @moneymorning and like us on Facebook.
Silver's 2016 Rally Is Just Starting: Investing in silver is one of the best "insurance policies" you can make for your portfolio. That's why we've created this helpful guide for profiting from any move in silver prices. Here's what you need to know about investing in silver in 2016…
Related Articles: