The U.S. stock markets are near record highs today (Tuesday), but we don't trust this rally. In fact, Money Morning experts continue to grow concerned about a stock market crash in 2016.
Through the first six weeks of 2016, a number of issues sent the Dow Jones Industrial Average tanking 10%. And these issues continue to plague the markets and threaten a stock market crash.
But before we get to these problems, here are some upcoming events that could have a major impact on the markets…
June brings the next FOMC meeting. The U.S. Federal Reserve held rates steady in April and provided little clarity on the next rate hike. That uncertainty will continue to have a major impact on the broader markets.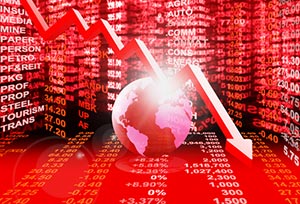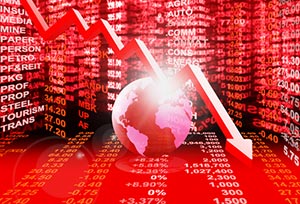 Also in June, the UK votes on a referendum on whether to remain part of the European Union. An exit would cause global trade problems and could heighten the concern for a stock market crash in 2016.
In July, we get the next slate of corporate earnings, which should be weak. Last month, analysts lowered earnings estimates for S&P 500 companies in Q2 by 1.8%, to $28.90 from $29.43, according to FactSet. Analysts currently don't project earnings and revenue growth to return until Q3 2016. Weak earnings has been one of the biggest stock market crash warning signs all year and continues to be a major concern.
Additionally, the economic situation in Greece continues to remain bleak…
Last week, talks between the Greek government and its creditors regarding Greece's budget deficit ran into a snag. Greece objected to the International Monetary Fund's (IMF) insistence of a second "precautionary measures package." It would be worth another 3.6 billion euros ($4.14 billion, or 2% of GDP) and would be included in a parliamentary bill. Any further expenditure cuts to wages and pensions will likely destroy the already damaged popularity of the Greek government.
Yet another reason to be cautious about the current rally is the seasonally sharp drop-off in market volume we're about to see.
In the weeks between Memorial Day and Labor Day, daily stock trading volumes on the New York Stock Exchange fall about 3.1% below yearly averages, according to The Wall Street Journal and data dating back to 1996. When volume is lower, major stock market swings are more pronounced.
"There are few reasons to believe that the recent rally is sustainable," Money Morning Global Credit Strategist Michael E. Lewitt said. "I maintain my S&P 500 target of 1,650 to 1,750. In my judgment this has been a bear market rally that will end soon."
While these upcoming events will have a major impact on the market, there are three huge issues that investors are overlooking. And it's such a big issue that it could lead to a 2016 stock market crash…
Three Major Problems Could Cause a 2016 Stock Market Crash
The growing use of negative interest rates, flawed economic data leading the Fed, and "lousy" corporate earnings are the three reasons why Lewitt believes this rally will fizzle.
According to Lewitt, it is mathematically impossible for negative interest rates to generate positive economic growth. He maintains that negative rates are nothing more than a means of destroying capital.
"After years of fiscal and monetary policies that failed to create sustainable economic growth, investors should take whatever profits they earned from central bank profligacy and prepare for a much tougher period ahead," Lewitt said. "The recent rally in oil, stocks, and junk bonds was an undeserved gift that should be used to lighten positions before the reality of too much debt and too little growth descends and teaches investors a lesson they will regret."
Exchange-traded funds (ETFs), mutual funds, and other broad-based vehicles over the next several years are unlikely to spawn reasonable risk-adjusted returns, Lewitt adds. In fact, these investment vehicles could end up blowing up in investors' faces with liquidity conditions a growing concern.
So what should investors do?
Instead of running for the exits, check out Money Morning experts' best stocks to buy now for long-term gains. They can weather any market condition and still return market-beating gains…
Follow us on Twitter @moneymorning and like us on Facebook.
Related Articles: