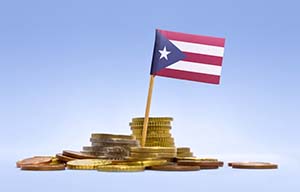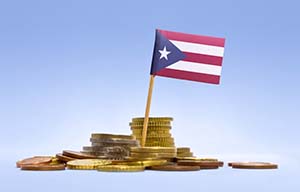 "Puerto Rico's $70 billion of debt is unsustainable by any measure."
These are the words of U.S. Treasury Secretary Jack Lew, who penned an urgent letter to House Speaker Paul Ryan (R-WI) yesterday. Lew warned of an imminent taxpayer bailout if Congress doesn't take steps to fix the Puerto Rican debt crisis pronto.
"The people of Puerto Rico will be forced to endure additional suffering," Lew wrote. "And, unless Congress passes legislation that includes appropriate restructuring and oversight tools, a taxpayer-funded bailout may become the only legislative course available to address an escalating crisis."
Lew's letter came a day after Puerto Rican Gov. Alejandro García Padilla announced the island would not be able to pay the full $400 million debt payment that was due on Monday.
Worse yet, the small U.S. commonwealth is bracing for a looming $2 billion payment due July 1.
On which it's also expected to default.
But all hope is not lost. Not yet, at least -- so long as Congress acts fast...
Congress' Solution to Avoid a Taxpayer Bailout
Congress is in the midst of finalizing an aid package for Puerto Rico. The biggest "sticking point" in the legislation concerns whether there will be an "Oversight Board" with the power to sign off on local budgets and to authorize a court-supervised debt restructuring.
Gov. García Padilla hates the idea.
He argues that Puerto Rico would lose its democratic rights if an Oversight Board could make decisions that supersede those of elected officials on the island.
But many creditors and Republican lawmakers argue that the island has had years of political and financial mismanagement. So it's time to make a change.
Even Speaker Ryan weighed in on the benefit of a congressional oversight committee. "Congress has a Constitutional and financial responsibility to bring order to the chaos that is unfolding in the U.S. territory," he stated on his website April 12, before praising bill H.R. 4900 -- the Puerto Rico Oversight, Management, and Economic Stability Act (PROMESA), which would prevent a taxpayer bailout for the territory.
Still, H.R. 4900 stalled in the House on April 13 amid objections to various provisions written into the bill.
Meanwhile, members of Congress -- like Lew -- are hitting the panic button, warning of "cascading defaults" on the immediate horizon as policymakers fail to take action.
Here's more on those cascading defaults we'll see as Congress continues to stall, and how they'll affect U.S. investors...
The Puerto Rico debt crisis kicked into full gear this year when it committed the largest municipal debt default in U.S. history...
For more information on the debt crisis in Puerto Rico, visit us on Twitter @moneymorning or like us on Facebook.
All I Really Need to Know in Life I Learned from the Panama Papers: The International Consortium of Investigative Journalists (ICIJ) revealed that it will again unleash more damning evidence from Panamanian law firm Mossack Fonseca to the public. On May 9, to be precise. This time, the group of reporters have a new format for the big revelation. Here's what you need to know...
Related Articles: