The Valeant Pharmaceuticals International Inc. (NYSE: VRX) stock price is on a tear recently. After surging 26.8% in April, the Valeant stock price is up another 7% this week to $35.65 a share.
But we're still avoiding VRX stock in 2016 for one important reason.
Before we get into why we're so bearish on Valeant stock, here's why the VRX stock price is rallying this week...
Why VRX Stock Is Surging This Week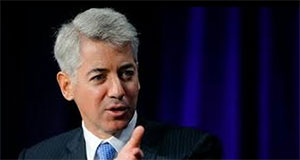 On Monday, May 2, board member Bill Ackman spoke out in defense of Valeant.
The billionaire investor, whose hedge fund Pershing Square holds 9% of VRX stock, said the drug company will not sell any of its "crown jewel assets." Ackman also said Valeant might even change its name as the firm tries to regain investor confidence and boost its share price.
Ackman believes the company will stage a turnaround under new leadership. On April 25, Valeant announced Joseph C. Papa will succeed J. Michael Pearson as the company's CEO. Papa took the helm this week.
Many investors think Papa's vast biotech experience will help save VRX stock's sinking ship...
From 2006 to 2016, Papa was the CEO of Perrigo Co. (NYSE: PRGO), a role that made him familiar with collapsing stock prices. The PRGO stock price climbed more than 1,000% from 2006 to 2015. But after peaking at $198.98 on April 17, 2015, PRGO stock has plunged more than 51% as the company fought off a hostile merger with Mylan NV (Nasdaq: MYL).
Papa said he's confident he will better serve Valeant's customers and bring out the company's exceptional potential.
But here at Money Morning, we know cheap stock prices are cheap for a reason.
And there's still one major reason why you should avoid VRX stock in 2016...
This Shady Business Practice Is Why We're Bearish on VRX Stock in 2016
Valeant was once considered a Wall Street darling. From January 2015 to August 2015, the VRX stock price rocketed 78% to a peak of $257.53.
Now VRX stock trades just under $34. Shares have crashed 64.4% so far this year and 83.8% over the last 12 months.
One of the reasons why investors turned on VRX stock is the firm's price gouging.
You see, Valeant grew quickly over the last decade by acquiring many pharmaceutical firms. After the acquisitions, Valeant would hike the prices on their drugs, sometimes by enormous amounts.
That practice has drawn harsh criticism from some high-profile politicians, as well as scrutiny from federal prosecutors. For example, Valeant purchased the rights to sell two heart drugs - Nitropress and Isuprel - and raised their prices by 212% and 525%, respectively.
In regards to its pricing and distribution polices, Valeant was also investigated for its relationship with specialty pharmacy Philidor Rx. The investigations came after a scathing report from short-seller Citron Research, which compared Valeant to Enron.
Since then, the company has delayed its annual 10-K filing. This sparked concerns that the company would default on its debt.
But we predicted the VRX stock crash last summer. In fact, Money Morning Global Credit Strategist Michael E. Lewitt repeatedly warned investors from buying any dips.
Last October, Lewitt called Valeant shady for placing importance on profits instead of ethical principles. He explained Valeant has become one of the world's fastest-growing biotech companies by exploiting every tax loophole out there.
And in November, Lewitt correctly predicted the VRX stock price would keep dropping. Since then, shares have fallen another 66%.
"Investors must ignore Wall Street and big investors like Ackman claiming the firm is undervalued," Lewitt said. "They're simply trying to cover their losses. There's no accurate way to value Valeant at the current time, and it will be entangled in controversy and legal problems for months to come."
Other popular traders are just as bearish. At today's Sohn conference, a gathering of the most influence hedge fund managers, legendary short-seller Jim Chanos said the VRX stock is anything but cheap and he remains short the stock.
Valeant is attempting an ambitious turnaround, but its troubles are far from over. We remain on the sidelines with this one and advise readers to do same.
Stay informed on what's going on in the markets by following us on Twitter @moneymorning or liking us on Facebook.
Make Money from This $500 Billion Investment... Most traders love the thrill of making big profits from big risks. But every once in a while, an investment comes along that's an absolute certainty. That's why we're going to show you one that's been called the "ultimate must-have investment" that's already attracting $500 billion in capital...
Related Articles: