The Fitbit stock price dropped 15% to $14.96 today (Thursday) despite beating earnings estimates last night. That has investors wondering if they should buy into Fitbit stock at today's deflated price.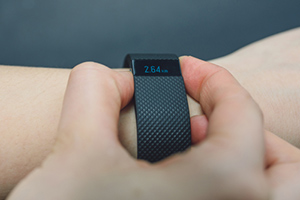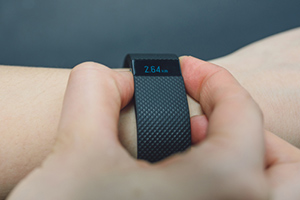 But before we get into the outlook for the Fitbit stock price, here's why the stock is falling today after earnings…
Fitbit Inc. (NYSE: FIT), which introduced its first smartwatch-like product in January, reported Q1 2016 results after Wednesday's close. Fitbit posted adjusted earnings per share (EPS) of $0.10, which beat EPS forecasts of $0.02. Revenue came in at $505.4 million, easily topping estimates for $443.3 million.
The company sold 4.8 million devices during Q1 2016. In 2015, Fitbit sold 21.3 million devices, which was the highest total in the industry. That figure was also double the 10.9 million sold in 2014.
Fitbit's full-year 2016 guidance also trumped expectations. It sees full-year adjusted EPS coming in between $1.12 and $1.24, up from earlier projections.
Fitbit also reported that 47% of its revenue in the quarter came from sales of the new Fitbit Blaze fitness watch and the Fitbit Alta activity tracker. Both products shipped well into the quarter. And both products are on the expensive side for fitness trackers. About 40% of Blaze and Alta users were customers who upgraded from earlier Fitbit devices.
"The fact that we introduced the new Blaze and Alta in the last month of the quarter and they drove almost 50% of our revenue is pretty remarkable," Fitbit CFO Bill Zerella said on the earnings call. "It demonstrates how important it is for us to bring new products to market on a regular basis."
So, why is the Fitbit stock price today tanking?
The biggest factor impacting FIT stock price is soft Q2 guidance. The company said it expects EPS between $0.08 and $0.11, which is down from the previous expectation of $0.26. And that overshadowed the positive Fitbit earnings numbers…
Additionally, some analysts question Fitbit's ability to effectively compete with rivals, particularly Apple Inc. (Nasdaq: AAPL).
While investors are clearly bearish on the Fitbit stock price today, Fitbit is still the clear leader in the industry. And that makes today's price look like a buying opportunity…
The Fitbit Stock Price Today Is a Buying Opportunity
Gartner Inc. forecasts 274.6 million wearable electronic devices will be sold worldwide in 2016. That's an 18.4% increase from 232 million units in 2015. Gartner also reports that sales of wearable electronic devices will generate revenue of $28.7 billion this year. Of that, $11.5 billion will be from smartwatches.
From 2015 through 2017, smartwatch adoption will enjoy a strong 48% growth rate. Smartwatches have the greatest revenue potential among all wearables through 2019, reaching $17.5 billion.
While new to the smartwatch space, Fitbit does have a commanding lead in the wearable device market. Fitbit is the world's largest maker of wearable devices by market share, according to IDC Research.
Fitbit sold more than 22 million total devices over the last four quarters. Most analysts peg the number of Apple Watch units sold in the period in the range of 11 million to 15 million units.
And Fitbit CEO James Park said the company will be unveiling new products ahead of the 2016 holiday season. Speculation is the new Fitbit products might include headphones, a fashionable analog watch that tracks steps, or some kind of medical device.
New product launches are key for any tech company. If you're a tech company and you're not innovating, you're dying.
Mizuho Securities weighed in on the quarter and was upbeat.
The investment firm said the lower Q2 guidance was due to higher investment. Mizuho believes unit volume and average selling prices indicate a robust wearables environment, with Fitbit maintaining a dominant market share.
The firm went on to say that Fitbit's prudent approach to near-term investments will help solidify the company's market leading position. It also sees upside opportunity from Fitbit's potentially conservative guidance given its historic practice.
We agree that Fitbit is a good investment at its current price. The 51.17% year-to-date decline for the Fitbit stock price looks overdone.
The exploding wearable market, tepid sales from the Apple Watch, and new pipeline products offer the Fitbit stock price plenty of room to run in 2016.
Follow us on Twitter @moneymorning and like us on Facebook.
Silver's 2016 Rally Is Just Starting: Investing in silver is one of the best "insurance policies" you can make for your portfolio. That's why we've created this helpful guide for profiting from any move in silver prices. Here's what you need to know about investing in silver in 2016…
Related Articles: