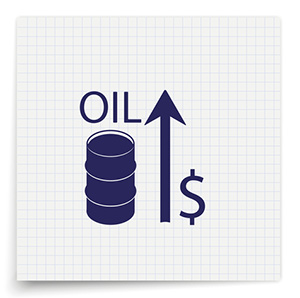 Thanks to an ongoing natural disaster and recent supply report, the price of crude oil is nearing its highest level of 2016.
At 8:45 a.m., the WTI crude oil price gained 4.7% to trade at $45.83 a barrel. The U.S. benchmark is on track for its third-highest close of the year, behind $46.03 on April 28 and $45.92 on April 29. Futures for June delivery are now up 12.6% in 2016.
The Brent crude oil price was also rocketing higher this morning. The global benchmark for the price of crude oil jumped 4.2% to $46.47 a barrel. Futures for July delivery are up 13.1% on the year.
Now, here's a breakdown of the two events sending crude oil prices higher…
Two Reasons Why the Price of Crude Oil Is Rallying Today
The first reason why oil prices are up today is the wildfire raging in Canada right now.
On Sunday, May 1, a wildfire broke out in the area of Fort McMurray, near the heart of Alberta's oil region. According to BBC, the fire has destroyed roughly 1,600 buildings and structures across the region. A state of emergency was declared as 88,000 residents flee in what has become Alberta's largest evacuation in history.
The disaster is disrupting output operations in the region. According to analysts at the UK-based firm Energy Aspects, up to 800,000 barrels of production have been temporarily shut down in Canada.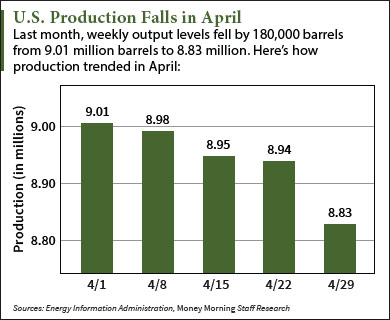 But the long-term reason why the crude oil price is up today is declining U.S. production…
Despite a rise in U.S. supply levels last week, the Energy Information Administration (EIA) reported yesterday (Wednesday) that production fell 1.2% to an 18-month low of 8.83 million barrels a day. This was the 11th weekly decline in a row and the largest weekly drop since July 2015.
This gradual fall in output over the last 11 weeks shows how U.S. producers are easing the supply glut.
And this chart here shows how domestic oil companies are cutting output at a rapid rate…
This Chart Shows How Oil Firms Are Boosting the Price of Crude Oil
U.S. oil companies are helping crude oil prices by steadily shutting down their rigs.
According to Baker Hughes Inc. (NYSE: BHI) – one of the largest oil services companies in the world – the number of active U.S. oil rigs has been cut by more than 50% over the last year. The rig count has fallen from 703 during the week ended April 24, 2015, to 332 last week. That's the lowest count since 2010.
The simple reason for the declining rig count is it's too expensive to keep drilling. Many firms can't turn a profit when they're spending upwards of $500,000 to drill wells to extract oil that costs only $45 a barrel.
According to Money Morning Global Energy Strategist Dr. Kent Moors – who served as an advisor to high-level U.S. and Russian energy agencies for over 40 years – the mounting debt levels these companies face will force them to keep taking rigs offline.
"Companies that need to roll over their debt now face 20% or more in annualized interest and are instead choosing to cut their capital expenditure plans," Moors said on May 2. "This won't be going away anytime soon. That means production (which depends on that capital expenditure) will keep falling."
Right now, Moors sees WTI crude oil prices staying in the mid-$40s range by mid-June. He also projects Brent crude oil prices to reach as high as $50 by the same time.
Alex McGuire writes about oil and gas for Money Morning. Follow him on Twitter for the biggest news on the energy industry.
Like us on Facebook: Money Morning
China Is About to Control the Entire Oil Market… The failed Doha meeting and upcoming OPEC summit in June have dominated global energy headlines in recent weeks. But most investors are overlooking China's plan to seize the global oil market. Here's how the country plans to do it…
Related Articles: