Oil Price Forecast 2016: Oil prices have seen an incredible rebound recently.
Since hitting a 13-year low of $26.21 on Feb. 11, the West Texas Intermediate (WTI) crude oil price has surged 70.2% to $44.62 a barrel. Brent crude oil prices – the global benchmark – are up 50.4% over the same period.
These gains have convinced Money Morning Global Energy Strategist Dr. Kent Moors to revise his crude oil price forecast higher. And Moors – a 40-year oil industry veteran who's advised U.S. and Russian energy agencies – sees three factors that will push crude oil prices higher in 2016.
But before we reveal our exact oil price forecast, here's what's been keeping oil prices in the narrow $40 range over the last three months…
These Firms' Bearish Oil Price Forecasts Are Pressuring Prices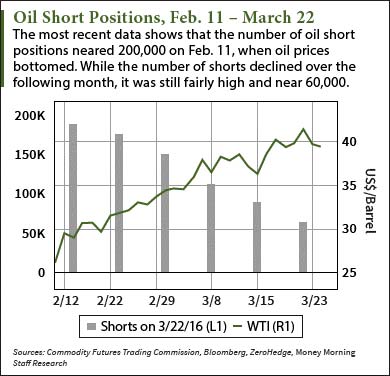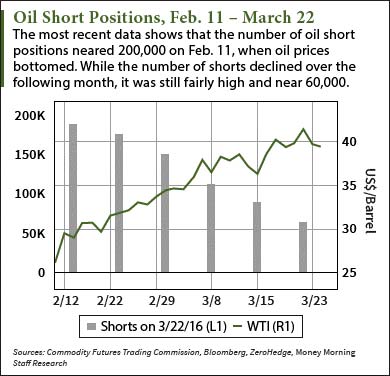 Throughout 2016, many investment banks and hedge funds have been purposefully bearish on oil prices.
You see, these companies have significant short positions on crude oil prices. That means they profit whenever the price of oil declines. And since big banks like Goldman Sachs Group Inc. (NYSE: GS) wield such big influence, the oil market responds when they release bearish oil price predictions.
"Many banks have been running short positions on oil, which means being on TV and convincing viewers that prices are collapsing puts money in their pockets," Moors told Money Morning readers on May 2. "I collectively call these doomsayers betting on lower oil prices Chicken Little from 'The Sky Is Falling' Brokerage Agency.'"
As a matter of fact, Goldman Sachs is the largest oil shorter in the world. From Jan. 4 to Feb. 11, the company made a 29% return on every single short position when oil futures declined by that same percentage over the period.
But Moors says the days of oil shorts keeping prices lower are coming to an end. In fact, he's found three factors that will stabilize prices this year. And that's why he just made a bullish revision to his oil price forecast…
The Three Factors Driving Our New 2016 Oil Price Forecast
Before this week, Moors saw the average WTI crude oil price being in the $42 to $45 range by mid-June. He also projected Brent crude oil prices hitting $48 to $50 by the same time.
But now, he expects those ranges to be the floor rather than the average price. In other words, both WTI and Brent will likely surpass those ranges over the next month.

The first reason why we revised our crude oil price forecast is maximum oil production…
You see, global production has already hit its highest possible level. OPEC output hit 32.6 million barrels per day in January. That was the highest since record-keeping began in 1997. Back in March, Russia reached a 30-year high of 10.8 million barrels per day.
All of this heightens the perception that supply is gradually falling. According to Moors, perception of supply will have a more bullish effect on prices than actual supply.
The second reason for our oil price forecast revision is the energy debt crisis…
Many companies are shutting off their oil rigs because they're too expensive to maintain. These firms can't make money when they're spending roughly $500,000 to pump oil that costs less than $45. That's why the U.S. rig count has plunged from 703 to 328 since April 2015.
These firms will have to keep shutting down drilling operations to save money and cover their debt. This decline in drilling activity will slowly lower supply and lift crude oil prices.
"Oil companies with mounting debt now face a 20% annualized interest and are cutting their capital expenditure plans to cover it," Moors explained. "This won't be going away anytime soon, and that means production (which depends on capex) will keep declining."
And the third reason is "drilled but uncompleted" wells (DUCs)…
DUCs are wells that were drilled but haven't been used to their maximum extraction levels. They're currently being used as the more affordable alternative to secondary recovery techniques like gas injection and water flooding.
Moors says DUCs will not increase overall output and flood the market with more oil. Instead, they'll only be used to replace wells with declining output levels.
"An increase in the number of DUCs does not mean we are approaching some major reduction in production," Moors said. "But they also represent another element restraining the slide in prices."
Alex McGuire writes about energy for Money Morning. Follow him on Twitter for all the biggest oil price updates.
Like us on Facebook: Money Morning
Why Oil Prices Haven't Crashed Despite Saudi Efforts: Saudi Arabia has been actively trying to oust U.S. producers for nearly two years. But there's a reason the OPEC leader's efforts will fail. Here's why…