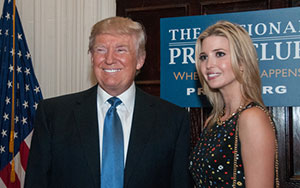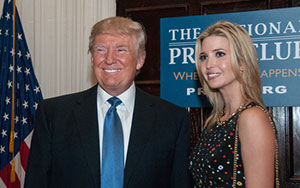 Real estate mogul and presumptive Republican presidential nominee Donald Trump values his net worth at $10 billion.
Of course, some believe Trump isn't worth as much as he says. But recent supporter Dr. Ben Carson stated on MSNBC on May 6 that Trump will release his tax returns when he feels it is appropriate. (Trump's reasoning is that he is being audited, and he doesn't want to release the information until the audits are complete. In a letter released by his tax attorneys, the attorneys stated Trump's tax returns from 2009 and onward are still in fact being audited.)
Regardless, with a net worth even nearing the $10 billion level, it's interesting to see where the real estate mogul's wealth is generated. So here we've comprised a list of the top Donald Trump investments…
What Does Donald Trump Invest In?
Best known as a real estate tycoon, Donald Trump has over 500 entities he controls as a trustee, chairman, president, or directly owns, according to The Wall Street Journal.
His real estate portfolio includes everything from a vineyard in Virginia to a golf course in Scotland.
Some of his well-known holdings include:
Trump International Hotel & Tower Chicago
Trump International Hotel & Tower New York
Trump International Hotel Las Vegas
Trump International Hotel & Tower Toronto
Trump Plaza New Jersey
Trump International Golf Links Scotland
Trump International Golf Links Ireland
Trump International Fold Club West Palm Beach
Now let's take a look at six of Donald Trump's stock holdings — plus his precious metal investment… Check out the details on one of his "secret" investments here.
Donald Trump Stocks
In his disclosure, Trump has five stock accounts with up to 173 holdings in each account. Trump didn't provide an exact value because financial filings only require a range, but his stock holdings are believed to be worth $33.4 million to $87.9 million.
Trump stocks include a mix of technology giants and big banks — but all adhere to one pattern:
While being diversified, it also appears Mr. Trump is a fan of
dividend stocks
. Except for Alphabet, all of the stocks above pay a dividend yield of at least 1.42%.
Donald Trump Gold Investments
To round out his investments, Trump has a large holding of physical gold.
Once again, he doesn't provide a specific value for his gold — he lists it being worth between $100,001 and $250,000.
According to precious metals experts Kitco, Trump said in an interview in 2015 that he liked the gold standard, but it would be difficult to back it against the dollar. Trump then went on to say that we used to have a solid country because our fiat currency was backed against gold.
Trump believes that the U.S. Federal Reserve needs to be audited to make sure it has what it says it has. While the yellow metal accounts for a very small portion of Trump's self-reported worth of $10 billion, gold allows him to keep his portfolio diversified.
Tell us what you think on Twitter @moneymorning and on Facebook.
Do you want to invest like this billionaire real estate mogul? We have a way for you to profit alongside him with one tech stock that's poised to surge 208%. Details here.
Related Articles: