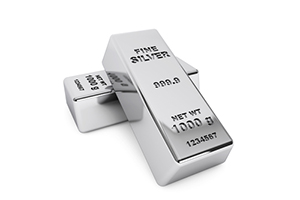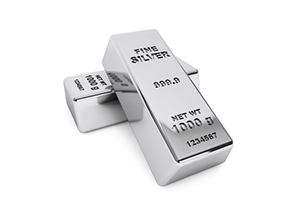 Silver prices gained over 15% in April, steadying at around $17 per ounce on Friday.
And last week, the price of silver had its best monthly gain since 2013.
With silver's latest run-up, it's time for a small silver price correction in the short term, according to Money Morning Resource Investing Specialist Peter Krauth.
In the long term, however, Krauth says silver prices are going to surge. He has a bold silver price prediction over the next four to five years, and it's based on one reliable technical indicator.
But before we get to this indicator and Krauth's long-term silver price target, let's discuss silver price movements coming up in the short term.
Commercial traders – those that work for precious metal producers – are bearish on short-term silver prices. The number of commercial short positions for silver climbed to 148,000 on April 26 – the highest number yet for 2016.
Commercial traders are highly in tune with the commodities market, according to Krauth. That's because they have to protect the value of their output. Their move to short positions indicates they expect a small pullback in silver prices over the next month or so.
There's also another reason short-term silver prices are likely to go down: recent price reversals. A price reversal is when a commodity's price shoots up intraday and then sharply falls before market close. On Thursday, April 21, the silver price spiked over 2% intraday but then reversed and closed negative.
When silver prices had similar price reversals in the past, that signaled silver was being bet against by big commodity players (like commercial traders), according to Jason Goepfert, a research analyst for Sentimenttrader.com. When that happens, silver prices experience more short-term volatility and usually close in the red.
Neither price reversals nor bearish commercial traders can stop silver prices from surging in the long term, though.
And there's one indicator that shows us why…
One Indicator Shows Silver Prices Will Surge in 4 to 5 Years
The silver/gold ratio is one of the best indicators to predict future silver prices. That's because – in general – silver prices follow gold prices.
"Silver tends to catch up to gold, and often outpaces it," said Krauth.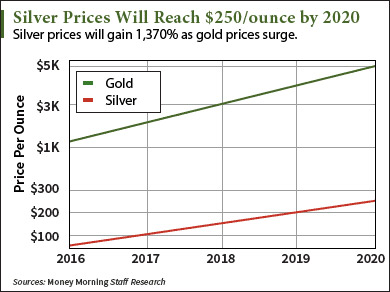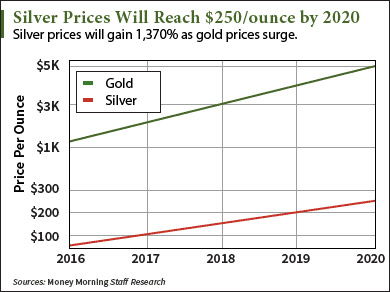 Currently, the silver/gold price ratio is about 74 to 1. That means that the price of 74 ounces of silver will buy you one ounce of gold.
But in four to five years, Krauth says the silver/gold ratio will be between 15 and 16 per ounce. That puts Krauth's silver price target at around $250 per ounce – a 1,380% gain.
It's an audacious prediction, but Krauth says it's warranted.
Here are three reasons why:
Reason No. 1: Silver is trading at a huge discount right now. The silver/gold ratio is at a record high right now. For the past century, the ratio has had an average range between 47 and 50. With the ratio as high as it is now, silver is trading at a steep discount. Many commodities traders are already swapping their gold investments for silver, which will send silver prices higher.
Reason No. 2: Fixed-income traders want precious metals instead. Commodities like gold and silver are safe havens for investors seeking reliable, long-term returns. Many fixed-income traders who are exasperated with low yields (some of the lowest in 30 years) are pouring money into precious metals investments. Take Jeff Gundlach, for instance, one of the most successful bond investors ever. He's the founder of Doubleline Capital and manages a $9.3 billion bond fund. In the last few weeks, though, Gundlach has started buying precious metals equities, according to Krauth. It's rare for someone like Gundlach – who's made billions in fixed-income trades – to behave like this. But it suggests Gundlach sees the silver price climbing significantly in the future.
Reason No. 3: The U.S. dollar will weaken in the long term. Krauth believes the U.S. Federal Reserve is underestimating the risk for inflation. For years, the Fed has denied the U.S. economy has reached the Fed's 2% inflation target. But Krauth believes inflation is already here and will only get worse. As prices rise, the U.S. dollar weakens. And what's bad for the dollar is good for silver, since silver is a dollar-denominated commodity. Pay attention to the dollar index. It has already dipped to 92 from 98 at the start of this year. Krauth said the long-term, gradual decline in the dollar index will help precious metals.
The Bottom Line: Long-term silver prices will surge because of the high silver/gold ratio, investors seeking safe havens, and a weakened U.S. dollar. Krauth's silver price target is $250 in four to five years from now. He says that's perfectly attainable given current and future market conditions.
Stay updated on silver prices today. Follow us on Twitter and like us on Facebook.
Your Guide to Profiting from Silver Prices: Investing in precious metals is one of the best "insurance policies" for your portfolio. That's why we've developed this guide for profiting from movements in gold and silver prices. Here's what you need to know about these safe-haven investments…