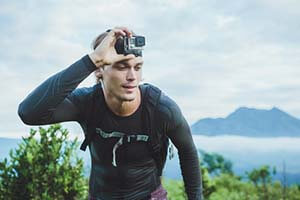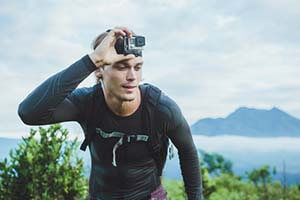 The GoPro stock price tanked 7% to $9.81 this morning (Friday) after disappointing Q1 2016 results. It's been a tumultuous year for GPRO stock, with shares down 44% year to date.
Now, Money Morning readers have been asking us what to expect from the GoPro stock price moving forward. But before we get to our GPRO stock price outlook, here's exactly what you need to know about the Q1 earnings report…
After Thursday's close, the wearable camera maker posted better than expected quarterly revenue. Still, revenue was down 50% from the same quarter a year ago.
GoPro Inc. (Nasdaq: GPRO) reported a Q1 earnings per share (EPS) loss of $0.68 on $183.5 million in revenue. Last year, those numbers were $0.24 and $363.1 million, respectively. Analysts were looking for an EPS loss of $0.60 on $169 million in sales.
GoPro shipped 701,000 units in the quarter, down about 48% from 1.3 million during Q1 2015. Expectations were for 727,000 shipments, according to StreetAccount.
GoPro reaffirmed its FY2016 guidance for $1.35 billion to $1.5 billion in full-year sales. That range would also mark a year-over-year sales decline.
But the soft guidance and sales totals aren't the only reason for the drop in the GoPro stock price today…
GoPro also pushed backed the upcoming release of its drone camera. Named "Karma," the drone camera is more than a year in the making and was deemed a possible catalyst for growth in 2016.
The company didn't offer many specifics, only saying it needed to work on some of the drone's features. That has investors and analysts questioning the company's credibility.
Wedbush Securities said the drone delay was the biggest surprise in GoPro's Q1 results.
The GoPro stock price initially spiked more than 7% after hours Thursday because of the earnings beat. But when investors dug deeper into the report, they turned very bearish.
And even though the GoPro stock price in 2016 is down 44%, the biggest troubles may still be ahead for GoPro…
GoPro Stock Price Remains Under Pressure in 2016
Poor GoPro earnings results are turning into a trend.
The company posted an EPS loss of $0.11 in Q4 2015. Revenue was in line at $436.6 million, but GoPro had warned three weeks prior that revenue would be well below the original guidance of $500 million to $550 million.
Despite the weak report, the GoPro stock price held up relatively well after glum Q4 results. After dropping some 12%, shares found support at the $9 level. Of course, GoPro stock had plunged about 85% in the months leading up to the release. And a lot of the floor in the GoPro stock price came from short covering.
GoPro remains one of the most heavily shorted stocks. The latest available Nasdaq data shows that GoPro short interest sits at 23,865,106 shares.
GoPro's helmet- and body-mounted cameras are wildly popular with surfers, skydivers, and other adventure sports enthusiasts. Yet the company has not garnered mass appeal and wider adoption of its devices.
The company is also facing pressure from improved video-shooting abilities that today's smartphones offer. That has weighed on traditional cameras and GoPro products.
The GoPro stock price does not look appealing outside its potential as a takeover target, according to Ross Gerber, president and CEO of Gerber Kawasaki Wealth and Investment Management.
"It would be a wonderful addition to many companies, but beyond that I just don't have a lot of hope," Gerber said Thursday evening on CNBC's "Closing Bell."
We've been bearish on the GoPro stock price since it peaked in October 2014.
One of the biggest IPOs of 2014, GoPro priced shares at $24.
The GoPro stock price soared 31% on June 25, 2014, its first day trading as a public company. Less than one month later, the GoPro stock price was up 100% from its IPO price.
At its all-time October 2014 high, Money Morning Chief Investment Strategist Keith Fitz-Gerald advised investors that the hype did not justify the stock price.
The stock was down to $60 by August 2015.
"GoPro makes some really cool products, and they've got a rabid fan base of people who film themselves and others doing some truly outrageous things," Fitz-Gerald said in early 2016. "But that doesn't mean they've got sustained profit potential. The company has engaged in deep, deep discounting this holiday season, and that's going to eat into margins."
The GoPro stock price is off nearly 44% year to date and 78.77% over the last year. Drone or no drone, we recommend avoiding GoPro stock in 2016.
Follow us on Twitter @moneymorning and like us on Facebook.
We're Watching These Four Tech Companies Very Closely… The IPO market has been lifeless so far in 2016. In fact, only one tech company has gone public this year. That's why we're following these four massive tech companies set to make a huge splash in the IPO market in 2016…
Related Articles: