While most states have recovered from the Great Recession - they have not all done so equally.
Some states are thriving now, like energy-rich Alaska and the Dakotas. But others -- with big pension responsibilities -- are trailing far behind, like New York and New Jersey. These are the most bankrupt states, according to a 2015 study by George Mason University's Mercatus Center.
Several states, according to the research policy group's findings, still face an uncertain fiscal future due to skyrocketing government spending and state debt.
The study looked into five areas in particular to determine results:
Sign up for SMS so you never miss special events, exclusive offers, and weekly bonus trades.
Cash solvency: Can the state cover short-term bills?
Budget solvency: Is there a budget shortfall or can revenue cover expenses?
Long-run solvency: Can it meet future commitments?
Service-level solvency: Could it accommodate an increased demand for services?
Trust fund solvency: What are the debt levels, unfunded pension liabilities, and healthcare liabilities?
The bottom-performing states might come as no surprise: New York (46), Connecticut (47), Massachusetts (48), New Jersey (49), and Illinois (50) did poorly across the board. They had little cash on hand to cover short-term bills, difficulty balancing budgets, unsustainable long-term expenses, and an astonishing level of unfunded pension liabilities.
The top five states may come as no surprise either; each owes their fiscal prowess to a dependency on oil, gas, and natural resources revenue: Alaska (1), North Dakota (2), South Dakota (3), Nebraska (4), and Florida (5). These states had cash on hand to cover short-term spending, yearly revenues that exceeded spending, low levels of debt, and relatively small levels of non-pension benefits -- known as other post-employment benefits (OPEB).
Use our infographic below to see how your state ranks according to solvency issues...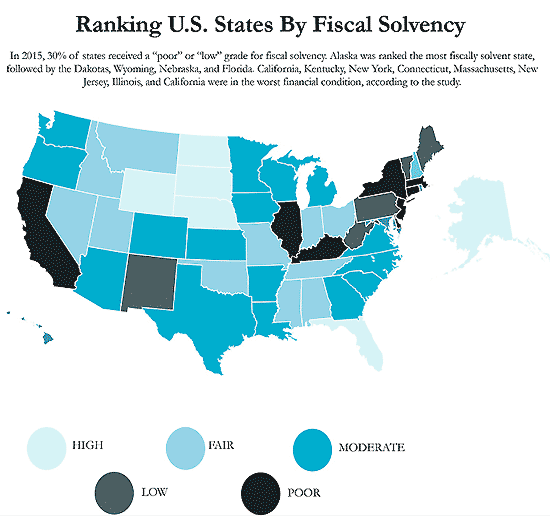 Follow us on Twitter @moneymorning or like us on Facebook.
"Berning" the Books: In his speeches, Democratic presidential hopeful Bernie Sanders typically has sharp words when it comes to U.S. corporate taxes. He says U.S. companies don't pay their "fair share." And a new study by the Government Accountability Office (GAO) - a study Sanders requested - backs up the claim. Here's more on how and why U.S. corporate taxes never get fixed...