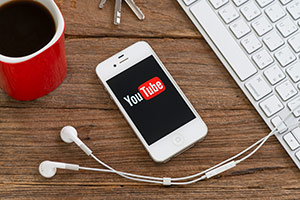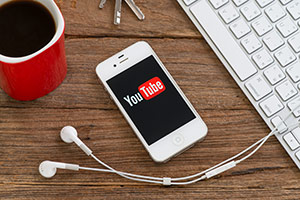 After reporting disappointing results in Q1 2016, GOOGL stock received a major catalyst on May 4 when the company announced YouTube will offer a paid subscription service called "Unplugged."
Alphabet Inc. (Nadsaq: GOOGL) doesn't share YouTube's exact revenue figures. But the company did state YouTube ad revenue increased at a significant rate for Q1, according to Business Insider.
And Unplugged will only help YouTube increase revenue.
Following the announcement on May 4, the GOOGL stock price has climbed 4.1%, while the market has been flat. And we believe there's an even bigger catalyst for GOOGL stock in the long term.
But before we get to that, let's take a look at YouTube's video subscription service Unplugged…
YouTube Unplugged will offer customers cable TV channels that can be streamed over the Internet. According to Bloomberg Technology, YouTube executives are in talks with big-name television providers like Twenty-First Century Fox Inc. (Nasdaq: FOX), CBS Corp. (NYSE: CBS), and NBCUniversal about the service.
YouTube has reportedly worked on introducing a cable package since 2012, but Bloomberg says there has been more urgency around the project recently.
You see, Apple Inc. (Nasdaq: APPL) and Amazon.com Inc. (Nasdaq: AMZN) are working on creating similar offerings. In fact, Amazon announced today (Tuesday) that it's offering a service similar to YouTube that would allow users to upload videos.
For television networks, it makes sense to partner with non-traditional video outlets like YouTube. Networks are dealing with "cord-cutting," which cost ESPN 7 million subscribers from 2014 to 2015.
These networks will find a big audience on YouTube. The video site received 7 billion views a day as of April 2015.
For Alphabet stock owners, this partnership could add billions in revenue. Research site Statista reports that cable television revenue is projected to fall from $93.8 billion in 2012 to $81.9 billion in 2020, but it's still a revenue source worth billions of dollars that YouTube wasn't tapping into.
Unplugged isn't expected to be introduced until 2017, but it should have current Google stock shareholders excited. For a long-term outlook, though, we see an even bigger catalyst for GOOGL stock…
What the Future Looks Like for the GOOGL Stock Price
Money Morning Technical Trading Specialist D.R. Barton calls GOOGL a legacy stock. That means that GOOGL is a stock you want to hold forever.
While Alphabet is best known for its search engine, one of its most profitable ventures is still developing…
Fiat Chrysler Automobiles NV (NYSE: FCAU) announced in the beginning of May that it would soon partner with Alphabet. With the help of Alphabet, the automaker plans to build 100 prototypes of autonomous minivans, according to USA Today.
This is a huge opportunity for Alphabet to reward patient shareholders… You see, companies would rather "rent" technology than build their own infrastructures from scratch. It would be incredibly expensive for Fiat to start its own autonomous vehicle technology. But partnering with Alphabet allows Fiat to gain a strong foothold in a massive market with minimal effort.
Fiat has already said this is just the beginning of what could be a long-term business partnership.
Statista projects revenue from autonomous vehicles in the United States will be $3.4 billion in 2016. But by 2021, the research site projects revenue will be $15.4 billion. That's a 352% increase in just five years.
It's true that GOOGL stock had a short-term pullback when it dropped 3.5% the day following earnings on April 21. But in the last 12 months, the Alphabet stock price is up 34%.
If you look at other tech companies, GOOGL is trading at a reasonable price/earnings (PE) ratio of 31.54. That's compared to Amazon's PE ratio of 286.81 and Netflix Inc.'s (Nasdaq: NFLX) PE ratio of 317.71. Analysts at Thomson First Call have a one-year price target of $911.33 on GOOGL. That's 23.99% higher than today's opening price of $734.96.
The Bottom Line: The GOOGL stock price has had a short-term pullback in the last month. But if you look at the performance of GOOGL stock over the last 12 months, it's up 34%. And not only is Alphabet growing revenue through YouTube, it's also becoming a leader in the $15.4 billion autonomous vehicle industry.
Jack Delaney is an associate editor for Money Morning. You can follow him on Twitter and follow Money Morning on Facebook.
The Snapchat IPO: The Snapchat IPO still doesn't have a set date, but investors are anxious to invest in one of the most popular apps in the world. When it Snapchat goes public, it will be the only thing Wall Street will talk about. But before buying into the hype, make sure you read this extremely important report on how this popular app actually makes money…