Yes, day-to-day price movements continue to be the biggest crude oil news stories. After all, crude oil prices have gained 63% to $44.66 over the last three months.
But the effects of the oil price crash of 2014-2015 have caused many oil companies to make tough business decisions to avoid bankruptcy. And that's despite the recent oil price recovery.
That brings us to the most significant crude oil news story being overlooked right now…
Here's the Crude Oil News Story No One Is Talking About
Some of the world's biggest oil companies just abandoned $2.5 billion worth of drilling operations in the U.S. Arctic.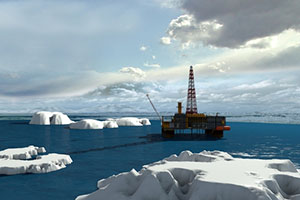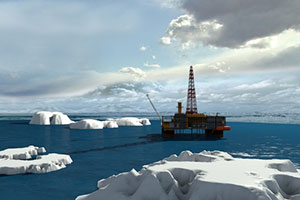 You see, the Arctic region is one of the biggest offshore oil fields in the world. According to a report by Bloomberg, the Chukchi Sea off the Alaskan coast holds roughly 27 billion barrels of oil. Not to mention the region holds an estimated 132 trillion cubic feet (tcf) of natural gas.
During an auction in 2008, supermajors including Royal Dutch Shell Plc. (NYSE ADR: RDS.A) and ConocoPhillips (NYSE: COP) won drilling leases to the region. These firms spent over $2.5 billion to purchase roughly 2.8 million acres. That was back when WTI crude oil prices hovered near $88 a barrel.
Now, oil companies can't afford the sky-high exploration and maintenance costs required to drill in this $40 oil price climate. After already ending an $8 billion lease in the Arctic last September, Shell canceled 274 drilling leases in the Chukchi Sea this week. That's because prices still haven't recovered enough to make these drilling operations profitable.
You see, these U.S. oil firms are struggling to profit from the wells they already have online. The U.S. Energy Information Administration (EIA) reported 40 oil producers lost a combined $67 billion in 2015. That's why the Baker Hughes Inc. (NYSE: BHI) oil rig count fell to 328 last week. That was the lowest total of operational wells in nearly seven years.
While that seems like bad news, it's actually a bullish sign for crude oil prices…
Money Morning Global Energy Strategist Dr. Kent Moors says this falling rig count will lift crude oil prices above the current $42-$45 range. Since these companies are dealing with record levels of debt, they'll need to keep shutting off oil rigs and other drilling operations to conserve cash. That will inevitably lower supply over the long term.
"Oil firms with soaring debt levels now face an annualized interest of 20% and are lowering their capital expenditures to cover it," Moors said on May 2. "This won't go away anytime soon, which means output (dependent on capex) will keep falling."
Alex McGuire is a writer for Money Morning who covers the energy market. You can follow him on Twitter at @AlexMcGuire92 for all of the most important crude oil news.
Like us on Facebook: Money Morning
Oil Prices Won't Crash, Regardless of Saudi Arabia's Efforts: The Saudis have been trying to edge out U.S. producers to take control of the global market since November 2014. But Moors says there's a big reason why the leading oil nation's efforts are futile. Read here for more…