The Tesla Motors stock price is down nearly 14% in the last month, but shareholders don't need to panic.
Our Tesla stock price outlook still shows the potential for market-beating gains in the long term. But because Tesla Motors Inc. (Nasdaq: TSLA) is such a momentum stock, these types of short-term pullbacks are bound to happen.
So before we get to our projection for the Tesla Motors stock price, here's why TSLA was hit so hard this week…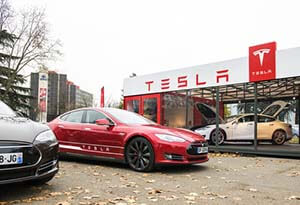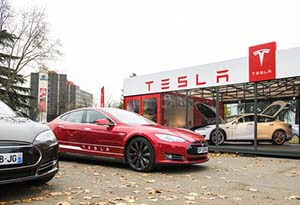 The TSLA stock price dropped to a two-month low of $206.10 Tuesday. New delay concerns about the "affordable" mass-market Model 3 vehicle caused Tesla Motors stock to fall.
Tesla said Tuesday that the design of the Model 3 has not been finalized. Still, the automaker expects to begin building the $35,000 "everyman" sedan within the next 18 months.
In a conference call with analysts last week, Tesla CEO Elon Musk acknowledged the Model 3 design was not complete. He said it would take another six to nine weeks to complete engineering decisions.
In its recently released quarterly report, Tesla said it still plans to expand its Fremont, Calif., factory. But since the company is still procuring and making parts for the Model 3, no timetable for the factory expansion was provided. Tesla added it would be willing to build its own vehicle parts if it needed to.
The Model 3 is expected to be a turning point for Tesla. Its price tag is less than half that of Tesla's other vehicles. The Model 3 is projected to vastly boost Tesla's production volume and revenue, and to eventually help Tesla book a profit.
Less than 12 hours after the Model 3 unveiling on March 31 at Tesla's design studio in Hawthorne, Calif., the number of Model 3 reservations topped 150,000. Just 24 hours later, that number soared to 276,000. By mid-April, Tesla said reservations for the Model 3 were nearing 400,000.
Still, there's no information as to when the company will reveal the finished product. That's become a concern for some investors.
Model 3 deliveries are expected sometime in late 2017. However, it could be 2018 or later before many get their vehicles.
One of the biggest questions looming over the Tesla Motors stock price is if the company, infamous for delayed vehicle deliveries, can deliver its first mass-production car on time.
And while that news will continue to impact the Tesla Motors stock price in the short term, there are other factors for investors to watch in the long term. Here's what you need to know now…
Tesla Motors Stock Price: Take a Long-Term View
A bigger issue that investors need to watch is Tesla's shrinking free cash flow…
The company reported an operating loss of $248 million this past quarter, noting that free cash flow dipped to a negative $466 million. That happened even as Tesla's capital spending was cut nearly in half.
Tesla also scrapped the pledge it made three years ago that it would be cash-flow positive in 2016.
The company said in its filing that capital spending will ramp up later this year and the company could spend more than $2 billion in the next three quarters. More than $500 million will be spent to begin production of vehicle battery cells at its Reno, Nev., plant by year's end.
Tesla grew its cash position to $1.4 billion as of March 31, after drawing down more than $400 million from a revolving credit line. According to FactSet, Tesla has raised money through equity or convertible debt every year since 2010.
Despite delivery and cash-flow concerns, analysts remain upbeat on the TSLA stock price.
Dougherty & Co. resumed Tesla with a "Buy" rating on Monday with a $500 price target.
The firm said Tesla's aggressive production and delivery schedule certainly increases the risk of near-term stumbles and pressures earnings power. But demand is not an issue. The challenge is overcoming manufacturing issues, which they believe Tesla can do.
Following Tesla's results last week, a number of firms also boosted their TSLA stock price target.
RBC hiked its TSLA price target to $252 from $180. Deutsche Bank boosted its target to $290 from $280. Baird raised its price target to $338 from $200. Oppenheimer lifted its TSLA price target to $385 from $340.
The electric car pioneer aims to deliver 500,000 new cars by 2018 and one million by 2020, bolstered by the Model 3. The mass-market Model 3 could very well propel Tesla into a solid moneymaking company.
The Tesla stock price is notoriously volatile. That's why we stress that shares are best suited to long-term investors. We do, however, remain bullish on Tesla.
Follow us on Twitter @moneymorning or like us on Facebook.
Why We're Watching These Four Tech Companies in 2016… The IPO market has been extremely slow in 2016. But that's about to change. And we're following these four massive tech companies set to make a huge splash in the IPO market in 2016…
Related Articles: