The Dow has climbed more than 10% in the last three months, but we just found a major stock market crash warning signal out of China this week…
China's total debt-to-GDP ratio is currently in a range of 240% to 270%. That's an incredible increase from 150% a decade ago. That spike has occurred while China's GDP has grown sizably, meaning the China debt load is soaring.
China's debt has quadrupled since 2007, driven by real estate and shadow banking, according to global consultancy McKinsey & Co. China's debt as a share of GDP is larger than that of the United States or Germany.
And that uncontrollable debt has many investors fearing a stock market crash in 2016 could be coming…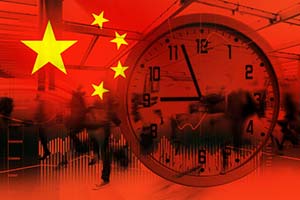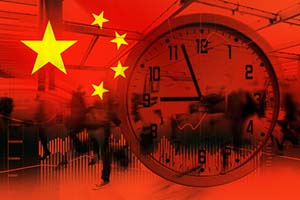 Chinese debt levels began accelerating far faster than GDP growth about five years ago. The problem is that the faster debt accumulates, the less able China is to pay it off. The key question now is how effectively China can manage its mountain of debt during a domestic and global economic slowdown.
Economists warn that when you have the kind of dizzying credit expansion that China has had over the last several years, history shows it leads to financial turbulence. That's why 2016 stock market crash fears are rising.
The situation is ticking time bomb. Plus, many are waiting for China's fragile bond market to implode.
According to HSBC, there have been a dozen public bond defaults involving RMB 7.8 billion (roughly $1.3 trillion) of principal exposure so far this year. That amount exceeds the collective total in the previous two years.
Meanwhile, a string a credit events concerning state-owned enterprises (SOEs) and local government funding vehicles (LGFVs) shattered investor confidence in credits presumed to have government backing.
Once bonds that are assumed to be guaranteed by the government start to fail, the rest of the market will follow suit. That will make it difficult for businesses to raise new funds. That will cause China's economy to slow ever further. And that's after the country just reported its slowest GDP growth rate in 25 years.
"In April alone around 130 primary market bond offerings were either postponed or cancelled, the most on record, amid rising uncertainty," according to HSBC.
HSBC isn't the only one worried about China's ballooning debt. Two former U.S. Treasury secretaries have also issued a major warning. And that's only stoking 2016 stock market crash fears…
You Can't Afford to Ignore These Stock Market Crash Warning Signs
Robert Rubin and Larry Summer, two former U.S. Treasury secretaries, are also very concerned about the China debt situation.
At the SALT hedge fund conference in Las Vegas today, both said China is the biggest risk to markets outside the United States.
Rubin said Chinese economists, not at liberty to be vocal about their true thoughts, are also worried about their economy. He added that the Asian nation has returned to an era of leaning on investment to create growth.
And Summer said he sees a lot of risk in China over the next three years that cannot be ignored.
Money Morning Global Credit Strategist Michael E. Lewitt has been warning about the impact from China's growing debt for months.
Lewitt explained in February that much of China's $30 trillion debt was invested in unproductive assets such as "ghost cities and ghost factories that can never produce the income necessary to service or repay these obligations."
Lewitt went on to warn that China is experiencing "the biggest debt bubble in recorded history – a bubble that will pop like every other bubble in economic history. China is not immune from the laws of economics just because it claims to operate by different rules."
But you don't have to panic, even though the stock market crash warnings signs are mounting. Investors can find protection from a global stock market crash in gold and silver.
Money Morning explains here how to invest for silver prices in 2016. Here you will find our list of the best gold stocks to buy in 2016.
Follow us on Twitter @moneymorning and like us on Facebook.
Related Articles: