The price of gold is posting solid gains this morning (Thursday, May 12). As of 10:45 a.m., gold prices are up 0.2% to $1,278.20.
And Money Morning Resource Investing Specialist Peter Krauth – who has two decades of gold investing experience – says there are two reasons why prices will continue higher in 2016.
But first, here's the newly revealed trend that's pushing the gold price higher today…
This Is Why the Price of Gold Is Surging in 2016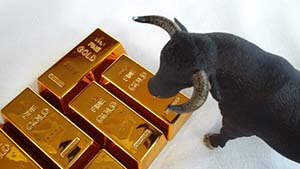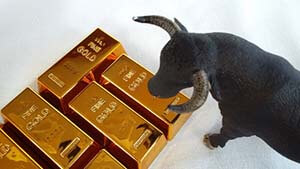 A report from the World Gold Council (WGC) today shows gold demand is rising faster than ever. During the first three months of 2016, demand for the metal soared 21%. Investors piled into gold due to worries of a global slowdown and market volatility.
Gold demand in Q1 2016 totaled 1,289.90 tons. That's a huge 21% increase from 1,070.40 tons last year.
The demand boost gave the price of gold its biggest quarterly gain since 1986. From January to March, gold prices surged 16.1%, outperforming the S&P 500 by 15.3%. They're now up 20.6% in 2016.
The WGC cited three key reasons for increasing gold demand this year…
Growing use of negative interest rates, and the U.S. Federal Reserve's admission it had discussed the use of negative rates.
China's devaluation of its currency.
The widespread consensus that the Fed is in no rush to raise interest rates in 2016.
Other factors that influenced the gold price rally were the 4% decline in the U.S. dollar and forecasts for stalled global growth.
Last month, the International Monetary Fund warned that global economic growth should slow. The IMF trimmed its growth forecast by 0.2% to 3.2%, citing China's troubled economy and the ripple effects of developed and emerging economies.
But that's not all. In fact, Krauth says there are two more factors that will rally the price of gold this year…
Two More Reasons Why the Price of Gold Will Head Higher in 2016
The first bullish factor for gold prices is gold exchange-traded fund (ETF) activity.
Inflows of ETF investments reached a seven-year high in the first quarter. According to the WGC report, this rise in ETF inflows indicates investors are building long-term rebound positions in the wake of the gold's crash back in 2013.
The SPDR Gold Trust ETF (NYSE Arca: GLD), the biggest gold-backed fund with a $34.4 billion market cap, received $7.6 billion worth of investments in Q1.
Another reason for the bullish gold price outlook is gold demand from investment banks and central banks.
While central bank gold demand fell 3% in Q1, the WGC believes world banks will remain robust buyers. After all, Russia saw a 52% increase in gold purchases last quarter. China and Kazakhstan were also big purchasers.
Despite these bullish factors, Krauth warns there may be some pullbacks in the price of gold along the way. Short-term volatility is to be expected while gold posts huge gains over the long term.
But we've selected the best gold stocks to buy in 2016 to profit from this specific trajectory. You can find our picks here…
Stay informed on the price of silver by following us on social media.
Twitter: @moneymorning 
Facebook: Daily Money Morning
This Other Metal Is Also Set for Big Gains This Year… Silver prices were another big performer during the first quarter, gaining more than 11%. But like gold, Krauth sees silver rallying in 2016. And it's all thanks to these three factors…
Related Articles: