The NFLX stock price has dropped 19% to $86.80 in the last month, causing panicked investors to sell their Netflix shares. With this latest drop, the NFLX stock price in 2016 is down nearly 24%.
But panic selling is not the way to play Netflix Inc. (Nasdaq: NFLX) right now.
We have a full recommendation on how to play the falling NFLX stock price, but before we get to that, here's what has been weighing on Netflix stock in 2016…
Netflix has been under pressure this month, even though it posted strong Q1 results on April 18.
The video-streaming giant posted Q1 2016 earnings per share (EPS) of $0.06. That was up from $0.05 in the same quarter a year ago, and it was also better than the $0.03 EPS expected. Revenue came in at $1.96 billion, up from $1.57 billion a year earlier and just slightly shy of the $1.97 billion projected.
Subscription count was also strong.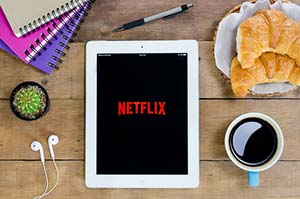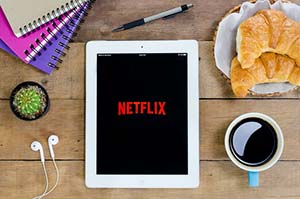 Netflix added 6.74 million new memberships in Q1. Of those, 2.23 million came from the United States and 4.51 million came from international markets as the company expanded into 130 countries. Wall Street consensus was for Netflix to report 4.36 million new members internationally and 1.77 million domestically. That's according to data from StreetAccount.
Despite the bullish EPS and membership numbers, the company's guidance figures were disappointing. And that has been weighing on the NFLX stock price…
Netflix projects just 2 million new international subscribers in Q2. Analysts had estimated it would add 3.45 million.
CEO Reed Hastings explained international growth is uneven because of how the rollout is working in different markets. There had been a sizable uptick because of pent-up demand in some areas. But that might not continue in the future.
The chief concern for investors is that Netflix's growth is stalling. NFLX already has more than 80 million subscribers, with about half of those in the United States. The feeling among some analysts is that most individuals in the United States who want Netflix already have it.
That's why Netflix's international growth is so important…
Netflix said it expects material global profits starting in 2017, and overall estimates show it earning $1.05 a share in 2017. Yet $1.05 might be too ambitious. That would be a 275% increase from the $0.28 it is expected to earn this year.
And that's not the only concern that has weighed on Netflix shares in 2016. Here is another reason why the Netflix stock price has been falling this year and how we recommend playing NFLX moving forward…
Is Netflix a Buy in 2016?
A major emerging competitor for Netflix is behemoth Amazon.com Inc. (Nasdaq: AMZN). On April 18, Amazon made its Prime Video streaming service available as a standalone offering.
RBC analyst Mark Mahaney believes Amazon is a daunting threat to Netflix's dominance. In a research note, Mahaney called Amazon's Prime Video announcement a "significant negative development" for Netflix.
But Netflix is stepping up its game with new developments and video content that could attract new customers and keep existing ones coming back for more.
Netflix has plans to add 10 feature films, 30 kids' shows, and 12 documentaries this year alone. The company has made a total investment of $5 billion on these.
"Right now, they [Netflix] are going through an Amazon.com growth period," Money Morning Director of Tech & Venture Capital Michael A. Robinson said back in October 2015. "It's the Bezos model – build, build, build – then the profits will follow."
Netflix comfortably remains the leader in the streaming-video space. An earnings miss and new rivals are not likely to upset Netflix's commanding lead. And if talks of an activist push to shake up the company's board materializes, things could get very interesting for the NFLX stock price.
Still, shares are extremely volatile. That's why we recommend NFLX as a long-term investment.
Of the 44 analysts who cover the stock, 21 rate NFLX "Buy" and three maintain an "Overweight." Fifteen have a "Hold" rating, two have an "Underweight," and three rate shares "Sell," according to Wall Street Journal data.
The average 12-month price target is $117.36. That's nearly 35% higher than today's price. The NFLX stock price is looking discounted now…
Follow us on Twitter @moneymorning and like us on Facebook.
This Other Metal Is Set for Big Gains This Year… Silver prices were another big performer during the first quarter, gaining more than 11%. But like gold, Krauth sees silver rallying in 2016. And it's all thanks to these three factors…
Related Articles: