After logging their best quarter in 30 years during Q1, gold prices continue to outperform this year.
That's why we've picked out the four best gold stocks to buy now as prices soar in 2016.
Following a 16.1% gain in the first three months of the year, gold prices in 2016 are now up 20%. The gold price was firmly higher in early trading today (Monday), up $13.00 at $1,285.70, as worries of a global economic slowdown continue.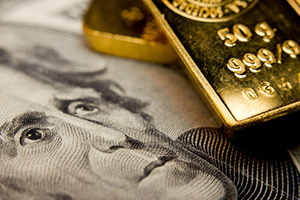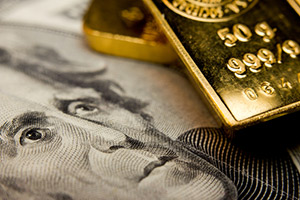 A string of soft economic data from China over the weekend also boosted the price of gold today. Industrial production in the Asian nation rose 6% year over year, which was below the 6.5% expected and 6.8% in March. Retail sales rose 10.1% in April, but that was the lowest level in 11 months. New loan data also came in short of expectations.
Decelerating economic activity in China was behind this year's rough start for stocks. Thanks to extreme volatility and slumping prices, investors fled stocks and piled into safe-haven gold.
Gold demand also climbed this year because of the increasing use of negative interest rates and the ineffectiveness of global central banks. The European Union, Denmark, Japan, Norway, Switzerland, and Sweden are all experimenting with negative interest rates. Results have been mixed so far, and that's caused investors to lose confidence in central banks' ability to keep their economies afloat.
The widespread view that the U.S. Federal Reserve will keep interest rates lower for longer has also benefited the gold price in 2016. After the first interest rate increase in nearly a decade in December, the overall consensus is that we will see just one hike this year.
And all of these factors will continue to guide gold prices higher in 2016.
That's why we are again highlighting the best gold stocks to buy now as yellow metal prices soar in 2016. We recommended these stocks back in March, and they have all climbed at least 16% since we told our readers about them.
And these gold stocks are poised for even more gains in 2016…
The Four Best Gold Stocks to Buy in 2016
The world's largest gold mining companies have been some of the best-performing stocks on the market this year.
"As the return of the gold bull looks more and more entrenched, gold producers just like this will be first in line to reap the biggest gains," Money Morning Resource Specialist Peter Krauth explained in March. "They've already started."
Barrick Gold Corp. USA (NYSE: ABX) is engaged in the global production, exploration, and mining of gold and copper. The company is focused on reducing its debt, which is another positive catalyst. Looking ahead, execution of project developments could be key for Barrick and lead to further upside for its shares. Barrick is a top holding among several hedge funds. ABX closed out Q1 with an 84% gain. Shares were changing hands at $16.14, up 118.70% for the year, when we first featured ABX. Shares today trade at $18.77, an outsized 154.4% year-to-date gain. Credit Suisse last month upgraded the stock to "Outperform" from "Neutral."
AngloGold Ashanti Ltd. (NYSE ADR: AU) operates as a gold mining and exploration company. The company also produces silver, uranium oxide, copper, and sulfuric acid. Its portfolio includes 17 mines in South Africa, Continental Africa, Australia, and the Americas. The company's strengths include its strong stock performance, impressive EPS growth, and increase in net income. RBC Capital Markets rates AU "Outperform." The firm believes AU represents the most robust opportunity in its South African coverage, supported by a diverse, low-cost asset portfolio. AU reported an earnings miss earlier this month in what was an otherwise solid report. The company also reiterated it FY2016 production outlook. At $15.16, AU shares are up 113.66% year to date. They've climbed 18.7% since we recommended them.
Newmont Mining Corp. (NYSE: NEM) develops, explores for, and produces gold, silver, and copper in the United States, Australia, Peru, Indonesia, Ghana, and Suriname. The company was founded in 1916 and is headquartered in Greenwood Village, Colo. After recent non-core asset sales, Newmont is left with high-quality assets with longer mine life. This positions Newmont for the metals' price environment, which tends to be volatile. An Indonesian consortium is said to be mulling a $2 billion bid for Newmont's assets in the country. NEM shares were trading at $30.15, up 67.76% year to date, when we first complied our gold stocks to buy list. NEM shares now trade at $35.35, a 95.05% year-to-date gain.
Goldcorp Inc. (NYSE: GG) acquires, explores for, develops, and operates precious metal properties in Canada, the United States, Mexico, and Central and South America. Founded in 1954, the company is headquartered in Vancouver, Canada. Analysts point to the firm's growth profile with lower-cost new mines, longer average mine life, and dividend as strong reasons to buy the stock. Over the last few years, Goldcorp has been altering its mine plans, cutting spending, and disposing assets in order to reduce costs and focus on the most profitable production. Merrill Lynch recently hiked its GG price target to $21 from $19. Shares were trading at $17.54, up 51.73% for the year, when we first featured GG. Shares today trade at $18.53, a 60.29% year-to-date gain.
Follow us on Twitter @moneymorning and like us on Facebook.
The Facebook Stock Split: We know that Mark Zuckerberg plans to offer a Facebook stock split to keep control of the company. But more importantly, investors want to know if this is a good time to buy FB shares. Find out here…