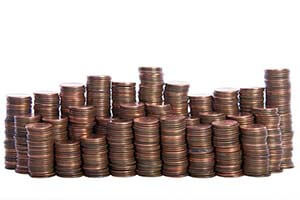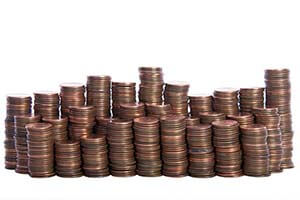 Whether you're new to the search for top penny stocks to buy today, or you have invested in several companies whose shares trade below $5.00 (the standard upper limit of a penny stock price), if you're interested in penny stock investing, this information can help.
We go over some of the most important penny stock investing tips. We also look at a couple good penny stocks to buy now.
Let's get started on this penny stock overview…
Finding Good Penny Stocks to Buy Today: Evaluate Your Risk Tolerance
Why? First, penny stocks are speculative investments whose volatility can send their share prices up robustly or down just as sharply.
One of the things to learn about penny stocks to buy today, then, is your own risk tolerance. Are you comfortable holding investments whose prices might swing 5% or more in either direction in a single day? Penny stock share prices can. A move of $0.25 on a $3.00 stock is more than 8%. On a $30 stock, it's a move of less than 1%.
Ask yourself what you're comfortable with in terms of volatility and risk. Can you sleep at night if you lose some of your investment? Would your friends describe you as a risk taker? Do you like risk if it comes with significant reward potential? Or would you prefer a more stable investment?
If you would prefer a more stable investment, then Money Morning can also help you with some low-risk choices…
When Penny Stock Buying, Assess Your Portfolio Allocation
Second, take a minute to think about the role penny stocks play in your portfolio.
Money Morning recommends that no single penny stock ever make up more than 2% of an investment portfolio. Further, because they are a speculative asset class, they should be only a small part of overall investments.
Instead, investors would be in good shape to choose a balanced portfolio. An example of that would be 50% of their investments going into base builders – defensive stocks that will do well in any market condition, with significant upside potential. Forty percent should be in global growth and income stocks with significant dividends. The final 10% should be placed in what Money Morning Chief Investment Strategist Keith Fitz-Gerald calls "rocket riders": small-cap stocks, initial public offerings (IPOs), takeover targets, and special situations.
Penny stocks, which are micro caps, could (if they meet the right requirements) be part of the "rocket riders," although not all of it.
Explore Trends to Invest in with Penny Stocks
One way to trade penny stocks is to think about the trends the company has the potential to benefit from. That's a good strategy in investing in any type of stock, of course, but it's particularly important in thinking about penny stocks to buy today.
Why? Penny stocks are frequently engaged in research and development of innovative products in growth markets. Their R&D status is one of the reasons they are micro caps; the products have yet to come fully to market and thus the company's earnings could be low or in the negative figures. That sets the stage for dramatic share-price appreciation once there is good research news or products come on-stream.
How do you tell what the growth markets are? Fitz-Gerald recommends investing in one or more of what he calls "Unstoppable Trends." These are contemporary trends buttressed by economics, demographics, or cultural forces.
For example, increased medical spending is an unstoppable trend driven by factors such as the 3.6% increase in U.S. healthcare spending in 2014, partly driven by the Affordable Care Act, which required more widespread insurance. The healthcare spending increase was significantly above GDP advances for the period. Increased healthcare spending, though, is not confined to the United States, but is projected to rise globally by 4% to 6% by next year.
Another good sign of a penny stock being a "buy" today is if it has the potential to become buyout candidates if their produces are successful, which can make the share prices soar.
Now let's look closer at one penny stock sector in particular…
Biotechnology Penny Stocks
Biotechnology penny stocks, for example, have major potential to benefit from increased spending on healthcare. Money Morning favorite Novavax Inc. (Nasdaq: NVAX) is a biotech enterprise engaged in research for vaccines to inoculate against flu viruses, rabies, and Ebola.
In addition to being involved in innovative therapies, NVAX is also researching cutting-edge manufacture of the therapies. It has a technology that could potentially produce the vaccines faster than other methods could.
Money Morning Small-Cap Investing Specialist Sid Riggs forecasts that Novavax's innovative methods and product line will propel the penny stock to new heights. It was one of Money Morning's top penny stocks in a recent roundup. Barron's is bullish, too.
Research Penny Stocks to Buy Today
There are a few more tips that investors interested in penny stocks today need to know. First, make sure that you understand the companies you're investing in. You should understand why their products have potential and the markets they are in. Research the company's financials. Look at its 10-K. Explore the company's website for information about the top leadership. You can also write or call for information.
Not all penny stocks are followed by analysts or provide information to the public. If you can't find transparent, clear information, it's a strong indication that the stock is not for you.
Focus on the Major Exchanges When Buying Penny Stocks
It's a good idea to focus on penny stocks that trade on the New York Stock Exchange (NYSE) or Nasdaq when looking for penny stocks to buy today. A number of penny stocks trade on the Pink Sheets or the Over-the-Counter Bulletin Board. They can be good investments; however, those that trade on the NYSE or Nasdaq are subject to stricter reporting requirements.
Stronger reporting requirements are good news for investors in two ways. First, they provide protection from scams. Unfortunately, penny stocks have been subject to scams in the past, either through promotion or pump and dumps. The stringent requirements cause scammers to go elsewhere. Second, it is easier to research stocks listed on the NYSE or Nasdaq.
To get one of the most exciting new penny stocks to buy today, check out this investor briefing.
Follow Money Morning on Facebook and Twitter.