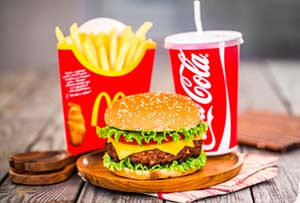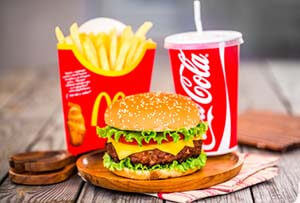 The MCD stock price has left many investors disappointed over the last several years.
McDonald's Corp. (NYSE: MCD) stock dropped 12% in 2012. It recouped some losses with a 10% gain in 2013, but lost shareholders another 3.43% in 2014. If you held McDonald's stock through 2012 to 2014, you would have lost 5.43%.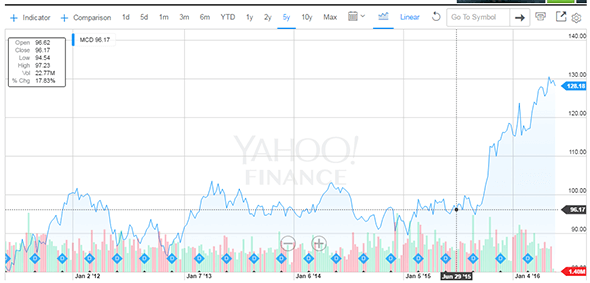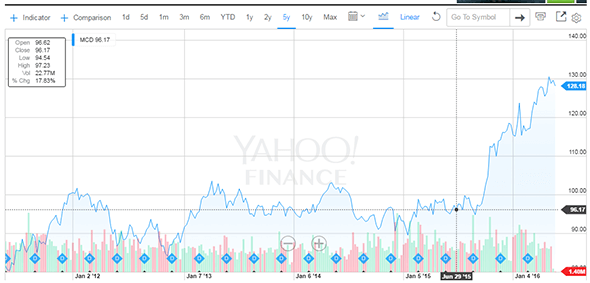 But in the last 12 months, MCD stock has gained more than 31%. That compares to a loss of 3.5% for the Dow in the same time.
Now with the global markets on shaky ground, MCD has actually become a strong stock to hold in 2016. Same-stores sales in the United States increased by 5.7% in Q4 2015, and by a whopping 6.2% in Q1 2016 for stores open for at least one year.
McDonald's initiatives like McPick 2 and all-day breakfast are helping drive this increased growth. They have also helped McDonald's exceed analyst expectations in Q1. MCD posted $5.90 billion in revenue instead of the expected $5.83 billion.
And according to research site Statista, McDonald's was the most valuable fast-food brand in the world in 2015. That should continue once again in 2016.
Because of McDonald's resurgence, MCD stock could net gains of 13% in just five years, no matter which way the market moves.
But before we get to the investing strategy that will give you those gains, let's take a look at McDonald's turnaround efforts since 2015 and how they've boosted McDonald's stock in 2016…
MCD Stock Climbs with Renewed Focus
McDonald's went through a bit of an identity crisis over the last several years. According to Richard Adams, a franchisee consultant with nearly two decades of experience, McDonald's was trying to be all things to all people.
In September 2015, Adams told Business Insider that McDonald's had been suffering with that problem for close to five or six years.
According to The Wall Street Journal, the amount of menu items increased 42.4% from 2007 to 2014. The massive menu slowed down customer service. Drive-thru times ballooned to an average of three minutes and nine seconds.
That was the longest average wait time in 15 years, according to a study from QSR Magazine.
But McDonald's is improving its performance under CEO Steve Easterbrook, who took over the role in March 2015. Easterbrook cut six menu items in April 2015 alone to help slim down the menu.
Along with the menu cuts, McDonald's introduced an all-day breakfast menu in October 2015. That helped same-store sales increase by 5.7% in the United States in Q4 2015.
Over the last 12 months, the MCD stock price is up 31.53%. The Dow Jones Industrial Average and S&P 500, meanwhile, are down 3.56% and 3.04%, respectively. Year to date, the McDonald's stock price is up 9.16%.
And whether we are in a bull market or a bear market, MCD stock can bring solid, steady returns. Here's how McDonald's stock can help you consistently grow your investing capital…
How MCD Stock Can Net Patient Investors Safe Returns
Right now, McDonald's offers a dividend yield of 2.74%. So for every share of MCD stock you hold, you will receive $3.56 annually.
This makes MCD stock a great investment in uncertain markets to protect and grow your wealth…
You see, investors can use the formula for yield on cost to determine how much their investment will grow. Over the last 13 years, McDonald's highest three-year average dividend growth rate was 41.8%. Over the same time, the lowest growth rate was 6.2%.
Let's use 6.2% to be conservative.
If you purchase 100 shares of MCD stock at $130, your MCD stock is worth $13,356 after a year because of the dividend. If you reinvest the dividend payouts for the next five years, your MCD stock could be worth $15,144 just by reinvesting payouts.
That's a 13.38% increase in just five years. And that's in addition to any other gains the stock sees.
You'd be lucky to find a bank that will pay you more than 1% to hold your money right now. With a 1% interest rate compounded monthly, your $13,356 investment would be worth $14,040 in five years. That's an increase of only 5%.
Plus, the fast-food giant currently pays out 66.98% of its profits to investors. That means it has a strong commitment to keeping shareholders happy.
And McDonald's has already proven in the past it can weather a financial storm…
During the financial crisis of 2008, the S&P 500 and Dow were down 15.10% and 14.60%, respectively, between May 2, 2008, and April 30, 2010. MCD was up 18.30%.
With McDonald's strong leadership and renewed focus, MCD stock is a strong investment for patient investors.
The Bottom Line: The McDonald's stock price is up 31.53% in 2016. It serves as a very safe investment in economic uncertainty, as investors can use the dividend to help grow their investing capital. With a 66.98% dividend payout ratio, McDonald's should continue to reward its shareholders.
Jack Delaney is an associate editor for Money Morning. You can follow him on Twitter and follow Money Morning on Facebook.
Dividend Stocks to Buy in 2016: We all know that dividend stocks are critical to any investment portfolio. But this dividend stock is more than just passive income. Find out about this incredible opportunity here…