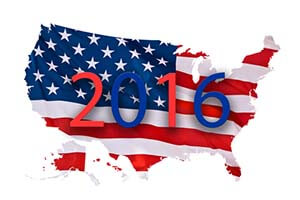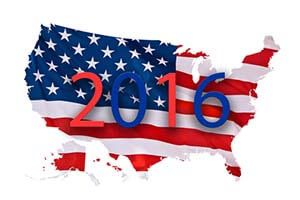 Facebook Inc. (Nasdaq: FB) CEO Mark Zuckerberg adamantly denies accusations that his social media company has been actively censoring conservative political news.
But not everyone is buying it ...
It all started when news outlet Gizmodo released an article on May 9 entitled, "Former Facebook Workers: We Routinely Suppressed Conservative News." In the expose, a former FB news curator stated conservative news outlets and stories were intentionally left off the site's "Trending News" section:
"I'd come on shift and I'd discover that CPAC or Mitt Romney or Glenn Beck or popular conservative topics wouldn't be trending because either the curator didn't recognize the news topic or it was like they had a bias against Ted Cruz," the former employee told Gizmodo.
Another curator who was interviewed agreed with sentiment:
"It was absolutely bias. We were doing it subjectively. It just depends on who the curator is and what time of day it is."
Facebook adamantly denies the report. In an emailed statement, the social media company stated that "Trending News" topics are based on popular topics and hashtags that are being talked about and shared on Facebook.
It says its guidelines don't permit suppressing political perspectives.
According to USA Today, an unnamed curator challenged the accounts from other curators, siding with Facebook. The source stated newsworthiness was determined by how often an article appeared in trusted news outlets. This individual did not witness any evidence of conservative news being suppressed.
But if the allegations are true, Facebook's actions would fly against the social media site's mission statement of giving "people the power to share and make the world more open and connected."
Similar to Facebook, Twitter Inc. (NYSE: TWTR) has focused on facilitating free communication across the globe.
And now there is shocking video evidence that Twitter is also actively censoring user content based on political bias...
Did Twitter Censor Anti-Hillary Clinton Tweets?
[mmpazkzone name="in-story" network="9794" site="307044" id="137008" type="4"]
In a fundraising event for Hillary Clinton in South Carolina on Feb. 24, Black Lives Matter activist Ashley Williams disrupted the event.
She held up a homemade sign to a camera with the words "We Have to Bring Them to Heel" and the hashtag #WhichHillary.
Williams was referring to a speech Clinton gave in 1996. Clinton was discussing how there needs to be a bigger crackdown on gangs, and when referring to the gangs, she stated, "They are often the kinds of kids that are called super predators." While Clinton did not refer to African Americans or urban communities as "super predators," some felt she was taking a swipe at specific ethnicities. So is Clinton willing to help African Americans, or does she view them as super predators? That's the gist of the "#WhichHillary" hashtag: to point out contradictions Clinton has made on the issues throughout her political career.
As the Williams protestor video made its rounds in the social media universe, #WhichHillary started trending. Twitter featured the incident on its "Moments" page, but the hashtag appeared to be pulled from the site's all-important "Trends" feature - despite its massive popularity.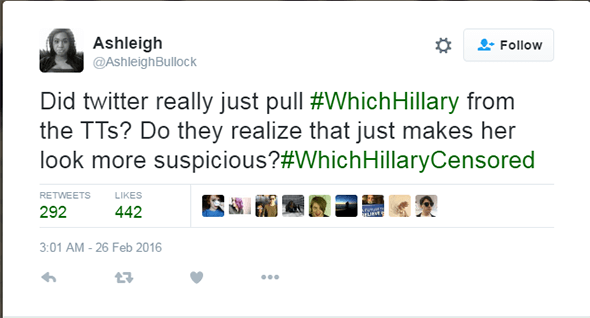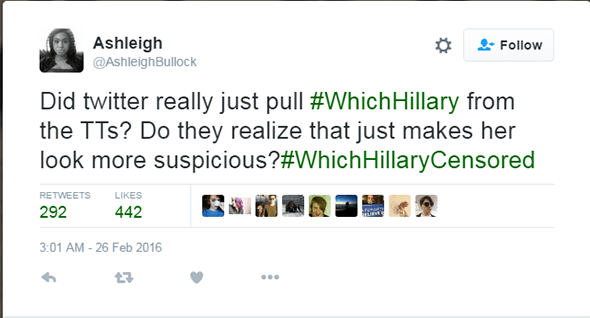 Then on May 4, there was even more evidence Twitter was trying to censor negative hashtags about Hillary Clinton...
Oh look the #thetwitter must have a bug in its autofill feature, it somehow F's up #DropOutHillary #SeemsLegit pic.twitter.com/tn3hGVJHd9

— Scott V Smith (@BeTheBern) May 5, 2016
Despite the phrase #DropOutHillary trending, the user had to type out the phrase instead of it automatically appearing, as hashtag trends normally do. Even more concerning, the trending hashtag completely switched to Sen. Bernie Sanders (D-VT).
Are social media companies censoring political news? Tell us what you think on the two culprits in question: Twitter @moneymorning and Facebook.
Donald Trump Update: There's a very good chance that Donald Trump will shock the world and enter the White House. That's because Trump has a particular advantage that political pundits are completely overlooking...
Related Articles: