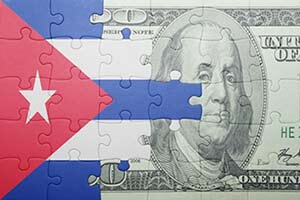 U.S. and Cuban officials began meeting yesterday to map out plans for the former two Cold War foes to improve relations. Specifically, the talks focus on law enforcement, healthcare, and agriculture.
However, when it comes to Cuban debt - an issue that has wracked U.S.-Cuban relations for half a century -- officials from both parties are keeping relatively mum.
In a nutshell, U.S.-Cuba settlement claims center around compensation for "acts of aggression" wrought by both parties:
The United States seeks upwards of $10 billion from the Cuban government in compensation for nationalized properties seized in 1960 in the wake of the Cuban revolution.
Cuba demands at least $121 billion in reparations from the United States for the imposed trade embargo that has lasted for over five decades.
You see, many Americans are still uptight about the entities the Cuban government essentially stole half a century ago...
Several U.S.-run entities were seized and nationalized by Fidel Castro. For instance, the Cuban Electric Company has a claim against Cuba valued at about $268 million. Exxon Mobil Corp. (NYSE: XOM) has a claim for $72 million. Coca-Cola Co. (NYSE: KO) for $28 million. Woolworth for $9 million. Even Walt Disney Co. (NYSE: DIS) has a claim in which items like $12,300 worth of color 35 mm feature film prints are listed.
Because of these seizures, the Cuban trade embargo ensued. Which, according to current Cuban President Raul Castro, cost the development of the small communist nation about $121 billion in economic damages over the years.
But there's a hitch to resolving both nations' claims: Under the Helms-Burton Act of 1996, the trade embargo can't be lifted until these financial claims are resolved. (Lots of other things need to happen as well, but the claims are the sticking point.)
Sign up for SMS so you never miss special events, exclusive offers, and weekly bonus trades.
In spite of their importance to the relationship, however, alleged debts between the United States and Cuba aren't being resolved.
Here's why...
U.S.-Cuban Debt Won't Be Settled Anytime Soon
In response to questions last week about whether U.S.-Cuban debt will be broached in this week's discussions, Gustavo Machin, the Deputy Director for U.S. Affairs in the Cuban Foreign Ministry, said simply that he's aware the "claims exist."
And yesterday, Cuban Foreign Ministry Chief of U.S. Affairs Josefina Vidal -- the talk moderator -- told the media "the agenda is quite ambitious," reported Reuters. She also hinted that "talks about intellectual property rights were also in the cards."
But intellectual property and physical property are two very different concepts.
Cuba has already reached agreements with Russia, France, and Spain on debt forgiveness. In December, creditor nations from the Paris Club agreed to forgive $8.5 billion of debt. In total, Havana is estimated to have restructured some $50 billion in old debt in the past few years.
But when it comes to Cuba's debt to the U.S. and vice versa, the "normalization process" between the two countries will be an assuredly long process. It's already gotten off to a rocky start...
After U.S. President Barack Obama's March 2016 visit, Cuban Foreign Minister Bruno Rodriguez said "Obama came here to dazzle the non-state sector, as if he wasn't the representative of big corporations but the defender of hot dog vendors, of small businesses in the United States, which he isn't," reported FOX News on April 19. President Castro even labeled the United States as an "enemy" following the commander in chief's visit.
All this suggests that it could be a very long time before we see debt between the United States and Cuba resolved.
Follow on Twitter @moneymorning or like us on Facebook.
How Donald Trump Made Fools of the Pundits: It's not only possible, but probable that Donald Trump will shock the world by winning the White House this fall. Such a prediction defies conventional wisdom at the moment. But Trump has an advantage that the political pundits have completely missed.
Related Articles: