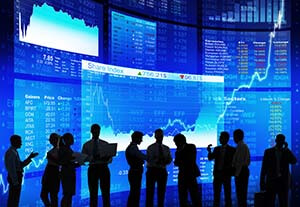 Looking to take advantage of recent volatility in the market or searching for long-term profits? Finding the best stocks to buy today isn't as difficult as it sounds, particularly once you've identified your own particular investing strategy and goals.
Here are three different types of well-performing investments in today's market, with several Money Morning stock picks for each one.
Best Stocks to Buy Today for Long-Term Profits
Where there is potential volatility in the market, investors are often looking for investments that have shown resiliency over time. These are the stocks of companies that both continue to pay out strong dividends and that offer long-term opportunities for growth. While not many oil stocks can boast this, there is one, and the pharmaceutical industry usually has some gems with potential.
Here are two stocks to buy today with long-term profit potential.
Best Long-Term Profit Stocks to Buy Today, No. 1: Phillips 66 (NYSE: PSX) is a Houston-based energy manufacturing and logistics company that specializes in oil refining and marketing. While much of Wall Street is down on oil stocks this year, both Money Morning Chief Investment Strategist Keith Fitz-Gerald and Warren Buffett see PSX as a great buy. "It doesn't drill for oil or natural gas, which means it's not as vulnerable to sustained low oil and gas prices as other oil companies are," says Fitz-Gerald. Buffett has purchased more $1 billion in PSX stock since the middle of last year, and he owns more than 75 million shares. For income investors, PSX stock remains a great play as it has increased its dividend 180% since its formation. The company just recently hiked its quarterly dividend, its sixth increase since 2012. The stock remains a relatively affordable investment at $79.32 and has an Average Broker Recommendation (ABR) of 2.
Best Long-Term Profit Stocks to Buy Today, No. 2: Gilead Sciences Inc. (Nasdaq: GILD) is an American research-based biopharmaceutical company that specializes in medications for HIV, liver diseases, and cardiovascular issues. It's simple enough to pick drug companies with successful products, yet most of that value has already been factored into the stock price. While GILD's most profitable drugs, Sovaldi and Harvoni, have brought in tens of billions in revenue, what's in store for the company is what makes this stock a good deal. Not only is GILD working to get FDA approval to treat all six known HCV genotypes, but it also just launched a new drug called Zydelig that treats three forms of cancer and is working towards FDA approval for drugs treating HIV and Hep B. Another stock poised for long-term growth, at $85.60 GILD could be a bargain right now as its latest earnings were just shy of analyst predictions, causing a dip in the stock's price.
Best Stocks to Buy Today for a Market Reversal
When we experience a market reversal, the usual result is a pull back of stocks that provides some steep discounts. Money Morning explained recently how this rare technical indicator called the "bearish cross," which occurred at the end of February for the third time in 22 years, can prepare investors for that pull back.
It's when the 10-month S&P 500 moving average dipped below the 21-month moving average. This creates some unique buying opportunities, and these are just a few of the best stocks to buy today in these circumstances.
Stocks to Buy Today on Market Dips: Walt Disney Co. (NYSE: DIS) is an American diversified family entertainment company. It's hard to argue with Walt Disney Co. being a household name and one that most investors would want to have a piece of. Yet, finding the right opportunities to invest in this entertainment giant is where the magic really lies, and these market reversals tend to provide them. The company itself remains on the cutting edge, with its "Star Wars" franchise, new theme park in China, demand-based pricing, and partnership with Nokia. DIS is currently trading at $103.75, and its 52-week high is $122.08. Some analysts are predicting that the stock's price could soar as high as $130.00 in the coming year.
Best Stocks to Buy Today – Funds
Instead of buying individual stocks, many investors prefer the diversification inherent in funds. Yet, not all funds are equal, and some of the best exchange-traded and mutual funds are the ones that are tapped into society's trends. That's exactly what these two funds have in common, but in different ways. One is a consolidation of cybersecurity companies, and the other is a representation of the products and services that are most popular today.
Here are two of the best stocks to buy today if you prefer to invest in funds.
Best Funds to Buy Today, No. 1: PureFunds ISE Cyber Security ETF (NYSE Arca: HACK) is the world's first cybersecurity ETF. Cybercrime and data breaches have become serious business in the past several years. Major corporations that have suffered data breaches include JPMorgan, Target, and Home Depot. This fund represents 32 cybersecurity companies, each with a market cap of at least $100 million, that are in the business of addressing the major issues that lead to data breaches. At $23.21, HACK shares are up 11.59% in the past three months.
Best Funds to Buy Today, No. 2: The Vanguard Wellington Fund (MUTF: VWELX) is a mutual fund that is packed with some of the top technology stocks that rule the way that we work, live, shop, and play. The stocks in this fund are global companies such as Alibaba Holding Group Ltd., Facebook Inc., Netflix Inc., Apple Inc., Amazon.com Inc., and Alphabet Inc. (aka Google). To purchase some of these stocks alone would cost a fortune, yet VWELX provides the best of many worlds. The fund is comprised of 60% to 70% of these large established companies, with the remainder a mix of fixed-income securities. At $37.55, VWELX shares are up 6.55% in the past three months.
In today's global economy, the markets are never really "stable" anymore, just changing. This new fact of life opens up some unique investment opportunities if you know where to look. As you select the best stocks to buy today, be sure to stay mindful of your overall portfolio's diversification and remember that investing can be speculative in nature.
Also, check out Money Morning's Private Briefing … it's a great way to stay informed about investment opportunities.
Follow Money Morning on Facebook and Twitter.