We just found one of the best oil stocks to buy to profit from the oil price rebound we've seen in the last three months.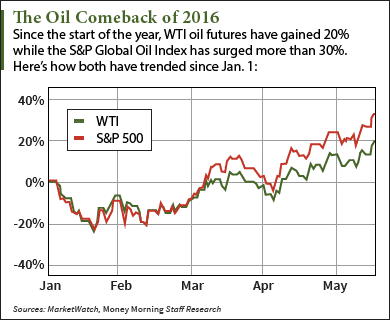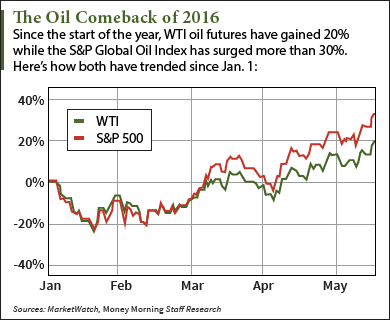 You see, oil stocks have surged this quarter thanks to the massive rise in crude oil prices. Since March 31, the WTI crude oil price has rocketed 26% to $48.31 – its highest level since October 2015. That's pushed the S&P Global Oil Index – which tracks 120 of the world's biggest oil firms – up 28.1% over the same period.
And Money Morning Chief Investment Strategist Keith Fitz-Gerald just recommended the best oil stock to buy to cash in on this overdue bounce in the oil market. This stock recently hit a two-month low and has traded mostly flat for the last two weeks. That means the price bottomed out and will only move higher from here.
Its dividend is another attractive quality. The company just announced a massive dividend increase, indicating the firm plans on raking in more profits this year.
Before we reveal one of the best oil stocks to buy in 2016, let's talk about the oil stocks you'll want to avoid this year…
These Are the Worst Oil Stocks to Buy When Prices Are Near $49
Although crude oil prices have stabilized recently, they still trade far below the triple-digit highs last seen in June 2014.
Back then, Big Oil companies like Exxon Mobil Corp. (NYSE: XOM) and Chevron Corp. (NYSE: CVX) thought crude oil prices would stay near $100 forever. This convinced them they could profit from expensive deals in high-cost drilling areas, most notably Exxon's $3.2 billion project in Russia-controlled areas of the Arctic back in 2014.
With oil prices cut in half since then, expensive projects have left these supermajors with huge debt loads. That's why Money Morning Global Energy Strategist Dr. Kent Moors – a 40-year oil industry expert – recommends staying away from Big Oil stocks.
In fact, Exxon Mobil's debt has gotten so high that the company was recently stripped of its pristine credit rating…
Last month, ratings agency S&P downgraded Exxon's credit rating from AAA to AA+ (the first grade below AAA). AAA is the highest possible rating on the S&P scale and shows investors can trust the company's ability to meet its debt obligations. S&P cited Exxon's doubling debt level in recent years as the main reason for the downgrade.
According to Fitz-Gerald – a professional market analyst and trader with three decades of experience – the best oil stock to buy is a company that doesn't drill for oil. That means it isn't as vulnerable to low oil prices.
Here's one of the best oil stocks to buy this year, which offers a 16.4% upside potential and a generous 3.2% yield…
This Is One of the Best Oil Stocks to Buy in 2016
Our oil stock pick is Phillips 66 (NYSE: PSX).
Spun off from ConocoPhillips (NYSE: COP) in 2012, Phillips 66 is a downstream oil and gas company. That means the majority of its revenue comes from refining, marketing, and other services occurring after the production (or "upstream") phase.
When WTI crude oil prices are low, refining becomes the biggest breadwinner for oil companies. Since consumer demand for gasoline is always high, low oil prices make it cheaper for refining companies like Phillips to make more gas and rake in profits. This is why Phillips has beaten earnings expectations in six of the last seven quarters.
Phillips 66's refining operations are also why the company could afford to raise its dividend earlier this month…
On May 4, Phillips increased its quarterly payout to $0.63 per share (annual payout of $2.52 per share). That represents a 12.5% hike from its previous $0.56 dividend.
Its generous dividend policy is a big reason why PSX stock is one of Fitz-Gerald's favorite oil stocks. In fact, he predicted back in February that Phillips would soon hike its dividend by at least 10%.
"Phillips is an excellent choice because the company is shareholder friendly," Fitz-Gerald said in his Total Wealth column on Feb. 19. "Judging from its growing yield of 2.98% and payout ratio of 24.75%, it's positioned to grow dividends by 10%-15% or more."
We expect Phillips 66 stock and its dividend to grow over the long term.
Thomson Reuters analysts give the PSX stock price a one-year target of $91.15 a share – up 16.4% from its last close of $78.31. By multiplying its current dividend yield of 3.2% by the stock's $91.15 target, Phillips' annual payout could increase to at least $2.92 per share over the next year.
The projected growth in both profit and dividend make Phillips 66 one of the best oil stocks to buy in 2016.
Alex McGuire writes about oil stocks for Money Morning. Follow him on Twitter for all of the biggest oil updates.
Like us on Facebook: Money Morning
This Dividend Stock Is One of Our Top Picks of 2016: Buying dividend stocks is more profitable than investing in the broader stock market. U.S. dividend stocks offer an average yield of nearly 4%, while the S&P 500 offers only 2.1%. That's why our tech expert just recommended this telecom stock, which has hiked its payout for 11 years straight…