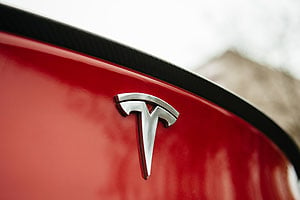 We've been bullish on the Tesla stock price for months, and one of Wall Street's biggest investment banks just confirmed our bold Tesla stock price prediction today (Wednesday).
Goldman Sachs Group Inc. (NYSE: GS) auto analyst Patrick Archambault upgraded Tesla stock to "Buy" from "Hold" with a $250 price target. The Tesla Motors Inc. (Nasdaq: TSLA) stock price surged more than 5% to $215.31 on the news today.
The ratings boost is a huge vote of confidence in the TSLA stock price.
The last time Goldman rated Tesla a "Buy" was in February 2013. At the time, it had a price target of just $45. For three years, Goldman has had a "wait and see" stance on Tesla stock. Goldman maintained a "Neutral" rating on Tesla in recent months, saying it was waiting for shares to pull back before buying.
Since April 7, the Tesla stock price has dropped more than 20%. And that's presenting an excellent buying opportunity today.
In fact, Archambault said the Tesla stock price could climb 22% in the next six months alone. He cited a more stable economic environment and higher than expected Model 3 demand as contributing factors. And while Goldman is skeptical about Tesla's ambitious production targets of 500,000 vehicles in 2018 and 1 million in 2020, the bank says it is possible.
Tesla is notorious for production delays and late vehicle deliveries. The automaker delivered about 50,000 vehicles in 2015, its best year on record.
But Goldman also doesn't see Tesla facing major obstacles from growing competition. That's in large part due to the well-regarded image of Tesla CEO Elon Musk.
"Some investors have argued that [Tesla's] popularity may in fact have little to do with the fact that it's an electric vehicle, and more to do with the scarcity of the product and the fact that people want to identify with an innovative company that's looking to enact a broader industry transformation," the analysts wrote.
Without question, scarcity and status are major parts of Tesla's appeal. And that positions Tesla stock well for the long term…
The Long-Term Outlook for the Tesla Stock Price
Goldman Sachs noted the Model S and Model X cars can reach top five market share in their respective luxury vehicle segments. Meanwhile, the Model 3 could become an industry leader considering its price point and demand levels.
Goldman's rosy outlook for Tesla stock is particularly notable because it comes at a time when the bank just downgraded its 12-month outlook on stocks to "Neutral." Goldman feels there's no specific reason to own them.
"Until we see sustained signals of growth recovery, we do not feel comfortable taking equity risk, particularly as valuations are near peak levels," Goldman said in a note Tuesday.
Money Morning also has a cautious outlook on markets and anticipates unevenness in the months ahead. The uncertain interest rate pace of the U.S. Federal Reserve, Britain's possible exit from the European Union, and the upcoming presidential election are a few factors that could trip up stocks.
But we also know that select stock plays can still bring massive profits. That's why we have been recommending Tesla stock for the long term. The Tesla stock price may be volatile in the short term, but this is one of the best long-term stocks on the market.
Follow us on Twitter @moneymorning and like us on Facebook.
The Must-Have Investment of the Century: There's no argument, water is the single most important investment of all time. And it's likely to provide huge returns to investors making the right moves, like the ones in this report. Read More…
Related Articles: