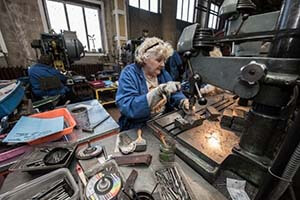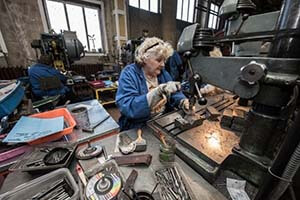 During the 2008 financial crisis, many Americans on the brink of their "golden years" feared they'd never see retirement.
Now there's evidence that these fears were actually warranted…
Older workers are hitting retirement age these days and staying put in the labor market.
To be precise, one in five Americans age 65 or older still work, reported the Bureau of Labor Statistics on May 6. Two decades ago, slightly more than one out of 10 Americans that same age still worked.
Some seniors put off retirement because they want to continue working. But it's more likely the aforementioned ratio change reflects current economic instability…
Americans Ditch Retirement… for New Careers?
More than half of people over 50 years old (55%) say they plan to or already have worked past their 65th birthday. A majority of that 55% say that's due to financial reasons, according to a survey published May 10 from The Associated Press-NORC Center for Public Affairs Research.
The survey also found that a quarter of older workers say they plan to never retire.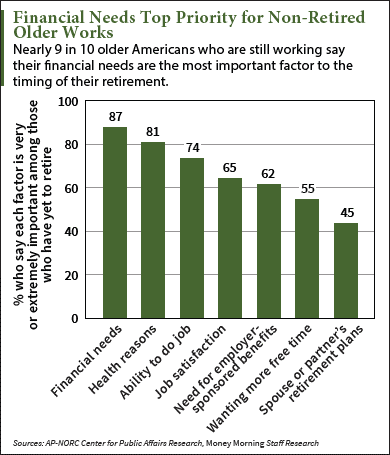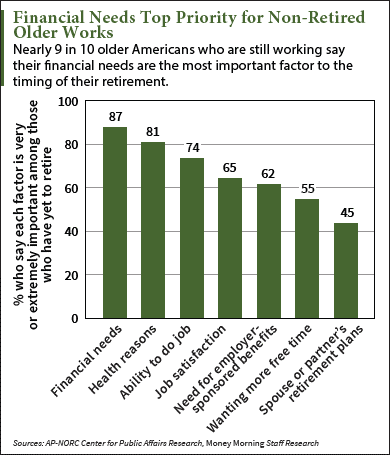 And the ranks of elderly workers are likely to only keep growing…
About 10,000 baby boomers turn 65 years old each day – a trend that's projected to continue through 2029.
The AP-NORC survey also revealed that 41% of respondents over 60 said they didn't just plan to keep on working past retirement age, but that they actually intend to switch career fields. Almost half (49%) of respondents said they will switch employers.
Unfortunately, the survey also found that a majority (60%) of those who have tried looking for a job in the past five years say it was either "moderately difficult or very difficult to find one."
Finding a job is never easy, but for those surveyed, the hunt was so difficult that one-third of older job seekers gave up the search.
Follow on Twitter @moneymorning or like us on Facebook.
How the Puerto Rico Debt Crisis Could Ruin Your Retirement: The ripples from the Puerto Rico debt crisis will start to reach the U.S. mainland soon. A July default might force a restructuring of the island's general obligation bonds – all $13 billion worth. But you don't have to own Puerto Rico bonds directly for this to be a concern…
Related Articles: