The Wal-Mart stock price has fallen 4.5% in the five days leading up to its Q1 earnings report tomorrow (Thursday) before the open.
Now investors are wondering if this recent sell-off is a good opportunity to buy Wal-Mart stock…
Before we get into our view on Wal-Mart Stores Inc. (NYSE: WMT) stock, here's what analysts expect from the retailer's fiscal 2017 Q1 results.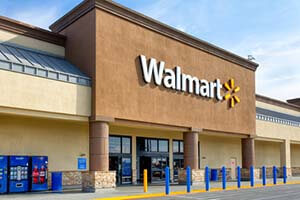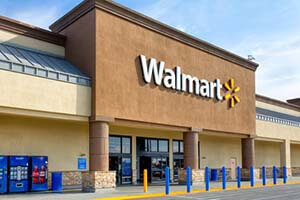 Wal-Mart earnings and revenue are projected to fall on a year-over-year (YOY) basis. The retailing giant is expected to post earnings per share (EPS) of $0.88, down from $1.03 last year. Revenue is expected to come in at $113.2 billion, down from $114.8 billion last year.
While consensus forecasts call for a slip in earnings and revenue, analysts are divided on same-store sales figures.
Jefferies sees Wal-Mart's same-store sales showing a modest 0.5% YOY increase. But the firm is still worried about online conversion, soft sales growth compared to its competition, weak international results, and risks associated with grocery deflation.
MKM Partners also believes Wal-Mart will report just a slight increase in same-store sales. They also forecast a "significant" decline in earnings for the full year. Like Jefferies, MKM is worried about Wal-Mart's high exposure in grocery, which contributes about 56% of the company's total U.S. sales.
In February, Wal-Mart cut its FY2017 growth outlook from 3% to 4%. The change reflects the impact from recently announced store closures and continued strength in the dollar.
Another hiccup could come from Wal-Mart's e-commerce sales. And those e-commerce sales continue to be the biggest problem plaguing the Wal-Mart stock price in 2016.
Before buying Wal-Mart stock in 2016, here's what all investors need to know right now…
What You Need to Know Before You Buy Wal-Mart Stock in 2016
Wal-Mart has been sharpening its focus on e-commerce. In October 2015, the retailing giant announced it would invest $2 billion in the online space over the next year.
But the ambitious plans haven't paid off so far. Now, investors are growing impatient and skeptical.
The WMT stock price plunged more than 12% in October on news of the e-commerce push. The drop was the sharpest decline for WMT stock in 25 years, wiping out $21.5 billion of WMT's market cap in a single day.
E-commerce giant Amazon.com Inc. (Nasdaq: AMZN) continues to take market share from Wal-Mart in all categories. Amazon is now the second-biggest online retailer of apparel, quickly catching up to Wal-Mart, which sits at the top spot. According to Cowen & Co., Amazon is on pace to become the No. 1 U.S. apparel retailer next year, knocking Macy's Inc. (NYSE: M) off its perch.
The investment bank said Amazon's success in the apparel category is being driven by a dramatically larger selection, improved brand relationships, superior fulfillment, and technology innovations. Amazon is growing in the clothing business, while traditional retailers such as Wal-Mart and Target Corp. (NYSE: TGT) are in a decline.
Target's disappointing results Wednesday have Telsey Advisory Group nervous about Wal-Mart ahead of tomorrow's report.
TGT shares sank more than 9% Wednesday after the retailer reported Q1 sales that missed forecasts and provided a dreary Q2 outlook.
Target's results were the latest in a string of dismal earning reports from the retail sector. That doesn't bode well for the Wal-Mart stock price.
Tight-fisted consumers, weak earnings, and an uninspiring outlook are reasons why we've been advising investors for months to avoid Wal-Mart stock. The e-commerce issues bolster our stance.
The WMT stock price fell 3.13% to $63.08 Wednesday morning. Shares are off 20.21% over the last 12 months and don't show any sign of rebounding soon.
The Must-Have Investment of the Century: There's no argument, water is the single most important investment of all time. And it's likely to provide huge returns to investors making the right moves, like the ones in this report. Read More…
Follow us on Twitter @moneymorning and like us on Facebook.
Related Articles: