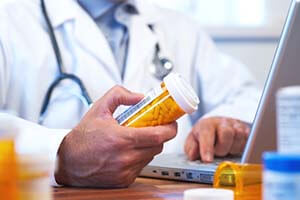 Over the last 12 months, the Valeant Pharmaceuticals stock price has plummeted 87.18% following a multitude of scandals and questionable business ethics.
Money Morning Global Credit Strategist Michael Lewitt told our investors exactly how to play VRX stock back in October, knowing the company was in serious trouble. At the time of Lewitt's warning, VRX was trading for $156 per share. Now it trades at just $29.07 per share.
And those who followed Lewitt's advice could have netted gains as high as 700%...
But if you didn't listen to Lewitt, it's not too late to profit. In fact, he just revealed his newest profit strategy for Valeant Pharmaceuticals International Inc. (NYSE: VRX) stock.
Before we get to Lewitt's latest recommendation and the huge profit potential, here's why the Valeant stock price keeps falling...
A report by well-known short-seller Citron Research in October alleged Valeant Pharmaceuticals established shell companies for its own profit. The report said Valeant used its relationship with specialty pharmacy Philidor Rx to create fake pharmacies.
These "pharmacies" were used to inflate Valeant's sales numbers.
Valeant initially denied the allegations, but it still cut ties with Philidor. Following the report, Valeant decided to establish a special board to investigate its relationship with Philidor.
In part because of the review, Valeant discovered it would have to restate $58 million in revenue for 2014. Valeant Pharmaceuticals also found accounting errors, claiming it overstated Q1 2015 revenue by $21 million.
The "accounting errors" also brought Valeant negative attention for its predatory business model.
Valeant purchased drugmaker Sprout Pharmaceuticals Inc. for $1 billion back in August 2015. Sprout sold its female libido pill, Addyi, for $350 to $400 for 30 tablets before the acquisition. When Valeant purchased the company, they increased the price of the drug 112%.
And that had become Valeant's entire business model.
In early January, Valeant agreed to buy two life-saving heart drugs. Before the acquisitions, a one-milliliter vial of Isuprel sold for $215.46. A two-milliliter vial of Nitropress sold for $257.80. According to The Wall Street Journal, Valeant increased the price of Isuprel to $1,346.62 and Nitropress to $805.61 on Feb. 10, the day it acquired the drugs.
Despite all the negative news, some analysts and investors view Valeant as a turnaround story. But Lewitt is still bearish on Valeant Pharmaceuticals stock.
Here's his recommendation for how to play Valeant Pharmaceuticals stock in 2016 for even more gains...
How to Profit 1,163% Off of Valeant Pharmaceuticals Stock
Valeant's bookkeeping issues are far from over. In fact, Lewitt is convinced that Valeant Pharmaceuticals is a likely bankruptcy candidate.
Here's why...
Lewitt says Valeant's financial statements are more fiction than fact. Valeant relies to a troubling extent on projections and assumptions when disclosing financial information.
And the firm places a lot of its value on goodwill. This goodwill is basically what Valeant expects an acquisition can be worth down the road, minus the acquisition and liabilities assumed.
Valeant has $17 billion of goodwill on its balance sheets and also has $22.4 billion in "intangible assets." These intangible assists derive most of their value from how the company values its brands.
But Valeant also has over $30 billion in debt. If Valeant's goodwill and intangible assets are not worth as much as the company assumes, Valeant won't be able to pay off its debt. This could force Valeant into bankruptcy.
And because the company has such large debt and unreliable projections for its revenue, Lewitt warns long-term investors to stay far away from Valeant Pharmaceuticals stock.
But for short-term investors, Lewitt believes that there's an opportunity to make "big profits."
Lewitt recommends buying long-dated puts on VRX stock at a single-digit strike price. Lewitt recommends purchasing VRX January 2017 $7.50 puts. These puts currently cost $0.55.
With one contract (100 shares), investors could make $695 per contract if Valeant stock collapses to $0.00 like Lewitt eventually believes it will. With a $55 investment, that's a profit of 1,163%.
He also recommends purchasing VRX January 2018 $5.00 puts. Those are currently trading at $0.80.
The Bottom Line: Valeant Pharmaceuticals has lost nearly 90% of its value over the last 12 months. Because of a predatory business model and unreliable accounting, the company should be avoided by long-term investors. But short-sellers could see massive gains of 1,163% from buying puts, as our Global Credit Strategist Michael Lewitt believes Valeant is a likely candidate for bankruptcy.
Jack Delaney is an associate editor for Money Morning. You can follow him on Twitter and follow Money Morning on Facebook.
The Must-Have Investment of 2016: Water is the single most important investment that you can make in 2016. And if you make the right moves now, it can provide you with huge returns in 2016 and beyond. Read More...