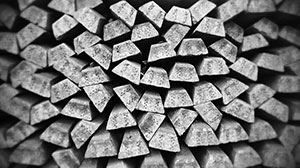 Silver prices have been very bullish in 2016. They have risen a very healthy 20% year to date, despite short-term pullbacks in late April and early May. The five-year silver bear market of 2010-2015 appears to be over.
But run-ups and pullbacks both cause investor concern. How far up is up? Why are silver prices so strong? Are pullbacks harbingers of long-term declines? Why do the prices fluctuate, either up or down?
We'll answer these silver price questions for you today – let's take a look…
What Causes Silver Prices to Move Downward?
In part, why silver prices fluctuate has a simple answer: markets fluctuate. The prices of both commodities and stocks are determined by a number of factors. Demand, supply, the direction of interest rates, and trader behavior are just a few factors that determine market moves.
The downturn for silver prices in late April was caused in part by the U.S. Federal Reserve, specifically the FOMC (Federal Open Market Committee). At its meeting, the FOMC indicated there would be no change in interest rates near term, but did indicate that a hike might happen later in 2016. An interest rate hike is negative for silver prices. Higher rates make commodities priced in dollars, like precious metals, less attractive because they are more expensive.
Trading behavior has also exerted a short-term downward pull on silver prices. In late April, commercial short positions for silver reached the highest level year to date, at 148,000. The robust short positions mean that traders are betting there will be pullbacks in silver prices over the next month or so.
What we're seeing on the technical side is also a factor in how silver prices move now.
One pattern is a price reversal. This happens when a commodity's price climbs quickly during the intraday trading sessions and then drops quickly before market close. April saw price reversals occurring in silver.
What Will Cause Silver Prices to Move Upward?
However, Peter Krauth, our global resource specialist, believes that any downward moves will be short term. They should be understood as short-term pullbacks in an overall bull market in silver prices that will see silver prices rise to $22 an ounce this year.
His bullish forecast relies on several factors, including demand, interest rates, and the ratio of gold prices to silver prices.
Demand
One of the most basic of economic factors will drive silver prices up long term: increasing demand coupled with declining supply.
In April, the Silver Institute issued its 2015 supply and demand report. It showed a yearly record for silver demand, up 3.4% to 36,407 tonnes.
However, the report also showed a shortage of available silver last year: 4,040 tonnes, significantly above 2014 shortages of 2,445 tonnes.
Rising demand and declining supply are a recipe to drive silver prices higher.
Demand is driven by several factors. One is the use of silver as a commodity in renewable energy. The PV – or photovoltaic – cells used in solar panels, for example, use two-thirds of an ounce in every panel manufactured. The end result? Solar panels account for more than 10% of all the silver produced annually. Global demand for these solar panels is forecast to rise 12% in 2016. Renewable energy like solar panels has been and will be a robust market, and its demand will power silver demand.
A second factor driving demand is jewelry. The Silver Institute's most recent report indicated that sales of silver jewelry climbed last year, for the seventh year in a row. Jewelry stores and other retailers indicate confidence in this trend remaining intact as well; they're increasing inventory for the coming year. That's more demand for silver.
Interest Rates
The direction of interest rates also looks likely to help silver prices long term. Although the April FOMC meeting seemed to leave open the possibility of an interest rate climb later in the year, the subsequent jobs report, indicating weak U.S. employment, changed that picture. The jobs report heightened the possibility that the Fed will be concerned enough about a stalling economy to leave rates unchanged.
The Gold/Silver Ratio
Krauth believes that the gold/silver ratio – how many ounces of silver are required to buy one ounce of gold – will propel silver prices significantly upward.
Why? For the past two months, the ratio has been trading at historical highs, between 72 and 83.
However, the average ratio during the past century has been a range between 47 and 50.
If the gold/silver ratio returned to the historical average range, silver would be trading at $22 per ounce. That is Krauth's forecast for the end of the year.
His forecast is above both that of Commerzbank (end of 2016 prices of $18 per ounce) and Bank of America Merrill Lynch (a range of $15 to $20 per ounce).
Krauth also forecasts a silver bull beyond 2016. In the next four to five years, he estimates that the gold/silver ratio will fall to 15 to 16. If that occurs, silver prices would reach $250 per ounce – a tremendous upward move from current levels.
His long-term silver price outlook indicates that any short-term price fluctuations downward should be considered a buying opportunity.
How to Invest as Silver Prices Rise
For investors who want to benefit from upward moves in silver prices – that doesn't involve buying physical silver – Money Morning suggests two stocks.
The first is ProShares Ultra Silver ETF (NYSE Arca: AGQ). AGQ is a leveraged exchange-traded fund (ETF) that trades in futures contracts rather than in physical silver. The ETF's goal is to leverage silver's spot price.
The second is Sprott Physical Silver Trust ETF (NYSE Arca: PSLV). PSLV's shares are not futures, but are backed up with Canadian silver bullion. The bullion is kept at another location and undergoes regular inspections and audits. This stock is a good choice for investors who like the thought of investing in physical silver, but also want the relative ease and safety of holdings traded on a stock exchange.
Money Morning Chief Investment Strategist Keith Fitz-Gerald suggests that investors who want to purchase precious metals such as silver and gold use dollar-cost averaging.
Dollar-cost averaging increases the likelihood that investors will benefit from any fluctuations in silver prices as it heightens the likelihood of some buying on dips and decreases the likelihood of buying at highs.
You can find out more about investing in precious metals such as silver and gold. Continue here to access our special investor briefing: The Essential Guide to Buying Gold & Silver.
Follow Money Morning on Facebook and Twitter.