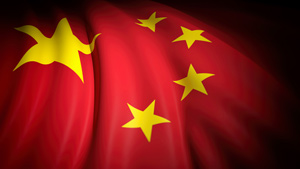 According to the Pentagon, China's People's Liberation Army (PLA) is preparing for major military conflict.
In a 145-page report sent to Congress on April 26, China's Communist Party-controlled PLA has:
Updated fighting strategies
Established new command structures
Created new military regimes
"These reforms aim to strengthen the Chinese Communist Party's (CCP) control over the military, enhance the PLA's ability to conduct joint operations, and improve its ability to fight short-duration, high-intensity regional conflicts at greater distances from the Chinese mainland," the report stated.
China, however, paints a different picture for its increase in military spending…
According to Business Insider, Deputy Assistant Defense Secretary for East Asia Abraham Denmark stated that these reforms are not nefarious. Denmark told reporters the reforms were to "conduct joint operations by replacing the old military regions with new geographic commands" and to "expand common ground."
We'll explain exactly what this "political talk" means shortly. But the PLA's changes aren't as neutered as Denmark makes them seem…
You see, the PLA has heavily focused on adding new missiles, aircrafts, and warships to its arsenal. It's even working on improving its space weaponry and cyber warfare capabilities, according to BI. This seems to refute Denmark's stance, as building space weaponry is no way to "expand common ground."
And although the event received little coverage in American media, China made a public show of projecting military prowess on Sept. 3, 2015. At a celebration for the 70th anniversary of the end of World War II, a parade of more than 12,000 troops, 500 pieces of military hardware, and 200 aircraft marched through Beijing. Military officials in China said this parade flaunted China's most cutting-edge technology.
Might it be that China wants to send a message to the United States? Recent events in the South China Sea could lie at the root of its display…
China Beefing Up War Capabilities in South China Sea
According to CNN, two Chinese aircraft carried out an "unsafe" interception of a United States aircraft in the South China Sea on May 18.
A U.S. defense official told CNN that the American aircraft was carrying out a routine mission in international airspace. The official stated the Chinese jets came dangerously close — within 50 feet — of the U.S. aircraft.
Of course, China rebukes that claim…
Chinese officials stated that its jets kept a safe distance and didn't take any actions that could be viewed as dangerous.
Furthermore, Ministry of Foreign Affairs spokesman Hong Lei believes that this is a pattern of irresponsible behavior by the United States.
"It needs to be pointed out that American aircraft have constantly entered China's coastal waters conducting reconnaissance, which has posed a serious threat to China's maritime and air safety," Lei stated at a regular press briefing.
The South China Sea has a long and complicated history, which we've detailed in this handy guide. Currently, seven nations lay claim over its maritime boundaries and islands.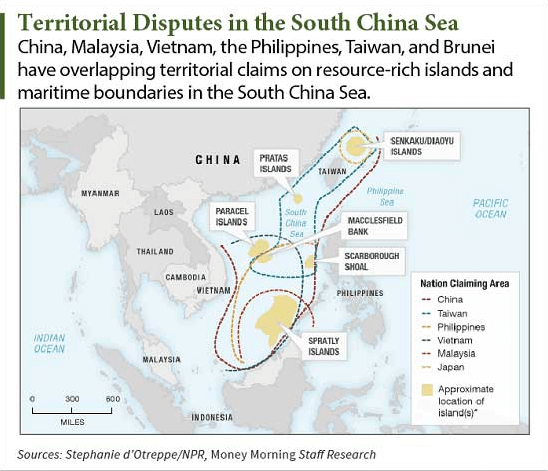 The United States has an interest in the area because it has treaties with allies in the region, sends ships regularly through the South China Sea, and views the area as critically strategic, according to the Council on Foreign Relations.
But ultimately, Sen. Chris Murphy (D-CT) believes that aggressions by the Chinese military are meant to provoke us into some type of action — that's why China is beefing up its military capabilities.
With an already testy relationship, many wonder if one incident in the South China Sea will lead to an all-out war between the United States and China…
Is China trying to start a war with the United States? Share your thoughts with us on Twitter @moneymorning and Facebook.
Related Articles: