Wal-Mart Stores Inc. (NYSE: WMT) posted better than expected results today (Thursday), sending the WMT stock price surging 9% to $68.93 in morning trading.
Now, readers have been asking us if today's report and WMT stock price rally means this is a time to buy Wal-Mart stock.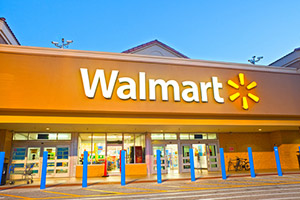 Before we get into our WMT stock recommendation, here are the key details from Wal-Mart's latest quarterly report.
The world's largest retailer posted Q1 earnings per share (EPS) of $0.98. That beat the $0.88 analysts had projected, but it was down from EPS of $1.03 reported in the same quarter a year ago.
Revenue clocked in at $115.9 billion. That was much better than last year's figure of $114.83. It also beat expectations for revenue of $113.22 billion.
S. same-store sales rose 1% in Q1. That beat projections of a 0.5% gain.
Wal-Mart said deflationary price cuts in its grocery aisles improved store traffic. Wal-Mart is the largest grocery store in the United States, according to the U.S. Department of Agriculture. Some 56% of its sales come from grocery items.
The midpoint of the company's Q2 EPS guidance of $0.95 to $1.08 is at the high end of Wall Street's forecast for $0.98.
Despite the seemingly strong figures, some argued the Wal-Mart earnings beat wasn't as good as it seemed…
You see, analysts significantly trimmed their Wal-Mart earnings expectations after the company cut its growth outlook in February. At the time, it cited store closures and continued strength in the U.S. dollar.
Still, the earnings beat was a relief for investors who have watched the WMT stock price in 2016. WMT had fallen nearly 10% in the month prior to the report.
And while today's news seems encouraging, Wal-Mart stock is still facing major headwinds. Here's what investors need to consider before making a play on today's soaring WMT stock price…
The WMT Stock Price Is Soaring – but Challenges Remain
In October 2015, Wal-Mart announced an aggressive push into the e-commerce space.
The retailing giant said it would invest $2 billion in the online space over the next two years. Investors reacted with skepticism.
The WMT stock price plunged more than 12% in October on news of the e-commerce initiative. The drop was the steepest decline for WMT stock in 25 years, erasing $21.5 billion of WMT's market cap in a single day.
To date, WMT's ambitious e-commerce push has generated only modest results.
WMT's e-commerce growth rate of 7% in the quarter is not the kind of growth analysts deem progress amid hefty spending and focus.
"They have about 10 million SKUs online," Budd Bugatch, retail analyst at Raymond James, said today on CNBC. "But that hasn't grown fast enough for them. Even though the U.S. has grown better than the overall global e-commerce area, e-commerce is an area for focus for them."
E-commerce titan Amazon.com Inc. (Nasdaq: AMZN) continues to take market share from Wal-Mart in all categories. Amazon is now the second-largest online seller of apparel, poised to leapfrog Wal-Mart. Cowen & Co. says Amazon is on pace to become the No. 1 U.S. apparel retailer as early as next year.
And Amazon is also rolling out its own private-label grocery, pantry, baby, and health and beauty product brands. The move will undeniably affect Wal-Mart.
The lack of rating and price target moves by analysts following Wal-Mart's Q1 results is also telling. It suggests many remain unconvinced WMT stock has truly turned a corner. Many are taking a "wait-and-see approach." That's what we're doing at Money Morning.
Of the 30 analysts that cover WMT stock, the bulk remain cautious. Four rate shares "Buy," one has an "Overweight" rating on shares, 22 maintain a "Hold," and three rate WMT a "Sell," according to data from The Wall Street Journal.
Even with today's rally, the WMT stock price is off 10.21% over the last 12 months.
Follow us on Twitter @moneymorning and like us on Facebook.
The Must-Have Investment of the Century: There's no argument, water is the single most important investment of all time. And it's likely to provide huge returns to investors making the right moves, like the ones in this report. Read More…
Related Articles: