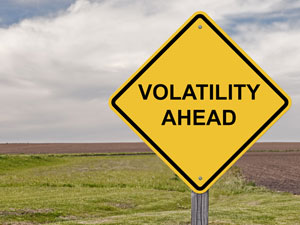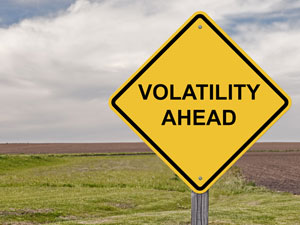 Today we're bringing you a volatility-based options trading strategy that could hand you triple- or quadruple-digit gains.
It's easy, too.
The best options trade for volatility is also the simplest (and least dangerous, coincidentally). We'll get to this trade in just a moment. But first, let's look at why now is such a great time to play volatility with options.
The S&P 500 has had wild swings throughout 2016. It seems like any time the index surges one day, it quickly loses its gains the next.
One explanation for the S&P 500's volatility in 2016 is that the markets are unable to support the index near its 2,100 level. Technical traders tend to dump stocks just a few days after the index reaches its peak.
For instance, look at what happened on April 27. The S&P 500 reached 2,095 on Wednesday before quickly falling 29 points over the next two days to close at 2,066.
And more recently, the S&P 500 touched 2,084 last Tuesday before plummeting 37 points to close at 2,046 at the end of the week.
Also consider that the S&P 500 has moved at least 1% in one trading session 31 times this year.
Options are a smart way to take advantage of this volatility. In fact, timing an option trade right when the S&P 500 is about to drop could bank you huge, quadruple-digit profits.
Money Morning Options Trading Specialist Tom Gentile has the easiest way to use this strategy. With over 25 years of experience trading options, Gentile has taught over 200,000 investors how to make options trades like the one we're about to show you.
Let's look at his option trade for volatility – which could score you a big pay day – now…
The Best Options Trading Tactic for Quadruple-Digits Gains on S&P 500 Volatility
Gentile recommends that the easiest and most lucrative play for S&P 500 volatility in 2016 is using put options on the SPDR S&P 500 ETF Trust (NYSE Arca: SPY).
He recommends the SPY because it's highly correlated with the S&P 500, which has been volatile. Buying puts (taking a bearish position) on the SPY can be extremely lucrative when the market drops.
The SPY tracks the S&P 500 Index and holds a portfolio of the exact stocks that are in the index. The exchange-traded fund (ETF) weighs each stock according to their weight on the S&P 500. That means it has been just as volatile as the S&P 500 in 2016.
Through the first six weeks of the year, the S&P 500 dropped 10.5%. Over the following eight weeks, it climbed 13.1%. And if you had used this options trading strategy, you could have banked massive profits on both swings.
Consider if you had bought a single SPY put option for $0.50 at a strike price of $190 during the markets' big drop in February. When the SPY dropped $11 from $193 on Feb. 1 to $182 on Feb. 10, you could have easily taken home over $1,500 in profits.
Another huge drop in the market like February could happen again this year, especially with all the tension around the next Fed rate hike.
And remember – you don't have to wait for a crash. You can profit with SPY put options even from short spikes in volatility.
Consider if you had bought a single SPY put option for $0.50 with a strike price of $208 on April 27 with a one-week expiration. On April 17, SPY closed just below $210. By May 3, the SPY had dropped $4 to $206. You could have made over $400 in profits. That's a gain of at least 700%.
Looking forward, volatility is already on the rise in May. The VIX jumped nearly 16% from 14 to 17 this week alone. Meanwhile, the SPY has shed nearly 1% over the same period, from $206 to $204 as of Thursday intraday. To take advantage of this uptick in volatility, you could buy a $4.02 put option for a $201 strike price with a June 30 expiration.
If the SPY should drop to $195 after you buy that put, you'll make $6 per contract. That's a net of $768 on an investment of just $402, or a gain of 47%.
Want to learn more about options trading? Follow Money Morning on Facebook and Twitter.
Your Retirement Is in Danger: Puerto Rico's debt crisis could have a direct effect on your retirement – and you don't even have to directly own Puerto Rico bonds to get hurt. Read more…