Gold prices continue to outperform the broader market this year, and that's why we've picked out our favorite gold ETF to buy in 2016.
So far this year, this gold exchange-traded fund (ETF) is up 17.8%, even despite a slight pullback this week. During the same time, the Dow Jones has climbed just 0.6%.
Before we get into our top gold ETF pick, here's why gold prices are soaring in 2016 and should continue even higher…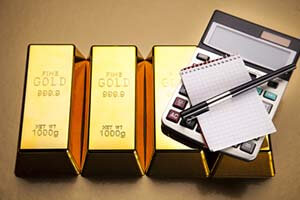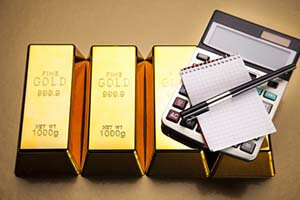 Stocks got off to a rough start to the year with the Dow falling more than 10% during the first six weeks of 2016. Investors took cover in safe-haven gold during that time.
The increasing use of negative interest rates, loss of confidence in central banks, and worries of sputtering global economies have also driven investors into gold positions in 2016. A softer U.S. dollar and a lower for longer interest rate stance from the U.S. Federal Reserve have been bullish factors for gold prices in 2016.
Recently, growing worries over a Brexit (Britain leaving the European Union) and its ramifications have investors piling into gold.
While minutes for the April FOMC meeting (released Wednesday) spooked markets because of the heightened probability of a June interest rate increase, a rate hike next month is still unlikely.
Fed officials meet June 14-15, the week before the Brexit vote. Right now, they remain concerned about the outcome. U.S. central bank policy members are also worried about inflation and how an interest rate hike will strengthen the U.S. dollar. Even when the Fed implements its second interest rate hike in nearly a decade, it will move slowly with further hikes.
Despite these growing concerns, gold prices have pulled back slightly this week. Gold closed down $19.20, or 1.53%, Thursday to $1,254.20. But gold prices inched higher Friday. At last check, gold was up $1.30 at $1,256.00 an ounce.
And demand remains high…
Global gold demand in Q1 2016 totaled 1,289.90 tons. That's a 21% increase from 1,070.40 tons last year. Gold also enjoyed its best quarter in three decades in this year's January to March stretch with a 16.1% gain.
Gold prices are now up 18.3% year to date and are poised to go higher.
And as the gold price continues higher, so too will gold ETFs. Here's our favorite gold ETF to buy today…
The Top Gold ETF to Buy for Market-Beating Gains in 2016
One way to play gold prices is to own physical gold. Yet holding physical gold is difficult for many investors. Delivery fees, storage fees, and insurance payments can make owning physical gold burdensome.
Thankfully there is a good alternative.
Gold ETFs make investing in gold much easier.
The SPDR Gold Trust (NYSE Arca: GLD) is one of the best gold ETFs to buy today. GLD offers investors an innovative, cost-efficient, and secure way to participate in the gold market.
The gold ETF allows investors to buy and sell gold through the trading of a stock that's on a regulated stock exchange.
GLD trades just like a stock. The value of GLD directly relates to the value of the gold held by the ETF (less expenses), as well as fluctuations in the price of gold.
Originally listed on the New York Stock Exchange in November 2004 and traded on NYSE Arca since Dec. 13, 2007, GLD is the world's largest physically backed gold ETF. It boasts a market cap of $34.16 billion.
In the first week of March alone, more than $1.1 billion was invested into GLD. According to FactSet data, that was the largest amount of money flowing into any exchange-traded product.
This year's robust and unwavering GLD activity reflects the nervousness that investors have in the stock market. Even as markets rebounded in March and April, this gold ETF continued climbing.
Year to date, GLD is up 17.8%. In comparison, the Dow and S&P 500 are struggling for positive territory. The two key benchmarks are up 0.72% and 0.60%, respectively. The tech-heavy Nasdaq is down 4.58%.
Follow us on Twitter @moneymorning and like us on Facebook.
The Facebook Stock Split: We know that Mark Zuckerberg plans to offer a Facebook stock split to keep control of the company. But more importantly, investors want to know if this is a good time to buy FB shares. Find out here…